SPEAK UP ! 雙語會話
Hsinchu post office launches drone delivery (2/2) 新竹郵局無人機起飛(二)
A: Chunghwa Post is using drones to deliver parcels. This should save loads of time.
B: Delivering a parcel from Jianshih Township Office to Smangus normally takes 100 minutes by road. A drone can do it in just 45.
A: That's super convenient!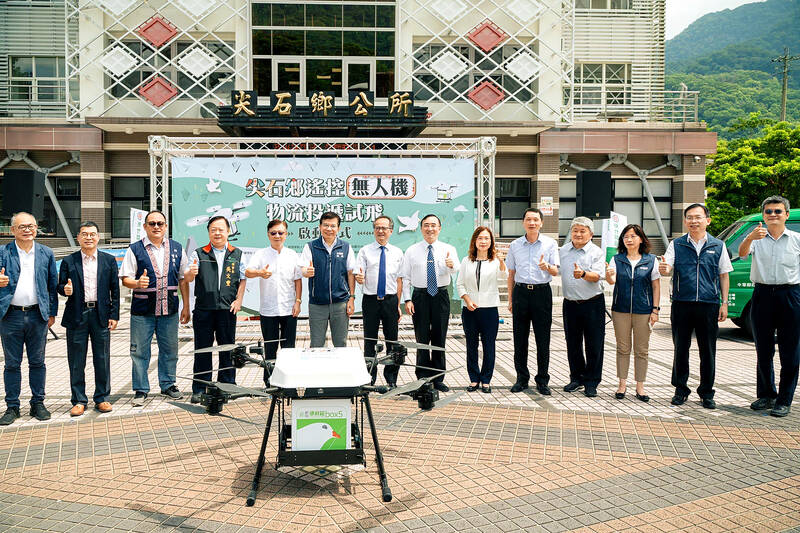 A post office in Hsinchu County launches drone delivery. 新竹縣某郵局啟動無人機服務。
Photo courtesy of Chunghwa Post Co 照片:中華郵政提供
B: With drones becoming more common, the government has amended the Civil Aviation Act to require large drones to be registered.
A: How many drones have been registered to date?
B: Nearly 80,000 in Taiwan, since the act was amended 2 years ago.
A: 郵局用無人機來送貨,應該能節省不少時間。
B: 從尖石鄉公所送貨到新光部落,原本一百分鐘的車程,無人機只需要四十五分鐘。
A: 真的超方便耶!
B: 不過無人機越來越多,政府特別修改《民用航空法》,所有大型無人機都要註冊管理。
A: 有很多無人機註冊嗎?
B: 修法兩年以來,台灣已經有將近八萬架註冊囉。
(Translated by Edward Jones, Taipei Times/台北時報張聖恩)
Publication Notes
LANGUAGE TIP 語文小提示
Synonyms considerable: significant, sizeable, huge prevalent: common, widespread, popular. spectacular
Comments will be moderated. Keep comments relevant to the article. Remarks containing abusive and obscene language, personal attacks of any kind or promotion will be removed and the user banned. Final decision will be at the discretion of the Taipei Times.