Chris Hemsworth gets butt naked in 'Thor: Love and Thunder' 無碼全見確認! 雷神苦練11年 「脫到一件不剩!」
The latest installment in the Marvel Cinematic Universe "Thor: Love and Thunder" has bolted into theaters. Before its release, the film's trailer showed a naked Thor baring his "thunderous" yet "censored" ass. Director Taika Waititi has revealed that fans will get the unpixelated version on the silver screen, promising them that they "get the full Hems' Worth."
Speaking to the press at the movie's world premiere, Hemsworth said that his decision to bare just about everything was a long time coming. After playing Thor for 11 years, Hemsworth said: "In each film we've taken off another item of clothing, and now we just kind of took it all off." He then made sure to credit Waititi with the idea, adding that "it was all his doing." Director of photography Barry Baz Idoine also added: "It's incredibly hard to shoot Chris Hemsworth's butt. I mean, nobody concentrates, nobody does their job, everybody's looking at the butt, they're not looking at what they're supposed to be doing. That was a challenge."
"Thor: Love and Thunder" hits theaters in Taiwan from today.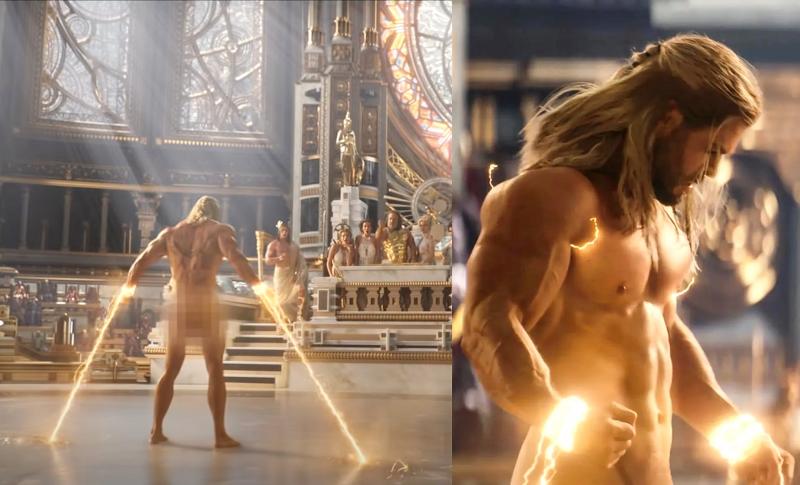 Chris Hemsworth shows off his "uncensored" naked butt in the theatrical release of "Thor: Love and Thunder." 克里斯漢斯沃在《雷神索爾:愛與雷霆》露電臀,「無碼全見版」將於電影正片中公開。
Photo: Liberty Times 照片:自由時報
(Translated by Rita Wang, Taipei Times)
漫威電影宇宙最新鉅作《雷神索爾:愛與雷霆》,在先前預告中驚喜曝光卻被「打碼」的雷神,全裸上陣首露「正宗電臀」,經由導演塔伊加維迪提親口確認,「無碼全見版」將於電影正片中首度公開,只有在大銀幕上才能親眼見分曉。
克里斯在世界首映會上「語重心長」地說,這十一年來扮演索爾,「每一集都脫掉一件衣物,直到這集脫到一件不剩!」同時也揭發塔伊加對自己心懷不軌:「這一切都是他的算計!」攝影指導貝瑞巴茲伊多因也補充說:「他的臀部真的超難拍,因為讓所有工作人員都分心目不轉睛!」
《雷神索爾:愛與雷霆》於七月六日在全台大銀幕磅礡登場。
(自由時報)
Comments will be moderated. Keep comments relevant to the article. Remarks containing abusive and obscene language, personal attacks of any kind or promotion will be removed and the user banned. Final decision will be at the discretion of the Taipei Times.