Severe childhood deprivation reduces brain size, study finds 幼年嚴重缺乏關愛 將導致腦部較小
Children who experience severe deprivation early in life have smaller brains in adulthood, researchers have found.
The findings are based on scans of young adults who were adopted as children into UK families from Romania's orphanages that rose under the regime of the dictator Nicolae Ceausescu.
Now experts say that despite the children having been adopted into loving, nurturing families in the early 1990s, the early neglect appears to have left its mark on their brain structures.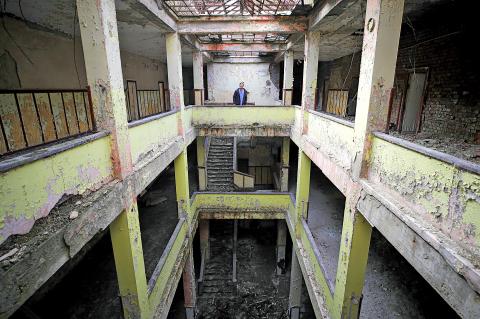 In this photo taken on Dec. 16, 2019, Florin Catanescu, 41, walks through the ruins of the state orphanage that was his home between 1988 and 1997 in Busteni, Romania. Thirty years after the 1989 death of Romania's communist-era dictator, the country is still grappling with the ugly legacy of its once-horrific orphanages. Now some of those who grew up abused and unloved in those failed institutions are turning their trauma into commitment. Catanescu now runs a transition home helping those leaving state care to have a better chance of leading meaningful lives. 四十一歲的弗洛林‧卡塔內斯庫,二○一九年十二月十六日在羅馬尼亞布什泰尼走過廢棄的公立孤兒院,他在一九八八年至一九九七年間被收容在該院。一九八九年羅馬尼亞共產黨時代的獨裁者死後三十年,該國仍在努力解決過去那些駭人孤兒院的遺毒。在那些失靈的機構中受虐、不被愛的院童長大後,有人將其創傷化為投身公益的力量。卡塔內斯庫現在經營一個中途之家,幫助那些踏出公立孤兒院的人得到更好的機會過有意義的生活。
Photo: AP
照片:美聯社
"I think the most striking finding is … that the effects on the brain have persisted," said Prof Edmund Sonuga-Barke, a co-author of the study from King's College London, who added that the results showed neuroplasticity had limits.
"The idea that everything is recoverable, no matter what your experience … isn't necessarily true — even with the best care you can still see those signs of that earlier adversity," he said.
The plight of the undernourished children, who had little social contact and received insufficient care, shocked the world when it came to light after the fall of the communist government in 1989. Ceausescu's oppressive policies had banned abortion and contraception, while those without children were taxed. As a result, large numbers of children ended up in orphanages living in terrible conditions.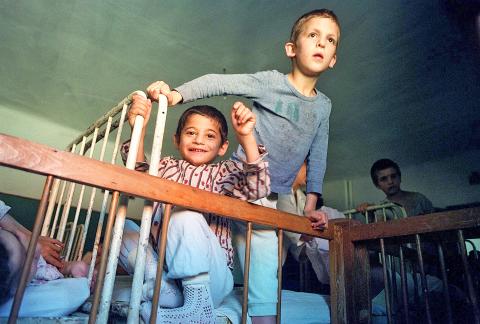 In this file photo taken on Oct. 14, 1990, abandoned Romanian children get ready for bed at the Buchea orphanage in Buchea, 150km from Bucharest. 被遺棄的兒童在羅馬尼亞的布奇亞孤兒院準備就寢。一九九○年十月十四日攝於距布加勒斯特一百五十公里之布奇亞。
Photo: AFP
照片:法新社
Previous studies involving the adoptees have shown they had marked cognitive difficulties as children — although these improved considerably into adulthood — while they also had high rates of conditions including attention deficit hyperactivity disorder (ADHD) and, as adults, high levels of anxiety and depression.
Writing in the journal Proceedings of the National Academy of Sciences, Sonuga-Barke and colleagues told how they carried out brain scans and other measures of 67 Romanian adoptees who had spent between three and 41 months living in severe deprivation as children. At the time of the scans the adoptees were between 23 and 28 years old.
The team also took brain scans from 21 adults of a similar age who had been born and adopted in the UK before they were six months old. The results revealed the Romanian adoptees had on average an 8.6 percent smaller brain overall than their UK peers. The team also found the size of the reduction was linked to the length of time spent in the Romanian orphanages: each additional month was linked to a 3cm3 lower total brain volume. "The more deprivation they had, the smaller their brains are," said Sonuga-Barke.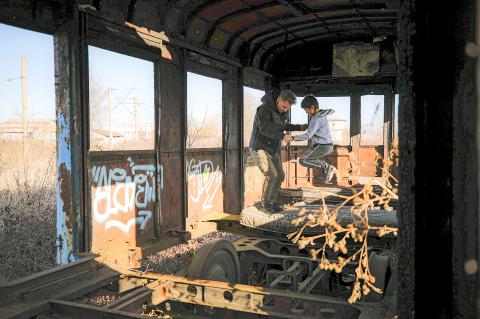 In this photo taken on Dec. 15 last year, Andrei, 19 years old, a youngster living in a transit home ran by Florin Catanescu, plays with a child in an abandoned train carriage, on the outskirts of Brasov, Romania. 住在卡塔內斯庫所經營中途之家、十九歲的安德烈,與一名孩童在羅馬尼亞布拉索夫郊區一廢棄火車中玩耍。攝於二○一九年十二月十五日。
Photo: AP
照片:美聯社
The team's analysis showed the smaller brain size explained the reduced IQ and, at least in part, the higher rates of ADHD found among the Romanian adoptees.
Prof Denis Mareschal, from Birbeck, University of London, said the study highlighted the importance of providing enriched environments in early infancy and childhood.
(The Guardian)
研究人員發現,幼年時受到嚴重剝奪的兒童,在成年後,其大腦較小。
這項發現是根據一些年輕人的腦部掃描,他們幼時被收留在羅馬尼亞獨裁者尼古拉‧希奧塞古政權所設立的孤兒院,後來被英國家庭收養。
專家們如今說,即便這些孩子已在一九九○年代初被充滿愛心的家庭收養、受到悉心照顧,但幼時的疏於照料,似乎已在他們的大腦結構留下了印記。
這項研究的共同作者、倫敦大學國王學院的艾德蒙‧索努加─巴克教授表示:「我認為最顯著的發現是……對大腦所造成的影響持續存在」。他補充說,研究結果顯示,「神經可塑性」是有其侷限的。
他說:「認為無論經歷了什麼,一切都得以康復……這種觀念不見得是正確的──即便〔後來〕受到最好的照顧,你還是可以看到幼時的苦難所留下的痕跡」。
這些營養不良、少有社會接觸、得不到足夠照料的兒童,其慘況在一九八九年共產黨政府垮台後曝光,震驚了世界。希奧塞古的苛政禁止墮胎及避孕,沒有孩子的人則被課稅。結果造成大量兒童淪落孤兒院,生活在惡劣的環境中。
先前對這些被收養者的研究顯示,他們在兒童時期就有明顯的認知困難(雖然這些問題在成年後已有顯著改善),也有很高的機率患有注意力不足過動症(ADHD),以及在成年後患有焦慮及憂鬱症。
索努加─巴克及其同仁在《美國國家科學院院刊》上寫道,他們對六十七名羅馬尼亞被收養者進行腦部掃描和其他測量,這些被收養者童年時曾生活在嚴重缺乏照顧的情況中,為期三個月至四十一個月不等。他們在接受腦部掃描時,年齡在二十三至二十八歲之間。
研究小組另外也對二十一個年齡相仿的成人進行了腦部掃描,這些人是在英國出生,並在六個月大之前被收養。
結果顯示,被收養的羅馬尼亞人,其大腦之平均大小,比那組英國同齡者小了百分之八點六。研究小組還發現,大腦所減少的體積,與在羅馬尼亞孤兒院中所待的時間長短有關:在孤兒院的時間每增加一個月,大腦的總體積便減少三立方公分。索努加─巴克說:「他們被剝奪得越多,大腦就越小」。
研究小組的分析顯示,較小的大腦可解釋為何其智商較低,以及至少部分解釋了,為何被收養的羅馬尼亞人患有ADHD的比率較高。
倫敦大學伯貝克學院的丹尼斯‧馬勒沙教授說,這項研究凸顯出在嬰幼兒早期與兒童時期提供富足環境的重要性。
(台北時報林俐凱編譯)
Follow up
讀後練習
Did you know?
Babies raised with insufficient stimulation due to a lack of human contact will often self-stimulate, such as hand flapping or rocking back and forth. Children who spent time in Romanian orphanages and who displayed these characteristics were often misdiagnosed as having mental disabilities.
According to attachment theory, an infant needs to develop a relationship with at least one primary caregiver for the child's successful social and emotional development. The children in the Romanian orphanages were denied the opportunity to develop such a relationship.
(Lin Lee-kai, Taipei Times)
Publication Notes
TODAY'S WORDS
今日單字
1. deprivation n. 剝奪;匱乏 (bo1 duo2; kui4 fa2)
2. orphanage n. 孤兒院 (gu1 er2 yuan4)
3. neglect n. 疏於照顧 (shu1 yu2 zhao4 gu4)
4. brain structure phr. 大腦結構 (da4 nao3 jie2 gou4)
5. adversity n. 逆境;苦難 (ni4 jing4; ku3 nan4)
6. undernourished adj. 營養不良的 (ying2 yang3 bu4 liang2 de5)
7. cognitive adj. 認知的 (ren4 zhi1 de5)
8. infancy n. 嬰兒期;幼年 (ying1 er2 qi2; you4 nian2)
Comments will be moderated. Keep comments relevant to the article. Remarks containing abusive and obscene language, personal attacks of any kind or promotion will be removed and the user banned. Final decision will be at the discretion of the Taipei Times.