Industry, government and academia must coordinate to tackle climate change 因應全球氣候變遷 學者盼產政學系統整合
On Sept. 26, the Delta Electronics Foundation hosted the Delta Climate Salon, which focused on the Special Report of the Oceans and Cryosphere under Climate Change, released by the UN Intergovernmental Panel on Climate Change (IPCC) on Sept. 25. The report states that the frequency of global ocean heat waves has not only doubled, but they have also become more prolonged, stronger and extreme.
According to the report, by the end of the century, 80 percent of the world's smaller glaciers will have melted and disappeared into the sea. Throughout the 21st century and beyond, the Greenland and Antarctic ice sheets are expected to continue to be lost, but at an increasing rate. In the context of increased greenhouse gas emissions, the rate and magnitude of these permafrost changes are expected to increase further in the second half of the 21st century.
The report says that increased precipitation, wind and extreme sea level events due to anthropogenic climate change may result in typhoons of increased intensity. The report also says that the warming of the oceans since the 20th century has resulted in reduced catch potential. In many regions, the number of fish and shellfish has decreased due to the direct and indirect effects of global warming and biogeochemical changes.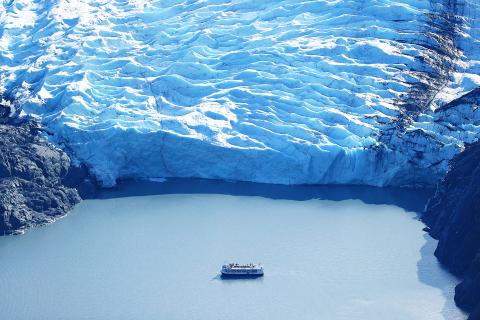 In this file photo taken on Sept. 6, a tour boat is seen near a glacier in the Kenai Mountains near Primrose, Alaska. 阿拉斯加櫻草附近,一艘遊船行經位於基奈山脈的冰川終點。攝於九月六日。
Photo: AFP
照片:法新社
Tung Ching-pin, a professor at the Department of Engineering for Sustainable Environment at National Taiwan University, said that in recent years, we have seen an increased number extreme weather events in Taiwan. In 2001, Typhoon Nari caused flooding in Taipei, and the following spring a drought occurred in Taipei, yet the probability of such extreme weather events from occurring is once in 10,000 years. In addition, in the spring of 2018, water levels at the Zengwen Reservoir were low, while in August of the same year, Kaohsiung experienced a flood. Taiwan encountered two extreme weather events in less than 20 years, which is quite unprecedented, said Tung.
Tung pointed out that climate change causes rising sea levels: in addition to impacting coastal fixed-net fishing, this also affects the global transportation network. In Taiwan, 98 percent of our energy and 70 percent of our grain supply are imported. In addition to affecting the ports, stronger storms and winds caused by climate change also have an impact on flights.
Chen Chao-lun, a research fellow at the Academia Sinica's Biodiversity Research Center, said that if the temperature rises by 1.5 degrees Celsius, it may lead to 70 percent to 90 percent of the coral reefs dying. If it rises to 2 degrees, it will kill 99 percent of the reefs. According to the report, coral reef bleaching has now accelerated to every 5 to 6 years and may be shortened to 3 to 4 years in the future. Coral reefs are known to be home to 100,000 species of organisms. One billion people's livelihoods depend on healthy coral reefs, which are worth more than US$100 billion to the tourism and fishing industries.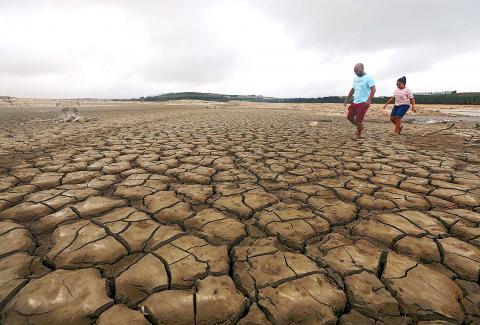 Cape Town, the second largest city in South Africa, suffered from a drought for three consecutive years. Photograph taken on March 3, 2018. 南非第二大城開普頓,連續三年飽受乾旱所苦。攝於二○一八年三月三日。
Photo: Reuters
照片:路透
Chen said that if action is taken immediately, large-scale greenhouse gas emission reduction and sequestration could limit the temperature increase to within 1.5 degrees by 2030. Taiwan's Taitan reef enables carbon sequestration and has the potential to be an important ecosystem for reducing carbon emissions in Taiwan, Chen added.
Tung says that both the government and the private sector have already done much to tackle climate change, but at present there is no standardization and a lack of integration between scientific research and government policy, while supervisory mechanisms are also lacking. If an industry wants to become a part of the international supply chain, it should be required to improve its ability to prevent disasters, such as flooding, which requires the effective implementation of government policy, Tung says.
(Translated by Lin Lee-kai, Taipei Times)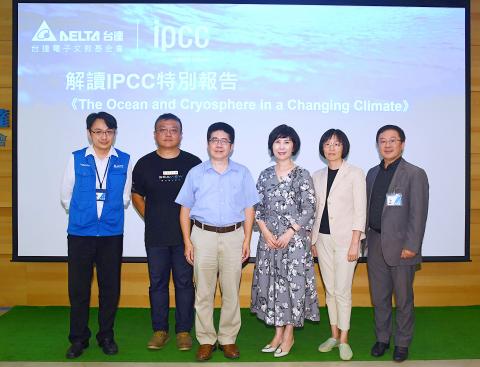 From left, foundation executive director Wim Chang, Academia Sinica Biodiversity Research Center research fellow Chen Chao-lun, National Taiwan University Department of Engineering for Sustainable Environment professor Tung Ching-pin, Vice Chairman of DeltaElectronics Foundation Kuo Shan-shan, Vice President of Central News Agency Tseng Yen-ching and Delta Electronics Sustainability Officer Jesse Chou attend an event entitled Taiwan Climate Salon: Interpreting the IPCC's Special Report The Ocean and Cryoshpere in a Changing Climate on Sept. 26 in Taipei. 台達電子文教基金會九月二十六日舉行「台達氣候沙龍:解讀IPCC特別報告」媒體沙龍系列活動,台達電子文教基金會執行長張楊乾(左起)、中研院生物多樣性研究中心研究員陳昭倫、台大生物環境系統工程學系教授童慶斌、台達電子文教基金會副董事長郭珊珊、中央社副社長曾嬿卿、台達電永續長周志宏等人出席。
Photo: CNA
照片:中央社
台達電子文教基金會九月二十六日舉辦台達氣候沙龍,重點解析聯合國「政府間氣候變遷專門委員會」(IPCC)九月二十五日所公布之「氣候變遷下的海洋與冰凍圈特別報告」──報告指出,全球海洋熱浪的頻率加倍,且更持久、更強、更廣。
報告強調,全球各地較小型的冰川,世紀末將有八成消失融入海中。整個二十一世紀及之後,格陵蘭與南極冰層預估將持續加快流失,在溫室氣體大量排放的情況下,這些永凍圈變化的速度與幅度預估將會在二十一世紀後半葉進一步增加。
報告提到,由於人類活動所致的氣候變遷增加觀察到的極端降水、風暴及海平面上升,可能導致颱風的強度增加。而二十世紀以來的海洋升溫,已造成漁獲潛能降低,許多海域中的魚類與貝類數量,已因全球暖化及生物地質化學變化的直接間接影響而減少。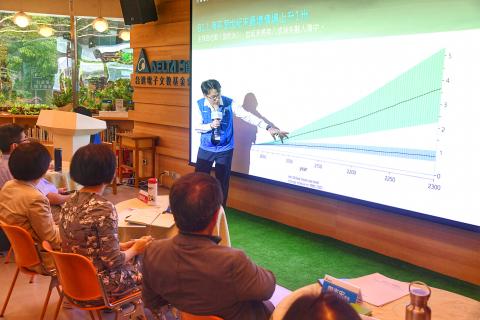 Executive Director of the Delta Electronics Foundation Wim Chang gives a talk on the IPCC's Special?Report?on the Ocean and Cryosphere in a Changing Climate at the 2019 Delta Climate Salon held in Taipei on Sept. 26. 「二○一九台達氣候沙龍:解讀IPCC特別報告」,九月二十六日在台北登場,台達電子文教基金會執行長張楊乾(立者),帶領與會者一同關注聯合國「政府間氣候變遷專門委員會」(IPCC)發布的「氣候變遷下的海洋與冰凍圈特別報告」內容。
Photo: CNA
照片:中央社
台灣大學生物環境系統工程學系教授童慶斌表示,近年台灣極端氣候事件(極端天氣)愈來愈多,並舉例二○○一年納莉颱風造成台北淹水,但隔年春天台北發生乾旱,兩件加起來機率是一萬年才發生一次。另外,二○一八年春天曾文水庫缺水,同年八月高雄淹水,不到二十年內台灣遇到兩次,過去沒這樣的情況。
童慶斌指出,氣候變遷導致海平面上升,除了衝擊沿海定置網漁業外,更影響全球交通網絡。以台灣為例,百分之九十八的能源、百分之七十的糧食仰賴進口,氣候變遷除了影響港口外,更強的暴雨、強風,對航空業也有一定衝擊。
中央研究院生物多樣性研究中心研究員陳昭倫表示,若氣溫上升攝氏一點五度,可能導致百分之七十至百分之九十的珊瑚礁死亡;若上升兩度,則高達百分之九十九將會死亡。根據報告,珊瑚礁的白化速度現已加速為五到六年,未來可能縮短為三到四年。目前已知珊瑚礁是十萬種生物的家,就人類而言,全球十億人口仰賴健康的珊瑚礁生活,有超過千億美元產值的觀光與漁業經濟效益。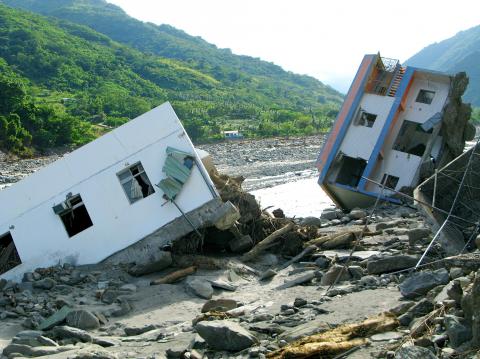 Approximately 70 residences at Jialan Village in Taitung County's Jinfeng Township were swept away by the flood caused by Typhoon Morakot on Aug. 8, 2009. 二○○九年八月八日的莫拉克風災中,台東縣金峰鄉的嘉蘭部落有逾七十戶民宅遭洪水沖走。
Photo courtesy of Jialan Documentary Team
照片:嘉蘭報告紀錄小組提供
陳昭倫表示,如果現在開始進行大規模的溫室氣體「減排」和「移除」,到二○三○年之前才有機會將升高的溫度控制在一點五度以內。而台灣的大潭藻礁具有「固碳」的功能,有機會成為台灣、甚至未來全球減碳很重要的生態系。
童慶斌指出,政府、民間因應氣候變遷其實做得不少,但沒有標準化、整合化的方式,科學和政策的結合不足,也缺乏監督機制。像是因應淹水,產業若要加入國際供應鏈,就必須提升自己防災的能力,更需要政府的政策,才能順利推行。
(中央社)
FOLLOW UP
讀後練習
1. Melting glaciers can cause rising sea levels. In what ways could humans be affected by this phenomenon?
2. Give some examples of extreme weather events that have taken place in recent years.
3. Why is it important to protect coral reefs? Consider the impact on biodiversity and people's livelihoods in your answer.
4. What do experts quoted in this article suggest could be done to tackle climate change?
(Lin Lee-kai, Taipei Times)
Publication Notes
TODAY'S WORDS
今日單字
1. heat wave phr.
熱浪
(re4 lang4)
2. glacier n.
冰川
(bing1 chuan1)
3. green house gas emission phr.
溫室氣體排放
(wen1 shi4 qi4 ti3 pai2 fang4)
4. precipitation n.
降雨/雪
(jiang4 yu3/xue3)
5. catch potential phr.
漁獲潛能
(yu2 huo4 qian2 neng2)
6. flooding n.
水災
(shui3 zai1)
7. drought n.
旱災
(han4 zai1)
8. coral reef bleaching phr.
珊瑚礁白化
(shan1 hu2 jiao1 bai2 hua4)
Comments will be moderated. Keep comments relevant to the article. Remarks containing abusive and obscene language, personal attacks of any kind or promotion will be removed and the user banned. Final decision will be at the discretion of the Taipei Times.