All-Asian cast "Crazy Rich Asians" tops box office 《瘋狂亞洲富豪》全亞裔陣容票房奪冠
Taiwanese-American director Jon Chu's new film, "Crazy Rich Asians," has dominated the US box office since opening earlier this month, with the highest-grossing first week for any romantic comedy in recent years. It is also the first Hollywood film with a cast of all Asian-descent since "The Joy Luck Club" 25 years ago.
Based on Singaporean-American writer Kevin Kwan's best-selling novel, the movie follows native New Yorker Rachel to Singapore, where she finds out her boyfriend's family is actually one of the wealthiest in the country. The cast includes Constance Wu, who stars on the hit sitcom "Fresh Off the Boat," Henry Golding and Michelle Yeoh.
The movie arrives at a time when Hollywood is being pressured to feature greater diversity on screen. According to statistics, among the top 100 films last year, only 4.8 percent featured a character of Asian descent with a speaking role. With the success of this groundbreaking movie, Warner Bros. Pictures is reportedly planning for a sequel. "Crazy Rich Asians" opened in Taiwan on Friday last week.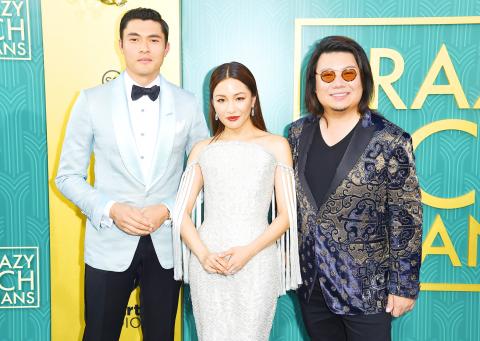 Actor Henry Golding, actress Constance Wu and author Kevin Kwan, left to right, attend the premiere of "Crazy Rich Asians" at the TCL Chinese Theatre in Los Angeles, US, on Aug. 7. 演員亨利高汀(左起)、吳恬敏、作家關凱文於八月七日,在洛杉磯中國戲院出席《瘋狂亞洲富豪》首映會。
Photo: AP
照片︰美聯社
(Eddy Chang, Taipei Times)
台裔美籍導演朱浩偉所執導的新電影《瘋狂亞洲富豪》,在本月中上映後即稱霸美國票房冠軍,成為近年來首映週最熱賣的浪漫喜劇。這也是繼二十五年前的《喜福會》後,第一部全亞裔演員陣容的好萊塢電影。
該片改編自新加坡裔美籍作家關凱文的名著,劇情跟著紐約客瑞秋一路來到新加坡,才發現她男友家竟是該國最富有的豪門之一。主角除了演出熱門影集《菜鳥新移民》的吳恬敏,還包括亨利高汀和楊紫瓊等人。
該片推出的時機適逢好萊塢遭到施壓,要求大銀幕上的演員陣容更具多元性。據統計,在去年的美國百大賣座電影中,有台詞的亞裔角色僅佔百分之四點八。在這部頗具開創性的影片創下佳績後,據報導華納兄弟影業公司正在計畫籌拍續集。《瘋狂亞洲富豪》已於上週五在台灣上映。
(台北時報張聖恩)
Publication Notes
TODAY'S WORDS
今日單字
1. Hollywood n.
好萊塢 (hao3 lai2 wu1)
2. cast n.
演員陣容 (yan3 yuan2 zhen4 rong2)
3. wealthiest adj.
最富有的 (zui4 fu4 you3 de5)
4. diversity n.
多元性 (duo1 yuan2 xing4)
5. groundbreaking adj.
開創性的 (kai1 chuang4 xing4 de5)
Comments will be moderated. Keep comments relevant to the article. Remarks containing abusive and obscene language, personal attacks of any kind or promotion will be removed and the user banned. Final decision will be at the discretion of the Taipei Times.