New drama 'Story of Yanxi Palace' becomes megahit 新劇「延禧攻略」 首週點擊飆破五億次
With its mid-July debut, the costume drama "Story of Yanxi Palace" became an overnight success. The story — which takes place during the era of Emperor Qianlong of the Qing Dynasty — is about how a wise and resourceful young palace maid becomes the master of Yanxi Palace and is finally promoted to the highest-ranking imperial concubine.
Drama series themed on court intrigue have become quite popular in recent years, ever since "The Legend of Zhenhuan" became a megahit in 2012. During its first week of release on online video platform iQiyi, "Story of Yanxi Palace" received over 500 million hits at home and abroad. The new drama also smashed the record of iQiyi's Taiwanese site by gaining over 1 million hits within a week.
The big success of "Story of Yanxi Palace" is partially attributable to the delay of the highly-anticipated costume dramas "Ruyi's Royal Love in the Palace" and "Legend of Ba Qing," which have repeatedly failed to pass Chinese official censorship.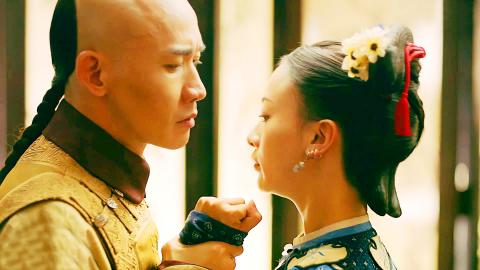 Emperor Qianlong, played by Nie Yuan, and his palace maid, played by Wu Jinyan, in the new drama "Story of Yanxi Palace." 在「延禧攻略」飾演乾隆皇帝的聶遠,以及飾演宮女的吳謹言。
Photo courtesy of iQiyi's Taiwanese site
照片︰愛奇藝台灣站提供
(Eddy Chang, Taipei Times)
古裝劇「延禧攻略」七月中開播後一夕爆紅,該劇設定在清朝乾隆皇帝時期,是關於一名足智多謀的小宮女,如何入主延禧宮,最終並受封成為皇貴妃的故事。
自二○一二年「後宮甄嬛傳」造成轟動以來,以宮廷鬥爭為主題的戲劇作品近年來頗受歡迎。而「延禧攻略」在愛奇藝線上影音平台開播首週,海內外點擊已飆破五億次,愛奇藝台灣站一週亦突破百萬次、打破該站紀錄。
該劇的重大成功,部分歸因於備受期待的「如懿傳」與「巴清傳」遲遲無法上檔,這兩部古裝劇皆履次未能通過中國官方的審查。
(台北時報張聖恩)
Publication Notes
TODAY'S WORDS
今日單字
1. costume drama phr.
古裝劇
(gu3 zhuang1 ju4)
2. wise and resourceful phr.
足智多謀
(zu2 zhi4 duo1 mou2)
3. concubine n.
妃子
(fei1 zi3)
4. court intrigue phr.
宮廷鬥爭
(gong1 ting2 dou4 zheng1)
5. censorship n.
審查
(shen3 cha2)
Comments will be moderated. Keep comments relevant to the article. Remarks containing abusive and obscene language, personal attacks of any kind or promotion will be removed and the user banned. Final decision will be at the discretion of the Taipei Times.