USING IDIOMS 活用成語
Chinese Practice
金玉滿堂,莫之能守
(jin1 yu4 man3 tang2 mo4 zhi1 neng2 shou3)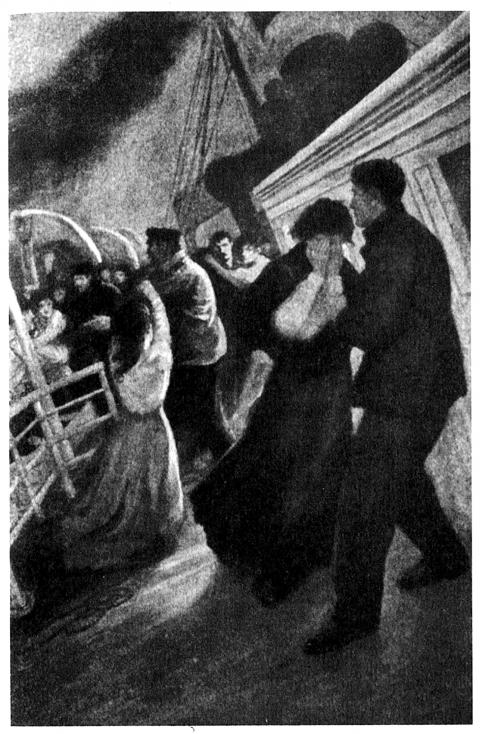 "The Sad Parting," from Marshall Everett, Story of the Wreck of the Titanic, 1912 〈悲傷的離別〉,選自《鐵達尼號沉沒記》,馬修‧艾佛瑞著,一九一二年。
Photo: Wikimedia Commons
照片:維基共享資源
when gold and jade fill the hall, their possessor cannot keep them safe
中文「金玉滿堂」一詞,其意為「黃金和玉石填滿了大廳」,用來指財富極多。「金玉滿堂」主要是形容財富,但也可用來形容學識豐富或子孫繁多,用做祝福的話語或寫在匾額上的吉祥話。
但「金玉滿堂」用在不同的上下文中,所表達的並非都是正面的意義──此語曾用來表示富貴之短暫、財富可以來得快也會去得快,且對來世並無助益。
例如南宋詩人劉辰翁(一二三二~一二九七)的詞〈臨江仙〉(坐悟)寫道:「金玉滿堂不守,菁華歲月空遷。從今飽飯更安眠。丹經都不看,閒坐一千年。」(財富可能守不住;青春也會隨著時間流逝。從今開始,我會吃得飽且睡得安穩。我不需要去讀丹經,我可以永遠就這麼坐下來歇息。)
清末作家錢泳(一七五九~一八四四)在他的《履園叢話‧臆論‧利己》中,也寫道:「今人既富貴驕奢矣,而又喪盡天良,但思利己,不思利人,總不想一死後,雖家資巨萬,金玉滿堂,尚是汝物耶?」(現今有些人富有而驕傲,卻又沒有良心,只想到圖利自己,而不是幫助他人。但都不去想無論他們家是多麼富有、金玉滿堂,這一切在他們死後還會是屬於他們的嗎?)
這樣的意義,用「金玉滿堂,莫之能守」這句話較能完整表達。此語出自道家經典老子《道德經》第九章:「金玉滿堂,莫之能守;富貴而驕,自遺其咎。功遂身退天之道。」(金和玉堆滿了大廳,擁有的人守不住它。財富和地位令人傲慢,會給自己帶來罪惡。任務完成後便隱退,就是天道。)
這段文字體現了《道德經》中所探討的某些主題,例如相對性、物質和社會地位的短暫性、極端之與天道(自然法則)不容,以及自滿的愚蠢。
在英文中,表示人所積累的財富在死後是沒什麼意義的,可用「you cannot take it with you (when you go)」(你(死後)無法帶走)這句話精練地表達。「Look on my works, ye Mighty, and despair!」(看我功業蓋世,令強者折服!)這句話,完美地表達了對自滿的警示。
在一八一八年於倫敦出版的〈Ozymandias〉(奧西曼狄斯)一詩中,英國浪漫主義詩人珀西‧比希‧雪萊(一七九二~一八二二)遙想一座國王雕像,這國王曾大權在握,他的雕像立在沙漠中──這裡曾是他繁榮興盛的王國。這座雕像飽受歲月摧殘,已支離破碎、搖搖欲墜。雪萊寫道:
"And on the pedestal these words appear: (「看那石座上刻著字句:)
'My name is Ozymandias, king of kings;(『我是萬王之王,奧斯曼狄斯)
Look on my works, ye Mighty, and despair!'(功業蓋世,強者折服』)
Nothing beside remains. Round the decay(此外,蕩然無物)
Of that colossal wreck, boundless and bare(廢墟四周,唯餘黃沙莽莽)
The lone and level sands stretch far away."(寂寞荒涼,伸展四方。」)
(台北時報林俐凱譯)
為了恭賀陳教授升遷,兒子也在上週完成終身大事,我們合送了一幅金玉滿堂的匾額給他。
(To congratulate Professor Chen for his promotion and his son's marriage last week, we sent him a wall plaque with the idiom 金玉滿堂 on it.)
王董事長家業興隆,可惜他的兒子不成器,每天都在外面花天酒地,不到二十年就散盡家財,真可謂金玉滿堂,莫之能守。
(Mr Wang, the company chairman, amassed a family fortune. It's such a shame his reprobate of a son has lived a life of debauchery, frittering away the family wealth in less than 20 years. As they say, it's difficult to hold on to money.)
英文練習
you cannot take it with you;
look on my works, ye mighty, and despair
In Chinese, the idiom 金玉滿堂 means "gold and jade filling the hall," and is used to refer to an abundance of riches, mostly in terms of wealth but also of impressive education or an abundance of children to continue the family line. It is used as a wish, a blessing or an auspicious phrase on architectural plaques.
It has not necessarily always been used in a positive sense: 金玉滿堂 has been used in the past in the context of the temporary nature of riches, how wealth can be lost just as easily as it can be gained, and how it will do one no good in the next world.
In the ci lyric poem zuo wu, to be sung to the tune of Immortal at the River, the Southern Song Dynasty poet Liu Chenweng (1232-1297) wrote: 金玉滿堂不守,菁華歲月空遷。從今飽飯更安眠。丹經都不看,閒坐一千年 (Wealth and riches may slip through the fingers; youth deserts you in time. From now on I will eat and sleep peacefully. I have no need of poring over the classics: I can just sit back and rest while the years go by).
The Qing Dynasty writer Qian Yong (1759-1844), in the li ji (Benefiting Oneself ) section of the yi lun chapter of his luyuan conghua, wrote: 今人既富貴驕奢矣,而又喪盡天良,但思利己,不思利人,總不想一死後,雖家資巨萬,金玉滿堂,尚是汝物耶 (Nowadays, there are those who are wealthy and proud, and yet are devoid of conscience, who think only of themselves, and not of others. Do they not know that after their death, no matter how wealthy their family, their abundant riches do not belong to them?)
In fact, the more complete phrase 金玉滿堂,莫之能守 can also be used nowadays. This is a direct quote from Chapter 9 of the ancient Taoist classic dao de jing by Laozi, in which it says: 金玉滿堂,莫之能守;富貴而驕,自遺其咎。功遂身退天之道 (When gold and jade fill the hall, their possessor cannot keep them safe; when wealth and honors lead to arrogance, this brings its evil on itself; when the work is done, and one's name is becoming distinguished, to withdraw into obscurity is the Way of Heaven.)
This passage exemplifies certain themes explored in the dao de jing, such as relativity; the ephemeral nature of material things and social status; the incompatibility of the Way of Heaven (natural law) with extremes; and the folly of complacency.
In English, the fact that one's amassed wealth does you little good beyond the grave is neatly expressed by the phrase "you cannot take it with you (when you go)." The caution against complacency is beautifully encapsulated in the quote, "Look on my works, ye Mighty, and despair!"
In the poem Ozymandias, initially published in the Examiner in London in 1818, the English Romantic poet Percy Bysshe Shelley (1792–1822) imagines a time-shattered statue of a formerly powerful king, dissembled and crumbling in a desert where once his kingdom thrived. Shelley wrote:
"And on the pedestal these words appear:
'My name is Ozymandias, king of kings;
Look on my works, ye Mighty, and despair!'
Nothing beside remains. Round the decay
Of that colossal wreck, boundless and bare
The lone and level sands stretch far away."
(Paul Cooper, Taipei Times)
Why not buy that expensive watch? It's only money: You can't take it with you when you go.
(你幹嘛不買那隻名錶呢?不過就是錢而已,反正你百年之後也帶不走。)
Civilizations rise and fall. "Look on my works, ye Mighty, and despair," as they say.
(文明興衰無常,有道是「金玉滿堂,莫之能守」。)
Comments will be moderated. Keep comments relevant to the article. Remarks containing abusive and obscene language, personal attacks of any kind or promotion will be removed and the user banned. Final decision will be at the discretion of the Taipei Times.