Taiwan picks "Small Talk" for Oscars oreign language film category 「日常對話」代表台灣進軍奧斯卡外語片
The Ministry of Culture announced last week that it has selected Small Talk, a documentary by director Huang Hui-chen, as Taiwan's entry for the Best Foreign Language Film category at the 90th Academy Awards, also known as the Oscars. During a phone interview, Huang admitted she was not so much surprised as shocked by the decision.
Huang's documentary explores the story of her lesbian mother's life, and her confusion over her mother as she was growing up. The film depicts how the two find a way to live together through their daily conversations. It has already won a Teddy Award at the 2017 Berlin International Film Festival.
Huang said that, as the decision marks the first time Taiwan has submitted a documentary for the category at the Oscars, she sincerely hopes that this will encourage more viewers to watch documentaries. Director Ang Lee's Crouching Tiger, Hidden Dragon won Best Foreign Language Film at the Oscars for Taiwan in 2001.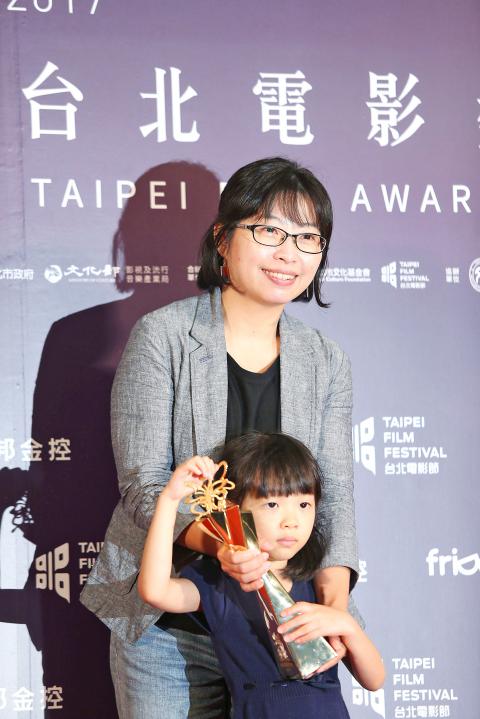 Huang Hui-chen, director of documentary Small Talk, poses for a photo with her daughter after winning the Best Documentary Film at the Taipei Film Awards at the Taipei Zhongshan Hall on July 15. 紀錄片「日常對話」導演黃惠偵獲得台北電影獎最佳紀錄片後和女兒合照,頒獎典禮於今年七月十五日在台北中山堂舉行。
Photo: CNA
照片︰中央社
(CNA, translated by Eddy Chang)
文化部上週宣布,導演黃惠偵的紀錄片「日常對話」,將代表台灣角逐第九十屆美國影藝學院獎最佳外語片。黃惠偵在接受電話訪問時表示,她實在是驚訝大於驚喜。
黃惠偵的紀錄片描繪她母親身為女同性戀的家庭故事,以及她自幼對母親的疑惑,進而從日常對話中找到兩人如何相處之道,該片已在柏林影展拿下二○一七年泰迪熊獎。
黃惠偵表示,這是紀錄片第一次代表台灣角逐奧斯卡獎最佳外語片,她衷心希望這可促使更多觀眾去看紀錄片。過去台灣曾以李安執導的「臥虎藏龍」,勇奪二○○一年奧斯卡獎最佳外語片。
(中央社)
Publication Notes
TODAY'S WORDS
今日單字
1. small talk phr. 閒聊 (xian2 liao2) 2. shocked adj. 感到驚訝;震驚 (gan3 dao4 jing1 ya4; cheng4 jing1) 3. lesbian n. 女同性戀 (nu3 tong2 xing4 lian4) 4. daily adj. 日常的 (ri4 chang2 de5) 5. conversation n. 對話 (dui4 hua4)
Comments will be moderated. Keep comments relevant to the article. Remarks containing abusive and obscene language, personal attacks of any kind or promotion will be removed and the user banned. Final decision will be at the discretion of the Taipei Times.