A very brief history of Taiwan's railways 台灣鐵道漫談
As the sun is going down, as the workers are heading for home, a northbound train is racing by the Keelung river on the MRT's Tamsui Line.
There was a man sitting in the window seat right next to me. He looked utterly distraught. Tears were running down his face and falling to the floor. I asked him: "Got fired?"
The man said nothing, but the tears kept coming.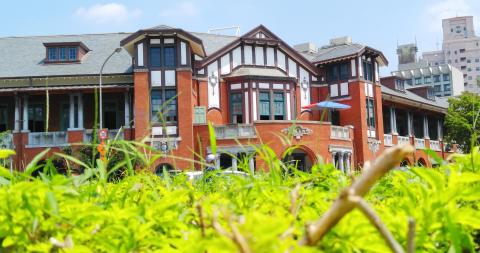 The Railway Authority Building of the Office of the Governor-General of Taiwan is pictured on Sunday last week in Taipei. 臺灣總督府鐵道部;攝於上週日,台北。
Photo: Ethan Zhan, Taipei Times
照片:台北時報詹豐造
"Dumped?"
With that, the man started bawling. The whole car was full of people, who, seeing him in such a state, could not help feeling sorry for him. While some hoped I would leave the poor guy alone, others thought I should help him let it all out.
"Are they really worth it?" I asked. Then, "where are you heading, anyway?"
With tears streaming down his face, the man said, "I have no idea whether it's worth it. I'm not even sure I know where this relationship is heading. Have you heard the song, 'Up and Down Zhongxiao East, Nine Times'? It's one of my favorite songs. But my heart's not in it now. I don't feel like walking. And so I'm riding the Tamshui line instead, nine times there and back."
I saw this as a chance to change the subject. "Speaking of the Tamshui Line," I said, "did you know this line used to be a regional branch line of the Taiwan Railways Administration, not an MRT line?" I asked.
"I didn't know that. I don't know anything!"
"There's no need for that," I said. "So you don't know about the history of the Tamshui Line, but you surely know that both China and Japan ruled Taiwan at different times, don't you?"
"Yes, I know that part," he said, then went back to wailing.
"The Qing did build some railroads in Taiwan, but only between Taipei and Hsinchu, and they were not very well constructed. The trains would often just stop working and people had to get out and push."
"That sucks."
"So when the Japanese came, the first thing they did was build railroads. With railroads, they could transport both people and goods inland."
"That makes sense."
"However, roads in Taiwan were very hard-going at that time. Goods transported to Tamsui Harbor were not easily transported into Taipei by road, and so they built the Tamshui Line. It was inaugurated on Aug. 25, 1901. Seven years later, the West Truck Line that ran from Keelung in the north to Kaohsiung in the south was completed. It not only facilitated transport between the south and the north, but also made it possible to easily deliver products from various parts of Taiwan, such as sugar, coal and rice, elsewhere. Also, before the West Truck Line began operation, people living in Taipei probably had little idea of what was going on in other parts of the island. The same can be said about Taichung and Kaohsiung. Nobody thought of Taiwan as one entity. But after the trains started running, a sense of unity developed. Different parts of Taiwan became places people could actually visit, not places they had not even heard of."
"The railway sounds impressive."
"It was. Precisely because the railway was important, not long after the West Truck Line was completed, the Office of the Governor-General of Taiwan began constructing the Taitung Line."
"So, what happened to the Tamsui Line?"
"As convenient as the Tamsui Line was, it was a single-track railway. In order to make way for an electrified double-track railway, the last train to depart for Tamsui bid farewell on July 15, 1988, and an MRT line was built to take its place."
"Eighty-seven years of history ended just like that."
"Yes. Everything that has a beginning, has an end. As it was for the Tamsui Line, so it is for love. All that comes shall one day go. Do not get too attached to how things should work out."
"I see. Thank you. And I don't think I will ride the Tamsui Line nine times tonight, after all. Once will do."
(Translated by Ethan Zhan)
傍晚,下班時間,淡水線列車經過基隆河,一路向北疾行。
我看著坐在身旁、靠窗、神情落寞、眼淚一滴一滴掉下來的一個大男生,忍不住問道:「失業啊?」
大男生沒回答,眼淚掉得更多了。
「那是失戀囉?」
「哇……」大男生居然嚎啕大哭了。車廂內滿滿的人看他哭得這麼肝腸寸斷,都為他感到不忍與鼻酸。有人希望我不要再發問了,有人則希望我可以跟他多說一些,幫助他把悲傷宣泄出來。
「那個人,值得你這樣嗎?你要坐到哪?」我問道。
大男生一把鼻涕一把眼淚的說:「我不知道值不值得,我也不知道我們會走到哪。有一首我很喜歡的失戀的情歌,叫『忠孝東路走九遍』。我很難過,可是不想走路走九遍,所以我坐淡水線,要來來回回坐九遍。」
「講到淡水線,你知道以前這條線是台鐵在走的,不是捷運嗎?」我說。
「我不知道,我什麼都不知道!」
「你別這樣。」我說。「雖然你不知道淡水線的歷史,但好歹你也知道中國的清朝及日本都曾先後來到台灣、統治台灣吧?」
「嗯,知道。」大男生哽咽道。
「清朝在台灣也是有蓋鐵路的,但只蓋台北到新竹這一段,而且品質不佳,很多時候車子走不動,還要人下來推車。」
「喔,好機車的火車。」
「所以日本人來之後,第一件事就是蓋鐵路。蓋好鐵路,人才可以進來,物資也才可以進來。」
「有道理。」
「可是那個時候台灣的道路非常崎嶇難行,就算把物資運到淡水港,也很難以陸運的方式把東西運到台北。所以淡水線就因為貨運的需求生出來了,它的生日是一九○一年八月二十五日。淡水線通車的七年後,北起基隆、南迄高雄的縱貫線也完工了。縱貫線的完工不但讓南北運輸更便利,也讓各地的特產,例如蔗糖、煤礦、稻米,能便利地運送到其他地方。除此之外,縱貫線通車前,台北人大概就只知道台北的事,台中人台中事,高雄人高雄事,沒有人會以台灣這個島為一體來思考事情。但鐵路通車後,一體感就慢慢凝聚了。因為它們全變成你到得了的地方,不是聽都沒聽過的地方。」
「鐵路好像蠻厲害的。」
「是啊。因為鐵路很重要,所以縱貫線完工後不久,台灣總督府就開始蓋台東線鐵路了。」
「那後來淡水線怎麼了?」
「淡水線雖然便利,卻是單軌運行的。為了更便捷的電力雙軌運輸,只好在一九八八年七月十五日跟最後一班淡水線列車說再見,改建捷運。」
「八十七年的歷史,就這樣結束了。」「嗯,有開始的時候,就有結束的時候啊。淡水線是這樣,愛情也是一樣。人啊、事啊、物啊總是來來去去,所以不要太強求。」
「嗯,謝謝你。那我今晚淡水線就不坐九遍了,坐一遍就好了。」(台北時報詹豐造)
Publication Notes
FOLLOW UP
課後練習
1) Have you ever lost someone or something you loved? Was it easy for you to let go? How long did it take for the pain of loss to go away?
1) 你是否曾經失去你所摯愛的人事物?放下對你來說容不容易?你花多久的時間才從痛楚中走出來?
2) When was the West Truck Line completed?
2) 縱貫線是何時完工的?
3) In addition to the Danshui Line, are there other branch lines in Taiwan? Can you name three of them? What were their functions when they were built?
3) 淡水線之外,台灣還有哪些鐵路支線?你能否列出其中三條?當初興建時,它們的功能是什麼?
Comments will be moderated. Keep comments relevant to the article. Remarks containing abusive and obscene language, personal attacks of any kind or promotion will be removed and the user banned. Final decision will be at the discretion of the Taipei Times.