Off the wall 金屬工廠的外牆
A metal factory in the industrial area of Nantou County's Jhushan Township had its wall painted with a variety of fascinating designs last year, ranging from a big truck that resembles Optimus Prime from the Transformers, gorgeous and attractive race car girls and the famous tilted postboxes. The paintings are rich in both content and color and have caught the eye of both residents and visitors. Whenever visitors travel through the area during holidays, they get out of their car to appreciate the graffiti or have their pictures taken with it. It has become a main tourist attraction in the community.
The factory says the reason they painted the wall was that people often posted advertisements on it, and the wall became messy after a while, which was unpleasant to look at for the community. Hence, last year they hired a designer to fashion the wall, basing the design ideas on aluminum alloy wheels, their primary product, and painting lots of cool cars on it. Initially they only wanted to paint the wall so that it would look a bit more lively. Little did they know that after completion, it would be very well received by the community, which came as a surprise to them.
A local resident surnamed Chen says that in the past there were only factories in the industrial area and it was very monotonous. Now there is a graffiti of awesome cars in the community and friends get curious and ask about it when they come to visit, which makes him proud to be part of the community. Chen says he hopes the graffiti will be properly maintained and remain a unique feature of the community.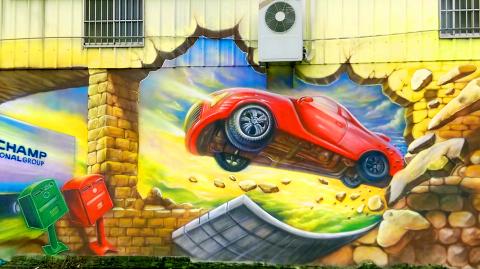 A car appears to be driving through the wall in a piece graffiti on a metal factory in Nantou County's Jhushan Township on Dec. 25 last year. 南投竹山一家金屬工廠的外牆上演著飛車奪牆而出的畫面。攝於去年十二月二十五日。
Photo: Liu Pin-chuan, Taipei Times
照片:自由時報記者劉濱銓攝
(Liberty Times, translated by Ethan Zhan)
南投竹山鎮工業區內一家金屬工廠,去年將廠房外牆彩繪上各式酷炫圖案,有酷似變形金剛柯博文的大卡車,也有美麗吸睛賽車女郎,更有火紅的「歪腰」郵筒,豐富內容與鮮豔色彩,引起居民與遊客注意,每到假日有遊客經過,還會下車到彩繪牆觀賞或是合影留念,成為社區一大亮點。
廠方表示,當初彩繪目的是因為外牆常有廣告物張貼,時間一久容易造成牆面紊亂,對社區來說也不美觀,因此才在去年雇請設計師將外牆規劃一番,並以工廠主要產品鋁合金輪圈為設計發想,彩繪出各式酷炫車輛。當時只是希望彩繪牆可以活潑一點,沒想到完成後竟獲得社區不錯迴響,讓他們也相當意外。
當地陳姓居民說,以前工業區都是廠房,沒有什麼特色,但現在社區有了「靚車」彩繪牆,朋友來訪經過看到,還會好奇問個究竟,讓他也覺得與有榮焉,希望彩繪牆日後也能好好維持,成為地方特色之一。〔自由時報記者劉濱銓/南投報導〕
Comments will be moderated. Keep comments relevant to the article. Remarks containing abusive and obscene language, personal attacks of any kind or promotion will be removed and the user banned. Final decision will be at the discretion of the Taipei Times.