Greater Taichung seeks tourism boost from perhaps SE Asia's largest Matsu statue 東南亞最高媽祖像 台中市府打造觀光賣點
Among the NT$1.2 billion (US$39.8 million) to be spent building the proposed Daan Matsu cultural park in Greater Taichung, around NT$600 million of the funds will go toward constructing a nearly 70m tall statue of Matsu, including the foundation and a path of reverence for the sea goddess. Greater Taichung's Tourism and Travel Bureau Director General Chang Da-chun says, "This will definitely be the tallest Matsu statue in Southeast Asia." There are already many official and private tour groups from China making queries, Chang says, adding that he is confident that, along with Jenn Lann Temple in Dajia, "It will create a huge tourist attraction."
Greater Taichung's Christian community has joined forces and says that the tallest cross in Southeast Asia should also be erected. Liao Chin-ho, the minister who has made the request on the community's behalf, says that Christianity and Catholicism belong to the world's three major religions. If you combine Christians from China and Taiwan, the cost of building the tallest cross in Southeast Asia would not exceed the amount it will cost to build the Matsu statue, and the tourist value would definitely not be less than the Matsu statue either, Liao says.
Chang says that he is afraid building the tallest cross in Southeast Asia would be a bad idea, although he says that the Greater Taichung Government would consider the possibility of constructing a statue of Jesus. The location would not necessarily have to be in Daan District, Chang says, adding that the chosen location could help diversify tourist development in Greater Taichung. It could be done in collaboration with a private group, but still needs to be evaluated, Chang says.
A statue of Matsu sits in front of Keelung's Ching An Temple on Oct. 18, 2012. 這張媽祖像是二0一二年十月十八日攝於基隆慶安宮外的照片。
Photo: Yu Chao-fu, Liberty Times
照片:自由時報記者俞肇福
Liao says that the churches that have come together are asking for a cross to be built, not a statue of Jesus. Minister Gao Tzu-chiang, convener of churches in the eight districts along the west coast, says that a cross can cover Catholicism and all of the different Christian denominations, and also serve to represent the lord's salvation. If a statue was going to be erected, there would be some controversy over whether to make it a statue of Jesus, Saint Mary or Saint Paul, making a statue inappropriate, Gao says.
According to the local government's current plans, contractors were originally going to begin work for the Daan Matsu cultural park in May. After residents criticized the design last week during an explanatory session, the bureau decided to make changes according to suggestions from locals and hope to hand over the project to the general contractor by the end of June. Aside from living up to claims of being the tallest Matsu statue and the largest path of reverence to the goddess in Southeast Asia, there will also be an area for selling local agricultural products, a wind-barrier hallway, a wall displaying the story of Matsu, an ocean theater with a water screen movie theater, an ecological hotel and a villa.
(Liberty Times, Translated by Kyle Jeffcoat)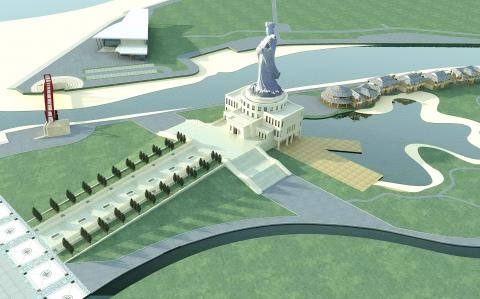 A computer-generated image of the proposed Daan Matsu cultural park in Greater Taichung. 台中市府計劃的大安媽祖文化園區電腦繪圖。
Photo courtesy of the Greater Taichung Government
照片由台中市政府提供
台中大安媽祖文化園區將斥資十二億元興建,其中預計高近七十公尺的媽祖神像及基座加上瞻仰大道,經費約六億元。台中市觀光旅遊局局長張大春上週表示,這確定會是「東南亞最高的媽祖像」,而目前已有不少中國官方及民間旅遊團在詢問,他有信心,和大甲鎮瀾宮串連,「會打造極大的觀光賣點」。
台中的基督教界串連喊出要興建「東南亞最高的十字架」。提出串連要求的牧師廖金河表示,基督教及天主教是世界三大宗教之一,如果以中國加上台灣的基督信徒,在台中蓋「東南亞最高的十字架」,花的錢「不會比媽祖像多」,觀光價值也絕對不輸媽祖像。
張大春對此表示,「要蓋東南亞最高的十字架」恐怕不太好;他認為,如果要蓋「基督像」,市府可以考慮,而地點未必要在大安,可以選擇其他地區做多元觀光發展,也可以選擇和民間合作,不過這還需要再評估。
廖金河則說,目前各教會串連,要求蓋的是「十字架」、不是「基督像」;西海岸八區教會召集人高自強牧師則說,十字架可涵蓋天主教、基督教各教派,並代表天主「救贖」的意義,如果要蓋「像」,那又會出現要蓋耶穌、聖母瑪利亞還是聖保羅的爭議,並不妥當。
依據目前市府規劃,大安媽祖文化園區原本五月要發包,但上週說明會上,居民對造型有意見,因此觀光局針對地方意見做修改,希望六月底能發包。除了宣稱將是東南亞最高的媽祖像、瞻仰大道外,也會有農特產品區、防風迴廊兼媽祖故事展示牆、海上劇場含水幕電影席、生態旅館及VILLA區與觀光漁市主題,預計在一○五年完工。
(自由時報記者唐在馨)
Publication Notes
TODAY'S WORDS
今日單字
1. query n. 質問;詢問;疑問 (zhi2 wen4; xun2 wen4; yi2 wen4) 例: I have a query about the special discount your company is offering. (我對貴公司的促銷折扣有疑問。) 2. diversify v. 多元化 (duo1 yuan2 hua4) 例: We would like to diversify the product line. (我們想多元化產品系列。) 3. denomination n. 宗派;教派 (zong1 pai4; jiao4 pai4) 例: Protestant denominations comprise roughly 40 percent of Christians worldwide. (基督新教占全球基督教徒的百分之四十左右。)
Comments will be moderated. Keep comments relevant to the article. Remarks containing abusive and obscene language, personal attacks of any kind or promotion will be removed and the user banned. Final decision will be at the discretion of the Taipei Times.