Researchers say 75% of Taiwan's honey not pure 學者檢測 賣場蜂蜜七成五不純
Are you consuming real honey or fake honey? After testing a dozen different honeys being sold at supermarkets, hypermarkets and fruit stands, Taiwan Apicultural Society president and National Ilan University Biotechnology and Animal Science Department director Chen Yue-wen found that 75 percent were not real honey. Pollen could not be extracted from six of the honeys and three were a mixture of both fake and real honey. However, all products marked with official certification were up to standard. The Consumers' Foundation has urged the government to require companies to be honest when listing the content of products.
Pure honey has no additives, Chen says, adding that much of the fake honey on the market is made up of high fructose corn syrup, caramel coloring and artificial flavoring. Many of the blended and synthetic honeys being sold on the market are actually a combination of pure and fake honey, and may meet the government's Chinese National Standards (CNS). Chen has come up with a new method for analyzing stable isotopes in integrated biochemical processes, allowing one to accurately differentiate real from fake honey, which he will be presenting at the International Apicultural Congress at the end of the month.
Miaoli District Agricultural Research and Extension Station researchers Sung I-hsin and Wu Heui-hu say that not enough domestic honey is being produced to meet market demand, especially since production was cut in half this year, making it highly difficult to find pure Taiwanese honey at hypermarkets and supermarkets. They say that purchasing it directly from beekeepers would be the best way to get it. Taiwan Beekeepers Association chairman Wu Chao-sheng also says that domestically produced honey with certified labels is only sold at the Matsusei grocery store chain. While in the past there were a lot of fake honeys being sold, now food processing companies are buying pure honey from beekeepers and adding other ingredients, but he says that they should label the contents accurately.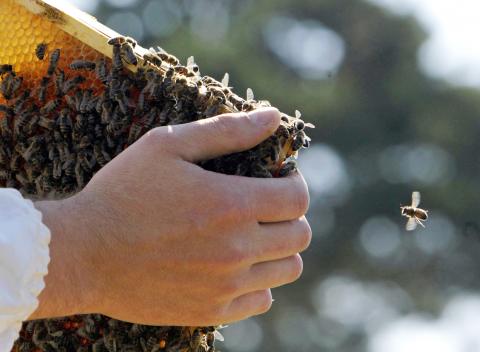 Beekeeper Roman Kuttelwascher holds a honeycomb from a beehive at Vaclav Havel Airport in Prague, Czech Republic on Sept. 6. Honey produced by the bees is checked for its quality and presence of pollutants to help the airport collect pollution data about the environment. 養蜂人羅曼‧柯特勒瓦舍九月六日於捷克共和國布拉格瓦茨拉夫哈維爾國際機場,手拿一個蜂窩蜂巢留影。當地蜜蜂產生的蜂蜜被檢查,是為了檢查蜂蜜品質與污染物的程度,協助機場蒐集環境污染數據。
Photo: Reuters
照片:路透
After reporters visited supermarkets and hypermarkets such as Pxmart, A.mart, RT-Mart and Carrefour, they found that none of the honey being sold at these stores had certified labels, and that all of the honey on sale, aside from two from Thailand, were from Taiwan. Carrefour and RT-Mart both add high-fructose corn syrup to their own brands of honey, which are marketed as "blended honey," while A.mart does not label its honey this way. Some companies label their product as longan honey, but when you look on the back you see that it is actually blended honey. Causing much confusion, some companies even place pictures of beekeepers on molasses products.
A.mart says that of their company's two longan honeys, one is 100 percent pure longan honey, while it is clearly labeled that the other one contains fructose and dextrose.
Tsai Shu-chen, chief of the Food and Drug Administration's (FDA) food division, says that companies selling honey are not legally required to clearly state the contents of the product in product names unless it is being marketed as "pure honey." But Consumers' Foundation secretary-general Lei Li-fen says that the FDA requires labeling for milk powder, fruit juice and rice flour to indicate that the contents do not meet official standards by writing flavored milk powder, juice from concentrate or flavored rice flour. The standard should be the same for all products, says Lei.
Nutrition Foundation of Taiwan chief executive officer Wu Ying-jung says that fake honey does not have the nutrients that natural honey does, adding that eating too much high-fructose corn syrup can cause obesity, fatty liver disease and hyperuricemia, so not labeling such products clearly poses a potential danger to people with diabetes or metabolic syndrome.
(Liberty Times, Translated by Kyle Jeffcoat)
你喝的是「真蜜」或「假蜜」?台灣蜜蜂與蜂產品學會理事長、宜蘭大學教授陳裕文檢測超市、賣場與水果攤十二件蜂蜜,發現七成五摻假,其中六件無法萃取出花粉,三件屬真假蜜混合;至於有「國產蜂產品證明標章」的產品則檢驗全合格;消基會呼籲政府應要求業者誠實標示。
陳裕文解釋,純蜜沒有任何添加物,但坊間假蜜卻以高果糖糖漿、焦糖色素、香料製作而成,部分真假蜜混合的「調和蜜」、「合成蜜」還可能通過CNS(中華民國國家標準),他已開發出最新的穩定同位素結合生化檢測方法,可準確鑑別蜂蜜,月底將在世界蜜蜂大會發表。
苗栗農改場副研究員宋一鑫與吳輝虎強調,國內產量不敷市場需求,尤其今年產量少一半,要在賣場、超市買到國產純蜜很難,最好直接跟蜂農買。台灣養蜂協會理事長吳朝生也說,有證明標章的蜂蜜僅在松青超市鋪貨,而過去假蜜多,現在食品加工業者改向蜂農買蜜再添加其他成分,但仍應標示清楚。
記者走訪全聯社、愛買、大潤發、家樂福等賣場,全沒國產蜂產品證明標章,僅兩件產地為泰國,其餘為台灣。家樂福、大潤發自有品牌蜂蜜添加果糖等成分,有標示為「調和蜂蜜」,但愛買卻沒有。還有業者前面標示龍眼蜜,後面一看才知是調和蜜,甚至有黑糖蜜掛上養蜂照片,造成混淆。
愛買則說,公司有兩款自有品牌龍眼蜜,一款是百分之百龍眼蜜,另一款龍眼蜜成分有清楚標示有果糖和葡萄糖。
食藥署組長蔡淑貞表示,未強制規定蜂蜜品名標示,只要業者確實添加蜂蜜,但沒強調是純蜜,就不違法;但消基會秘書長雷立芬表示,食管署已要求奶粉、果汁、米粉如含量不足,就要標示為「調製乳粉」、「無果蔬汁」或「調合米粉」,標準應一致。
台灣營養基金會執行長吳映蓉表示,假蜜沒有天然蜂蜜的營養,高果糖糖漿吃太多會導致肥胖、脂肪肝、高尿酸,標示不清恐對糖尿病或代謝症候群患者有潛藏風險。
(自由時報記者鍾麗華、楊雅民)
Publication Notes
TODAY'S WORDS 今日單字
1. dozen n.
一打;十二個 (yi4 da3; shi2 er4 ge5)
例: The average price of a dozen eggs in Taiwan is NT$50.
(台灣一打雞蛋平均價格為新台幣五十元。)
2. differentiate v.
鑑別;分辨 (jian4 bie2; fen1 bian4)
例: Do you think you could differentiate between the different brands of soda in a blind experiment?
(你認為參與單盲試驗,你還能分辨汽水品牌嗎?)
3. obesity n.
肥胖 (fei2 pang4)
例: The main causes of obesity include excessive food intake and lack of physical activity.
(肥胖主要的起因包含過度飲食與缺乏運動。)
Comments will be moderated. Keep comments relevant to the article. Remarks containing abusive and obscene language, personal attacks of any kind or promotion will be removed and the user banned. Final decision will be at the discretion of the Taipei Times.