scraps US$500 try-on fee, knockoffs still flourish 王薇薇婚紗中國店 廢除五百美元試穿費 冒牌貨依舊盛行
Vera Wang, the queen of bridal couture, is abolishing the nearly US$500 fee she charged Chinese brides-to-be to try on a garment at her new Shanghai bridal boutique after the move, meant to deter counterfeiters, set off a global outcry.
Local and global media had criticized the surcharge as being discriminatory because it was applied only in China. A Vera Wang spokeswoman told Reuters that the 3,000 yuan (US$480) charge was being scrapped as of March 27.
A company spokeswoman told local media earlier this year that the charge was imposed to fend off copying of the elaborate dresses.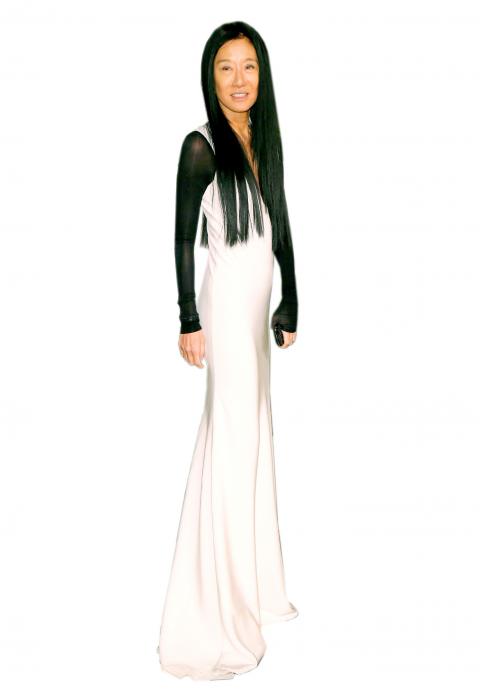 Left: Vera Wang attends a party in West Hollywood, California on Feb. 24. 二月二十四日,服裝設計師王薇薇參加一場在加州西好萊塢舉行的派對。
Photo: Reuters
照片:路透
Despite the move, Vera Wang's ivory tulle trains and pinched bodice gowns had already found fans in the world of pirates, with knockoffs widely available on Chinese e-commerce sites for a fraction of the price.
Li, one seller of "Vera Wang style" dresses on Taobao Marketplace, China's largest e-commerce site, says he can achieve up to 90 percent similarity to the namesake garments without even seeing the originals.
"For the experts you don't need to try on the dress to figure out how to copy it, you just need to see it or feel it at the shop," said Li.
Designer Vera Wang attends an event in New York City on March 13. 三月十三日,服裝設計師王薇薇在紐約市參加一場活動。
Photo: AFP
照片:法新社
(Reuters)
素有「婚紗女王」稱號的王薇薇為阻止有人抄襲設計,在新開張的上海婚紗店,要求試穿的準新娘支付近五百美元試穿費,引發全球抨擊後,取消這項規定。
由於試穿費只針對中國分店實施,引發當地和國際媒體批評帶有歧視。王薇薇的發言人向路透表示,人民幣三千元(四百八十美元)的費用已在三月二十七日廢除。
公司發言人今年稍早告訴當地媒體,收取試穿費是為了避免有人剽竊精心製作的婚紗。
儘管祭出這項措施,王薇薇的象牙色長襬薄紗貼身禮服,已成為許多仿冒者的最愛,中國網路商場四處都能看到價格便宜的假貨。
中國最大網路商場「淘寶網」上,一名李姓「王薇薇款」婚紗賣家表示,他可以達到該款婚紗的九成相似度,甚至不必看到原款。
李說,「對專家來說,想要抄襲婚紗,根本不需要試穿,只要在店裡看過或摸過就行。」
(路透/翻譯:陳維真)
Publication Notes
TODAY'S WORDS 今日單字
1. scrap v.
取消;放棄 (qu3 xiao1; fang4 qi4)
例: He supports the idea that road tax should be scrapped.
(他支持廢除公路稅。)
2. knockoff n.
仿冒品 (fang3 mao4 pin3)
例: She bought an iPhone knockoff from China.
(她從中國買到假iPhone。)
3. fraction n.
一小部分 (yi1 xiao3 bu4 fen4)
例: He hesitated for a fraction of a second.
(他猶豫了那麼一瞬間。)
Comments will be moderated. Keep comments relevant to the article. Remarks containing abusive and obscene language, personal attacks of any kind or promotion will be removed and the user banned. Final decision will be at the discretion of the Taipei Times.