Nothing stopping minors from buying lottery tickets 未成年不得買彩券禁令 形同虛設
Minors, or people under the age of 18, are not being kept from buying lottery tickets at lottery retailers. The Consumers' Foundation has asked the Taiwan Lottery Co to help deal with the serious Taiwanese obsession of playing the lottery.
An investigation conducted by the Consumers' Foundation found that lottery retailers are selling lottery tickets to minors, despite Public Welfare Lottery regulations prohibiting minors from purchasing lottery tickets or claiming prize money. During a recent covert survey, the foundation sent junior high and elementary school students to 80 different lottery retailers to buy lottery tickets, and not one of them was turned away. Roughly 98 percent of the retailers sold tickets to the minors without asking any questions pertaining to age, and only 80 percent of the retailers had signs at the entrance or inside their stores saying you must be at least 18 years old to purchase lottery tickets or claim prize money.
Lottery stand businesses always thrive during the Lunar New Year. The Consumers' Foundation recently received a complaint from one parent who saw a child buying lottery tickets from a lottery retailer, which prompted the foundation to send out undercover junior high school and elementary school students to purchase lottery tickets. The results of the survey showed that only one retailer had qualms about selling lottery tickets to a minor, but, even so, he assumed that an adult customer standing behind the child was the child's parent and still sold the tickets to the student without verifying his age.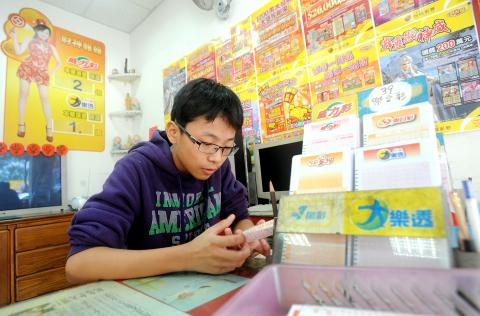 A boy selects numbers for lottery tickets at a lottery retailer in Taipei on Feb. 6. 一名男孩二月六日於彩券店選投注號碼。
Photo: LinCheng- kung, Liberty Times
照片:自由時報記者
According to the law, retailers selling lottery tickets to minors can be fined between NT$30,000 and NT$250,000, and the price of the ticket and amount won must be claimed as profits for the Public Welfare Lottery. Although the regulations are clear, retailers are still not complying with the law. The survey showed that the only two retailers who made age inquiries still sold the lottery tickets to the minors.
National Treasury Agency Deputy Director-General Chen Hsueh-hsiang says that the agency will continue enhancing its training and oversight programs. The Taiwan Lottery Co, on the other hand, says it places the utmost importance on the issue and will be working hard to improve the effectiveness of its training, ensuring that retailers do not sell lottery tickets or allow prizes to be claimed by minors, adding that if a retailer is not able to determine whether a person is at least 18 years old, they should ask for identification. The company says that it will also revoke retailers' lottery licenses if they are caught selling lottery tickets to minors.
(Liberty Times, Translated by Kyle Jeffcoat)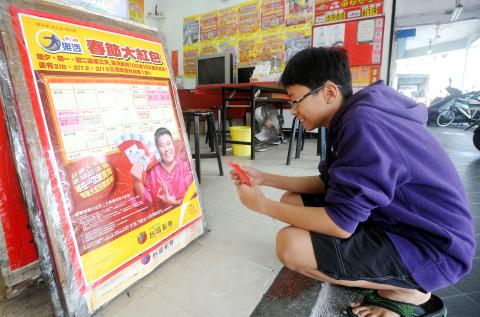 A boy looks at a promotional poster in front of a lottery retailer in Taipei on Feb. 6. 一名男孩二月六日於台北看著彩券店前面的推銷海報。
Photo: Lin Cheng-kung, Liberty Times
照片:自由時報記者
未滿十八歲的孩子到彩券行買彩券,竟百分百不設防!消基會要求台彩公司正視「全民」瘋彩券的嚴重性。
消基會調查發現,儘管公益彩券發行條例規定,不得發售公益彩券或支付獎金給未滿十八歲者。但消基會派出國中小學生進行測試卻發現,隨機抽樣的八十家業者,全數都販賣彩券給未滿十八歲的測試者、九成八的彩券行未過問或確認購買者年齡;且只有八成的彩券行於出入口或店內標示「未滿十八歲不得購買或兌領彩券」。
每到農曆年,投注站總是生意興隆,消基會接獲家長投訴,看過彩券行賣彩券給小孩。消基會於是找了中小學生進行測試,結果僅一家業者有疑慮、但因誤以為站在後方準備買彩券的成人是家長,未再確認年齡便賣了彩券給測試學生。
依規定,業者販賣彩券給未滿十八歲者,可處新台幣三萬元以上、二十五萬元以下罰鍰,且應將售得的價金與所中獎金同額的款項,充作公益彩券盈餘。雖然法條規定得清清楚楚,但業者仍未依規定嚴格執行。調查也發現,即使有兩家業者詢問測試者的年齡,但問完後還是把彩券賣給測試者。
公益彩券主管機關財政部國庫署副署長陳雪香說,將要求台彩公司持續加強宣導和監控;台彩公司說,該公司極度重視消基會所提的問題,即日起配合加強宣導,確實執行不販售或兌領彩券給未滿十八歲消費者,若無法辨識對方是否年滿十八歲,須要求出示身分證明,未確實執行者,將取消其經銷商資格。
(自由時報記者楊久瑩、張舒婷、郭顏慧、周敏鴻、蘇金鳳)
Publication Notes
TODAY'S WORDS 今日單字
1. retailer n.
零售商 (ling2 shou4 shang1)
例: The sales tax exemption for online retailers will come to an end this year.
(網路零售商免銷售稅今年將結束。)
2. qualm adj.
疑慮 (yi2 lu4)
例: Barry has no qualms about downloading pirated music from the Internet.
(巴瑞下載網路上的盜版音樂沒有任何疑慮。)
3. verify v.
核對;查實 (he2 dui4; cha2 shi2)
例: The bank needs two forms of ID to verify your identity if you want to open a bank account.
(若要開帳戶銀行會需要兩種身分證查實你的身份。)
Comments will be moderated. Keep comments relevant to the article. Remarks containing abusive and obscene language, personal attacks of any kind or promotion will be removed and the user banned. Final decision will be at the discretion of the Taipei Times.