Native plant species soon face extinction due to global warming 暖化影響生態 六高山特有植物瀕絕
At an international conference on Sept. 26, Academia Sinica academician Chou Chang-hung said that with the onset of global warming, wild plant species at average to high altitudes have been showing a tendency to migrate to higher altitudes, adding that if these species continue to migrate they will eventually reach a point where there is nowhere to grow. Chou says that six plant species indigenous to Taiwan, including Yushan's Hypericum nagasawai, will soon face extinction, and says that the preservation of genetic resources brooks no delay.
The Taiwan Endemic Species Research Institute (TESRI) under the Council of Agriculture held the International Conference on the Collection and Preservation of Plant Genetic Resources on Sept. 26, with Peter H. Raven, a former science consultant for the Clinton administration and longtime director of the Missouri Botanical Garden, around a dozen other international experts from South Africa, England, Germany and China, as well as Academia Sinica's Chou, Lee Chia-wei, a professor in National Ching Hua University's Department of Life Sciences, and Chiu Chi-jung and Chung Kuo-fang, both professors in National Taiwan University's School of Forestry and Resource Conservation, presenting papers at the conference.
Chou says research shows that from 1906 to 2006 plant life at average to high altitudes in the Hehuanshan area gradually migrated to higher altitudes due to global warming, averaging 3.6m per year. If this migration trend is not slowed down, there will eventually be no more land available for the plants to grow, meaning that at least six of Taiwan's native plant species — Anaphalis morrisonicola, Artemisia morrisonensis, Swertia randaiensis, Hypericum nagasawai, Angelica morrisonicola, and Cirsium arisanensis — potentially face extinction.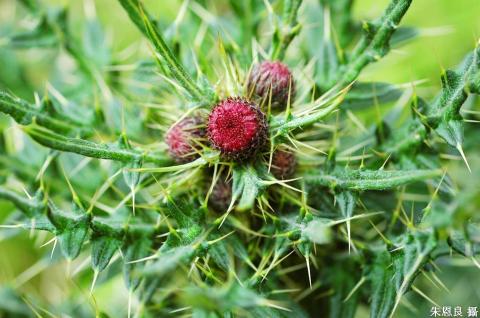 Cirsium arisanensis. 阿里山薊。
Photo courtesy of the Endemic Species Research Institute
照片由特有生物研究保育中心提供
TESRI director Tang Hsiao-yu says that they are currently in the process of planning facilities for the preservation of plant species in high-altitude mountain areas. Still at the preliminary phase of planning, they have decided to create a preservation area at Hehuanshan and will be working to collect and preserve 500 or so of the plant genetic resources currently growing at high altitudes there. With enough manpower and funding, the institute hopes to expand its collection and preservation endeavors to Southeast Asia in the future, potentially benefiting their work by holding exchanges with international experts and learning from the experiences of others, Tang says.
(Liberty Times, Translated by Kyle Jeffcoat)
全球氣候暖化,中高海拔野生植物出現往高海拔地區遷移生長的趨勢,中研院院士周昌弘九月二十六日在一場國際研討會中提出警訊,強調若高山植物持續往高處遷移,未來將無處可去,而台灣特有種的玉山金絲桃等六種植物恐將絕滅,種原蒐藏保育已刻不容緩。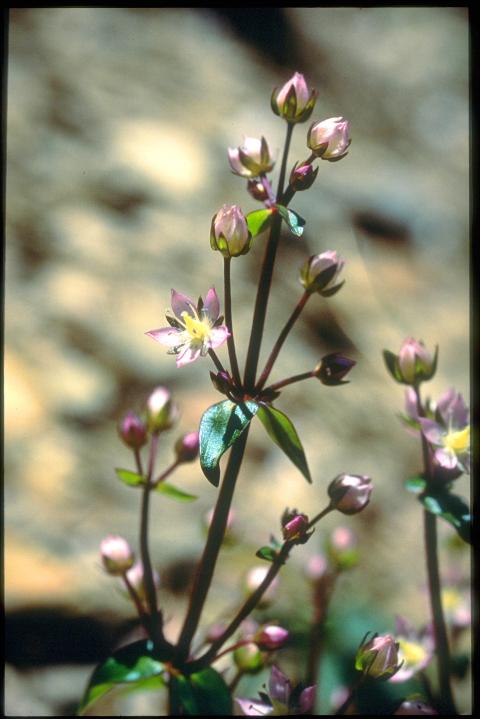 Swertia randaiensis. 巒大當藥。
Photo courtesy of the Endemic Species Research Institute
照片由特有生物研究保育中心提供
農委會特有生物研究保育中心二十六日舉辦植物種原蒐集與保育國際研討會,包括曾任美國前總統柯林頓科學顧問的密蘇里植物園園長彼得‧雷文與來自南非、英國、德國與中國等十二名國際專家學者與中研院院士周昌弘、清大生命科學系教授李家維與台大森林資源系教授邱圻榮、鍾國芳均與會發表報告。
周昌弘指出,從一九○六至二○○六年之間在氣候暖化影響下,研究紀錄顯示在合歡山區的中高海拔野生植物,每年以三點六公尺速率往高海拔遷移生長,若此趨勢未見減緩,最後將無處可去,其中至少有玉山抱莖籟簫、細葉山艾、巒大當藥、玉山金絲桃、玉山當歸與阿里山薊等六種植物極可能面臨絕滅。
特生中心主任湯曉虞表示,目前正積極籌設高山植物種原保存設施,初步選定合歡山地區設立保存場地,就現有五百多種高山植物種原進行蒐藏保存,未來若人力、財力允許更將擴展蒐藏範圍至東南亞地區,藉著國外學者專家的經驗交流,有助推動種原保存工作。
(自由時報記者陳信仁)
Publication Notes
TODAY'S WORDS 今日單字
1. altitude n. 海拔 (hai3 ba2) 例: She finds it difficult to breath at high altitudes. (她在高海拔很難呼吸。) 2. indigenous adj. 原產的;本地的 (yuan2 chan3 de5; ben3 di4 de5) 例: This animal is indigenous to Indonesia. (這個是印尼本地的動物。) 3. consultant n. 顧問 (gu4 wen4) 例: Mark has been a consultant at the accounting firm for over five years. (馬克在會計公司當顧問五年多了。)
Comments will be moderated. Keep comments relevant to the article. Remarks containing abusive and obscene language, personal attacks of any kind or promotion will be removed and the user banned. Final decision will be at the discretion of the Taipei Times.