The Adventures of Kathleen the Great and Mark the Meek 英勇凱薩琳與害羞馬克歷險記
Meet Kathleen the mouse and Mark the elephant. Kathleen is very brave and likes adventure, but Mark is very shy and scared of many things. But friends stay together, so Mark follows Kathleen
wherever she goes. Sometimes they get into some very sticky situations.
見見老鼠凱薩琳和大象馬克。凱薩琳非常勇敢又喜歡冒險,但馬克的個性十分害羞,對許多事情都感到害怕。不過,朋友都喜歡黏在一塊兒,所以凱薩琳走到哪兒,馬克就會跟到哪兒。有時候,他們也會碰上非常棘手的情況...
Mark's new folding car
馬克的新折疊車
Kathleen came home one day and saw Mark in the garage standing next to a brand new car.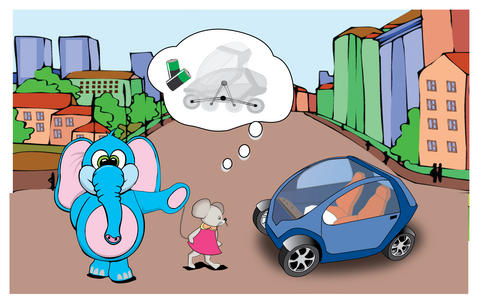 "Where did that come from?" Kathleen asked. "It looks like it's from the future."
"It's a special foldable car. It folds up to the size of a briefcase, so I'll never have to worry about parking again," Mark said.
"Let's go for a ride!"
Kathleen and Mark went into the city. Everyone was looking at their slick new ride.
"Getting downtown is going to be so much easier. No more buses for me," Kathleen said.
"And the car has a rechargeable battery. That way we won't do too much damage to the environment," Mark pointed out.
After driving around for a while, Mark and Kathleen decided to take a walk in the park. Mark pulled the car up to the side of the road, got out, and pushed a button. The car folded up to the size of a briefcase.
"Isn't that simply amazing?" he said to Kathleen.
But Kathleen didn't say anything back.
"Kathleen? Where did you go?"
Mark looked around. Kathleen was nowhere to be seen…(Michael Kearney, staff writer)
某天凱薩琳回家後,發現馬克在車庫裡,站在一輛新車旁邊。
「這輛車是打哪來的啊?」凱薩琳問:「它看起來好像是一部未來車喔。」
馬克回答:「這是一輛特殊的可折疊車,它折起來的大小就像一個行李箱一樣,這樣我就再也不用擔心停車的問題了。」
「那我們去兜風吧!」
凱薩琳和馬克開車進城,路上所有人都在欣賞他們這輛拉風的新車。
凱薩琳說:「這樣進城方便多了,我再也不用搭公車了。」
馬克特別指出:「而且這輛車還有可充電電池,這樣我們就不會對環境造成太大傷害了。」
兜風一陣子後,馬克和凱薩琳決定到公園去散步,馬克把車停到路邊,下車後按了一個按鈕,車子就自動折疊成一個行李箱的大小了。
馬克問凱薩琳說:「是不是很神奇啊?」
但是凱薩琳並沒有答話。
「凱薩琳,妳到哪裡去了?」
馬克四處張望,但是都看不到凱薩琳的蹤跡…
(翻譯:袁星塵)
Publication Notes
WHAT HAPPENED? 究竟怎麼回事?
1. What were people in the city staring at? a. Mark. b. Mark's suitcase. c. The car. 2. Kathleen and Mark were going to go for a walk… a. before driving around. b. before reaching the city. c. after driving around.
Publication Notes
FINISH IT 故事接龍
Write your own ending to the story! 寫下你的故事結局: Idea 1: Kathleen hadn't yet gotten out of the car! What happened to her? What does Mark do? Is Kathleen OK? 想法一: 凱薩琳還沒有下車!她怎麼了?馬克會怎麼做?凱薩琳還好嗎? Idea 2: Kathleen was folded up inside the car. Does she feel cramped? Is she able to unfold? Are her clothes wrinkled? 想法二: 凱薩琳被折進車裡了,她覺得很壓迫嗎?她能把車子展開嗎?她的衣服變皺了嗎? Idea 3: Kathleen wanted to trick Mark, so she hid behind a tree. Does Mark unfold the car? Where does he think Kathleen has gone? Does he think she has disappeared? 想法三: 凱薩琳想要捉弄馬克,所以她躲在樹後面,馬克會把車展開嗎?他覺得凱薩琳跑去哪了呢?他會以為她消失了嗎?
Publication Notes
TODAY'S WORDS 今日單字
1. foldable adj. 可折疊的 (ke3 zhe2 die2 de5) 例: I brought a foldable chair to the picnic. (我帶了一個折疊凳去野餐。) 2. slick adj. 靈巧的 (ling2 qiao3 de5) 例: Lebron James showed some slick moves last night. (「詹姆士大帝」昨晚展現了幾個靈巧的動作。) 3. ride n. 交通工具 (jiao1 tong1 gong1 ju4),車 (che1) 例: I'm saving up cash to get a sweet new ride. (我正在存錢要買一輛操控性能佳的新車。) 4. rechargeable adj. 可充電的 (ke3 chong1 dian4 de5) 例: I got a new rechargeable battery for my computer. (我為我的電腦新買了一顆可充電電池。)
Comments will be moderated. Keep comments relevant to the article. Remarks containing abusive and obscene language, personal attacks of any kind or promotion will be removed and the user banned. Final decision will be at the discretion of the Taipei Times.