Slow Food movement spurns French bid 法國美食吃閉門羹
The Slow Food movement for sustainable cuisine has rejected a call for French gastronomy to be added to UNESCO's world heritage list, saying it was wrong to try to rank world cuisines.
"Why should French gastronomy be considered better than any other?" asked Carlo Petrini, head of the influential Italian-based movement which promotes high-quality, local food as a remedy to fast-food culture.
"To make gastronomy part of world heritage is an excellent idea, but all countries should do so, not just France!" he said in response to the French plan, announced by President Nicolas Sarkozy last month.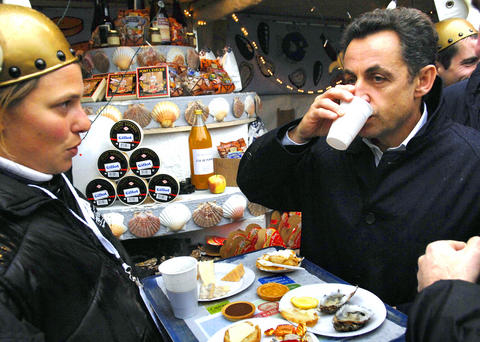 Then French interior minister and conservative presidential hopeful Nicolas Sarkozy, right, tastes food in Paris on Dec. 16, 2006. 二00六年十二月十六日,當時任職法國內政部部長的保守黨總統候選人尼可拉斯.薩科茲(右)在巴黎品嚐美食。照片:法新社
PHOTO: AFP
"There is no question that France contributed in an extraordinary fashion to creating high-level gastronomy," Petrini said. "But we do not believe in creating hierarchiesbetween gastronomies.
"Every nation has its gastronomical language, closely linked to its own culture and all those culinary traditions need to be preserved."
In 2006, top French chefs and academics set up a group to press for the recognition of French gastronomy by UNESCO.
Sarkozy told delegates at an agricultural fair that France would lobby for its cuisine to be added to UNESCO's list of cultural treasures, calling it "the best gastronomy in the world."
The French bid will be presented to UNESCO next year, with a verdict due in 2010.
UNESCO started its list of "intangible" cultural treasures such as dance, carnival or other rituals in 2003.
In 2005, a UNESCO jury including several French members turned down a request by Mexico to have its culinary tradition recognized, Petrini noted.
According to the French group set up to defend the bid, Italy intends to file a similar motion. (AFP)
推廣永續飲食發展的「慢食運動」反對將法國美食列入聯合國教科文組織的遺產名單中,並表示試圖評比世界飲食的排名是個錯誤。
慢食運動創始者卡羅.派崔尼質疑:「為什麼法國美食就該被認為優於其他美食?」風靡全球的慢食運動起源於義大利,旨在推廣高品質的在地食物,並糾正速食文化。
針對法國總統尼可拉斯.薩科茲上個月發表的計畫,派崔尼回應說:「將美食列入世界遺產是個絕佳的構想,但應囊括世界各國,而非僅止於法國!」
「法國無疑在創作高水準的美食方面有不凡的貢獻,」派崔尼說:「但我們認為不應該為各國美食評列等級。」
「每個國家都有其美食風格,和該國特有文化緊密相關,這些烹飪傳統都應該保存。」
一群法國頂級大廚和學者在二OO六年成立了一個團體,致力推動聯合國教科文組織認可法國美食。
薩科茲在一場農業展覽會上對出席代表們說,法國將遊說使法國美食列入教科文組織的文化遺產名單,並稱它為「全世界最棒的美食」。
法國將在明年對教科文組織提出申請,裁定結果預計在二O一O年公布。
教科文組織二OO三年開始將「無形資產」列入文化遺產名單,例如舞蹈、嘉年華會或其他儀式典禮等。
派崔尼提到,教科文組織內包括數位法國籍委員的評審委員會,二OO五年時曾否決了墨西哥的烹飪傳統申請。
根據法國推動小組指出,義大利也有提出類似申請的計畫。
(法新社/翻譯:袁星塵)
Publication Notes
Today's Words 今日單字
1. sustainable adj.
永續發展的 (yong3 xu4 fa1 zhan3 de5)
例: We need to work toward sustainable living.
(我們必須朝永續生活的目標努力。)
2. gastronomy n.
美食學 (mei3 shi2 xue2)
例: Do you believe that Taiwan's gastronomy is worthy of preservation?
(你認為台灣美食值得保存嗎?)
3. hierarchy n.
等級制度 (deng3 ji2 zhi4 du4)
例: It took a while to grasp the hierarchy in the open plan office.
(在開放式辦公室要理解座位相對應的職階需要花一些時間。)
4. intangible adj.
無實體的 (wu2 shi2 ti3 de5)
例:The benefits are many, and yet intangible.
(無形的好處不少。)
Publication Notes
Say What? 說說看
UNESCO
聯合國教育、科學及文化組織
UNESCO is an acronym for the United Nations Educational, Scientific and Cultural Organization. Established on Nov. 16, 1945, its mission is to promote international collaboration through education, science and culture. The general concept is that through such dialogue a mutual and universal respect for each culture and human rights as a whole might be achieved. Some of its aims include preserving cultural heritage, attaining universal primary education and promoting the use of mother tongues. Unfortunately, since Taiwan is not a member of the UN, neither is it a member of UNESCO.
「UNESCO」是聯合國教育、科學及文化組織的首字母縮寫,該組織成立於一九四五年十一月十六日,旨在透過教育、科學和文化推廣國際合作;其主要概念是希望藉由全球教育、科學和文化的對話與交流,達成對各國文化和人權之相互普遍尊重;其致力目標包括文化遺跡保存、初等教育普及化和推廣使用母語等。遺憾的是,台灣並非聯合國會員,因此也不是教科文組織的會員國之一。
Publication Notes
Out Loud 對話練習
Henry: Did you hear about Sally at the party last weekend?
Kate: No. What happened?
Henry: She waltzed in and totally flirted with Kelly's boyfriend right in front of her. It was horrible!
Kate: No way! That girl totally has tickets on herself.
Henry: Tell me about it. Anyway, Kelly cooly asks, "Whatever happened to that cute guy you were seeing, Ed wasn't it? Oh, that's right! He left after he found out you were sleeping with his brother." Funnily enough Sally turned bright red and left.
亨利:妳有聽說莎莉上週末在派對上的事嗎?
凱特:沒有耶,發生了什麼事?
亨利:她大搖大擺地進去,然後在凱莉面前和她男友調情,真是糟糕透了!
凱特:太扯了!她還真以為她是誰啊!
亨利:那還用妳說!總之,凱莉很冷靜的問她:「之前和妳交往的那個小帥哥怎麼啦?是艾德,對吧?喔,我想起來了,他發現妳和他哥哥上床之後就甩了妳。」好笑的是,莎莉就滿臉漲紅地跑掉了。
has tickets on one's self 自以為是
Someone who has tickets on him or herself thinks that he or she is superior to others.
說某人「has tickets on one's self」表示他或她認為自己比其他人優越的意思。
Comments will be moderated. Keep comments relevant to the article. Remarks containing abusive and obscene language, personal attacks of any kind or promotion will be removed and the user banned. Final decision will be at the discretion of the Taipei Times.