Unidentified floating object 深海幽浮
The jellyfish in the picture was found in the Celebes Sea near the Philippines. A team of Filipino and US scientists looked nearly 3km underwater in early October to find it.
They also found a swimming sea cucumber, a Nemo-like orange fish and a worm with tentacles sprouting from its head. The scientists think that they might all be new species.
A special machine helped them collect between 50 and 100 possibly undiscovered species of marine life.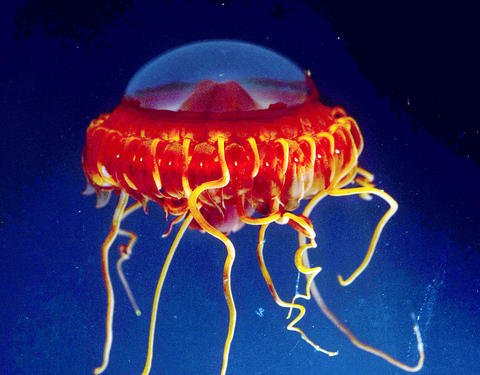 This photo made available in Manila by the University of Alaska on Oct. 16, 2007, shows a deep-sea jellyfish found and photographed by a US-Philippines underwater expedition in the Celebes Sea, southern Philippines. 照片中為本月十六日美國阿拉斯加大學在馬尼拉公佈的深海水母。這隻水母是一隻美,非聯合水下探險隊在菲律賓南部的西裏伯斯海發現並拍攝的。 照片:法新社
PHOTO: AFP
The area of the Celebes Sea, called the Coral Triangle, hasn't been explored fully before. The survey was conducted by Woods Hole (a group that studies the ocean), National Geographic and Filipino scientists.
It will take a few more weeks of study of the deep-water sea life samples before they can be declared new species.
The scientists said one of the fish collected, a tiny, orange one with a puckered yellow mouth looked like the main character in the animated Hollywood film Finding Nemo.(staff writer, with afp)
照片中的水母是在菲律賓附近的西?伯斯海發現的。本月初,菲律賓和美國科學家組成的研究小組,在海面下約三公里處發現了牠。
他們也發現會游泳的海參、一隻長得很像小丑魚「尼莫」的橘色小魚,還有頭上長了觸角的蠕蟲。科學家認為牠們有可能是新物種。
他們有一台特別的機器,幫他們撈起了五十至一百種可能尚未發現的海洋生物。
西?伯斯海域,也稱珊瑚三角區,是一個還未完全被人類探測的水域。這次探測活動是由美國的伍茨霍爾海洋學院和美國國家地理學會及菲律賓的科學家一起進行的。
不過他們得花上好幾星期的研究,才能確定這些深海生物是否為新物種。
科學家說,其中有一隻魚體型很小而且有噘起的黃色嘴巴,很像好萊塢動畫電影「海底總動員」裡的那隻主角小丑魚。(法新社/翻譯:楊鴻泰)
Publication Notes
TODAY'S WORDS 今日單字
1. plunge v.t./v.i.
跳(入) (tiao4 ru4)
例: Sally plunged into the deep end of the swimming pool.
(莎莉跳入游泳池的深水區。)
2. sea cucumber n.
海參 (hai3 shen1)
例: I ate sea cucumber on my birthday.
(我生日那天吃了海參。)
3. tentacle n.
觸角 (chu4 jiao3)
例: Octupuses have eight tentacles.
(章魚有八隻觸角。)
4. marine life n. phr.
海洋生物 (hai3 yang2 sheng1 wu4)
例: We are all responsible for taking care of marine life.
(我們都有照顧海洋生物的責任。)
Comments will be moderated. Keep comments relevant to the article. Remarks containing abusive and obscene language, personal attacks of any kind or promotion will be removed and the user banned. Final decision will be at the discretion of the Taipei Times.