Saving Mary Zwo 拯救瑪莉蘇
The gorilla in the picture is six weeks old and lives in Germany. She was in a hospital because she was neglected by her parents.
Mary Zwo, which means Mary Two in English, and her mother were attacked by the baby gorilla's father. They were then taken away from the other gorillas. Mary Zwo's mother, who missed the other gorillas, then neglected her baby. Mary Zwo got very sick.
On June 30, zoo workers at Muenster Zoo rescued Mary Zwo. They took her to a hospital for humans. Gorilla babies are almost like human babies. This meant the hospital could take care of her.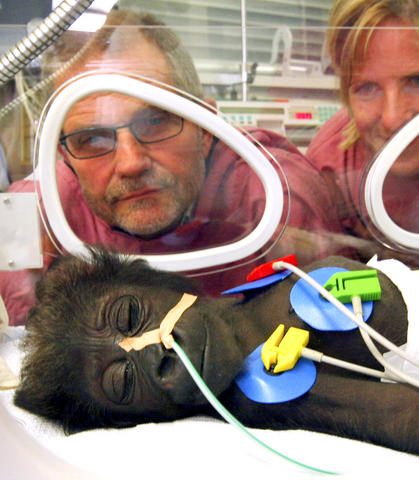 Muenster's zoo director Joerg Adler, left, and zoo vet Sandra Silinski, right, check up on Mary Zwo as she rests in an incubator, July 1, 2007. 七月一日,敏斯特動物園的主任榮爾格.阿德勒(左)與園內獸醫珊卓拉.西琳斯基(右)為躺在保溫箱裡的瑪莉蘇進行檢查。
PHOTO: AP
Mary Zwo was placed in a special machine called an incubator. After a day at the hospital, she was sent back to the zoo.
A vet at the zoo checked Mary Zwo. The vet said she was strong enough to travel. Mary Zwo was placed in a special car seat for babies and taken to Stuttgart. At Stuttgart, she will be raised with other baby gorillas.
照片中的金剛猩猩目前六週大,居住在德國。牠因為父母疏於照料而住院。
金剛猩猩「瑪莉蘇」(英文有Mary Two之意)與母親遭到自己父親攻擊,牠們倆就被帶離,與其他的金剛猩猩分開。瑪莉蘇的母親很想念其他的猩猩,就丟下牠不管。瑪莉蘇病得很重。
六月三十日,敏斯特動物園的員工救了瑪莉蘇一命,將牠帶往人類醫院治療。金剛寶寶和人類寶寶幾乎沒兩樣,所以醫院可以照顧牠。
瑪莉蘇被安置在名為保溫箱的特別裝置中。牠在醫院待了一天,就被送回動物園。
動物園一名獸醫為瑪莉蘇做檢查,說牠的身體狀況足以應付旅途不便。瑪莉蘇就乘坐汽車嬰兒坐椅,被送往司徒加特。牠將在司徒加特與其他金剛寶寶一起長大。
(翻譯︰賴美君)
Publication Notes
TODAY'S WORDS 今日單字
1. neglect v.t.
忽略 (hu1 lue4) ,疏於照料 (shu1 yu2 zhao4 liao4)
例: I neglected my plant and it died.
(我疏於照料我的盆栽,它就枯死了)
2. attack v.i. /v.t.
攻擊 (gong1 ji2)
例: We need to attack their army.
(我們必須攻擊他們軍隊。)
3. rescue v.t.
拯救 (zheng3 jiu4)
例: The fireman rescued the cat from the tree.
(消防隊員拯救了困在樹上的貓。)
4. car seat n.
汽車座椅 (qi4 che1 zuo4 yi3)
例: My baby brother doesn't like his car seat.
(我襁褓中的弟弟不喜歡他的汽車座椅。)
Comments will be moderated. Keep comments relevant to the article. Remarks containing abusive and obscene language, personal attacks of any kind or promotion will be removed and the user banned. Final decision will be at the discretion of the Taipei Times.