Birth control for squirrels 松鼠節育
Officials have tried poison, gassing and euthanasia to control a breeding frenzy among squirrels in a city park. Now, they plan to give birth control a shot.
A new program that would start this summer calls for squirrels in Palisades Park to be injected with an immuno-contraceptive vaccine to stunt sexual development.
Santa Monica would be only the second city in California, besides Berkeley, to try the immunization program.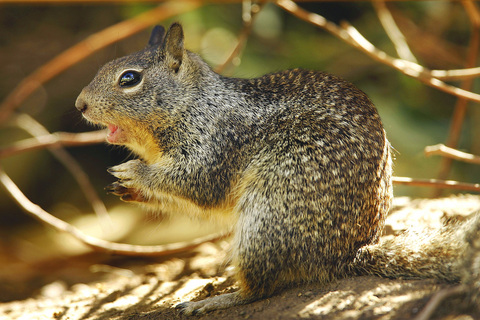 A ground squirrel in Palisades Park, Santa Monica seeks food, Mar. 06, 2007. 今年3月6日,聖塔莫尼卡帕利沙迪思公園裡一隻松鼠正在覓食。 (照片:法新社)
PHOTO: AFP
"We don't want to kill them if we don't have to," said Joe McGrath, the city's parks chief. "I personally like squirrels, but we also have to be receptive to the county's concerns. When you are dealing with mammals, people get upset."
Health officials say the squirrels, which number an estimated 1,000 in the park, pose a public health risk, the Los Angeles Times reported. They warn the rodents are aggressive and may carry rabies or host fleas that can spread disease, such as bubonic plague.
Since 1998, Santa Monica has been cited five times by Los Angeles County for squirrel overpopulation. But suppression methods used, including euthanasia, have angered animal-loving activists.
City officials say the infertility shots offer a diplomatic solution that should please all sides in the debate.
The vaccine, developed by the US Department of Agriculture, stops ovulation and lactation in female squirrels, while halting testicular development in males.
Animal activist Catherine Rich said she supports the vaccine program, but said any health risk posed by the squirrels is overblown.
"There is not a pressing threat of squirrels attacking people," Rich said, "so I don't know why the county is getting their panties in a bunch." (AP)
政府官員試過了囚禁、毒氣攻擊與安樂死來控制一處市立公園內大肆繁殖的松鼠。現在,他們打算試試節育的方法。
今夏即將展開的新計畫將讓帕利沙迪思公園的松鼠施打免疫避孕疫苗,杜絕懷孕機會。
聖塔莫尼卡將成為加州繼柏克萊之後,第二個嘗試松鼠免疫避孕計畫的城市。
「若非必要,我們不想殺害松鼠,」聖塔莫尼卡公園管理處處長喬伊.麥葛拉斯說︰「我個人很喜歡松鼠,但我們也要接受本郡的關切。當你對付哺乳類動物時,人們就會難過。」
《洛杉磯時報》報導,健康官員說這處公園估計有一千隻松鼠,威脅到大眾健康。官員警告這種齧齒目動物具侵略性,可能帶有狂犬病或可散播淋巴腺鼠疫等疾病的跳蚤。
自一九九八年起,洛杉磯郡已五度指出聖塔莫尼卡的松鼠過度繁殖。不過,採用了安樂死等抑制方法,已觸怒了保育動物人士。
聖塔莫尼卡官員指出,避孕疫苗提供了一個圓融的解決之道,應該可以讓爭論的各方皆大歡喜。
美國農業部研發的這種疫苗可以阻止母松鼠排卵與分泌乳汁,也會讓公松鼠的睪丸停止發展。
動物保育提倡者凱薩琳.瑞琪表示,她支持這項疫苗計畫,但松鼠造成人類健康危機的說法言過其實。
「目前尚未有松鼠攻擊人類的迫切威脅,」瑞琪說︰「所以我不明白洛杉磯郡為何要小題大做。」 (美聯社╱翻譯︰賴美君)
Publication Notes
Today's Words 今天單字
1. euthanasia n.
安樂死 (an1 le4 si3)
例: Doctors who support euthanasia signed a petition this week.
(支持安樂死的醫師本週簽署了一份請願書。)
2. immunization n.
免疫 (mian3 yi4)
例: Almost every Taiwanese child gets an immunization for smallpox.
(台灣幾乎所有孩童都對天花免疫。)
3. bubonic plague n.
淋巴腺鼠疫 (lin2 ba1 xian4 shu3 yi4)
例: Bubonic plague is a disease carried by fleas who may live on rats or squirrels.
(淋巴腺鼠疫是經由老鼠或松鼠身上的跳蚤傳播。)
4. diplomatic adj.
外交的 (wai4 jiao1 de5),圓融的 (yuan2 rong2 de5)
例: To avoid offending him, we're trying to phrase the official statement in a diplomatic way.
(為避免觸怒他,我們試著圓融地說明官方的聲明。)
Comments will be moderated. Keep comments relevant to the article. Remarks containing abusive and obscene language, personal attacks of any kind or promotion will be removed and the user banned. Final decision will be at the discretion of the Taipei Times.