Digging up the past 尋根溯往
Japan is allowing researchers to study 11 royal tombs — the graves of ancient emperors, sealed centuries ago — in a move that may shed light on the myth-shrouded origins of Japan's imperial family.
The secretive Imperial Household Agency has until now refused to let the public, and even scholars, enter the old tombs, saying the spirits of past emperors should not be disturbed. But after a petition by the Japanese Archaeological Association and other scholars in 2005, the government has agreed to grant them limited access to the graves, according to a report in the mass-circulation daily, Yomiuri Shimbun.
A small number of researchers will be allowed to enter only the outer fringes of the tombs, and will not be allowed to excavate, the Yomiuri said, citing the association.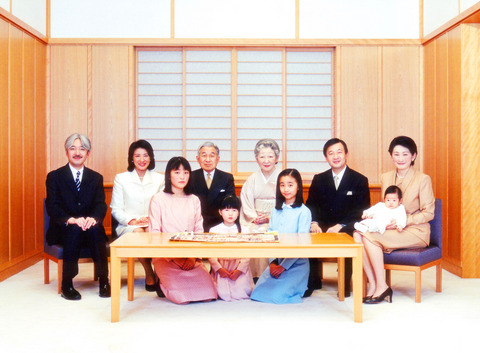 The Japanese Imperial family at the Emperor's residence in Tokyo, Dec. 14, 2006. 2006年12月14日,日本皇室家族在東京的天皇寢室合影。 (照片:美聯社)
PHOTO: AP
Archaeologists say inspecting the tombs could shed light on the origins of the country's imperial family, the world's oldest surviving line — a sensitive topic in Japan, where until 60 years ago the emperor was worshipped as the descendant of an ancient goddess.
The late Emperor Hirohito broke with that tradition by renouncing his divine status in 1945, after Japan's defeat in World War II.
But the myth that Japan's 125 emperors descended from the sun goddess Amaterasu Omikami of Japan's native Shinto religion still holds sway among rightists.
Suggestions by some scholars that the imperial line originated elsewhere — for example, on the Korean peninsula — have been attacked as an insult to the Japanese people.
The tombs to be opened up include one for the Emperor Nintoku, who is thought to have died in 399AD. (AP)
日本準備讓研究人員考據十一座已封棺數百年的皇家陵寢,揭開日本皇族起源的神秘面紗。
向來行事神秘的宮內廳原先拒絕讓大眾,甚至學者進入古墓,表示先皇先靈不得侵擾,不過根據發行量龐大的讀賣新聞日報一篇報導表示,二○○五年,在日本考古協會和其他學者的請願下,政府已同意開放有限部分區域。
讀賣新聞引述考古協會的說法,只有少數研究人員將得以進入古墓的外圍,並且不准開挖。
考古學家表示,勘察古墓能為找出世界最古老的現存皇室起源帶來一線曙光。這在日本是敏感話題,因為直到六十年前,日本君王仍被尊奉為古代女神的後裔。
日本第二次世界大戰戰敗後,現已過世的裕仁天皇打破傳統,於一九四五年宣佈放棄神格。
但保守人士仍堅信日本一百二十五代君王是本土神道教天照大神的後代。
部分學者提出皇族血統源自他處(如朝鮮半島)的看法已經受到抨擊,認為對日本民族來說是種侮辱。
即將開放研究的陵墓包括被認為是在西元三九九年駕崩的仁德天皇陵墓。
(美聯社╱翻譯︰鄭湘儀)
Publication Notes
Today's Words 今天單字
1. shrouded adj.
被覆蓋 (bei4 fu4 gai4)
例: The circumstances surrounding the priest's death are shrouded in mystery.
(神父的死籠罩在神秘的氛圍中。)
2. fringe n.
邊緣 (bian1 yuan2)
例: Onlookers hung about on the fringes of the action.
(觀眾在活動外圍遊蕩。)
3. excavate v.i. /v.t.
挖掘 (wa1 jue2)
例: You need special permission to excavate a tomb.
(你需要特別許可才能開挖墳墓。)
4. renounce v.t.
聲明放棄 (sheng1 ming2 fang4 qi4)
例: Stephen has renounced his citizenship.
(史蒂芬已宣布放棄他的公民身份。)
Comments will be moderated. Keep comments relevant to the article. Remarks containing abusive and obscene language, personal attacks of any kind or promotion will be removed and the user banned. Final decision will be at the discretion of the Taipei Times.