Surf's up 大浪來囉
If you live near the beach, you know how much fun playing near the ocean can be. The only thing more fun than playing near the ocean is playing in the ocean.
The man in this picture is surfing. In this picture, he is enjoying the most fun part, but surfing takes a lot of hard work. First, a surfer floats on the board facedown and waits for a good wave. When the surfer sees a good wave, he or she begins to paddle with his or her hands. Then, the wave catches the surfboard and pulls it and the surfer toward the shore. When this happens, the surfer must stand up. If you've never done it before, it can be very hard to balance while riding a wave!
People first began surfing in Hawaii, where they have been surfing since at least 400AD. Today, surfing is popular all over the world. (Kayleen Hartman, Staff writer)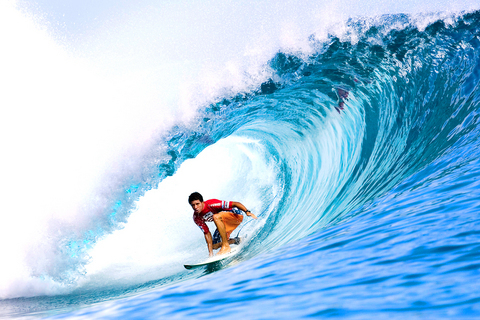 Adriano De Souza of Brazil rides a wave in Teahupoo, French Polynesia. 巴西的安卓阿諾•達蘇薩在法屬玻里尼西亞得提胡浦乘風破浪。 (照片:法新社)
PHOTO : AFP
假如你住在海邊,你知道在海邊玩耍有多快樂。唯一比在海邊玩耍更有趣的事就是與海同樂。
照片中的男子正在衝浪。照片中的他玩得樂不可支,但衝浪其實要費上一番功夫。首先,衝浪者要面朝下在滑板上飄浮,等待合宜的大浪。衝浪者看到合適的大浪時,開始用手划水。接著大浪會湧向滑板,將滑板與衝浪者推往海岸。同時,衝浪者必須站起身來。假如你從未這樣做過,衝浪時可能很難保持平衡。
夏威夷人是最早開始衝浪的人,至少自西元四百年就已開始。現今,衝浪在世界各地都廣受歡迎。 (翻譯:賴美君)
Publication Notes
Today's Words 今天單字
1. paddle v.i./v.t.
划動 (hua2 dong4)
例:Kaitlyn paddled the boat across the lake.
(凱特琳划船過湖。)
2. shore n.
海岸 (hai3 an4)
例:We were so far out on the ocean that we couldn't see the shore.
(我們出海如此的遠,看不到海岸。)
3. balance v.i./v.t.
平衡 (ping2 heng2)
例:The waiter carefully balanced all the cups and plates on his tray.
(服務生小心地讓他托盤上的所有杯盤保持平衡。)
Publication Notes
Quick Quiz 複習測驗
1. What DON'T you need to surf?
a. An ocean.
b. A surfboard.
c. A paddle.
d. Good balance.
2. Where did surfing begin?
a. Brazil.
b. Hawaii.
c. California.
d. Taiwan.
Comments will be moderated. Keep comments relevant to the article. Remarks containing abusive and obscene language, personal attacks of any kind or promotion will be removed and the user banned. Final decision will be at the discretion of the Taipei Times.