Nose flute 鼻音
Noses aren't just for smelling things. You can also use them to make beautiful music!
Playing the flute with one's nose is more common than you might think. People all over the world make special flutes that are meant to be played with the nose. Right here in Taiwan, the Ami people make a special nose flute called a "biti."
People in Hawaii also make a special nose flute. They consider their mouths to be dirty because they use them to eat, but they think that their noses are clean. They also think that their noses are where their souls go in and out of their bodies. Because of this, they think that the music that is played with a nose flute is better than the music played with a regular flute. (Marc Langer, staff Writer)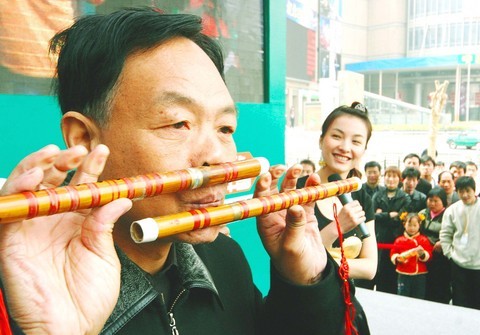 A man plays flutes with his nose and mouth in China. 中國一名男子同時用鼻子與嘴吧吹奏笛子。 (照片:美聯社)
PHOTO : AP
鼻子不只用來聞東西而已,你也可以用鼻子來吹奏美妙的音樂!
用鼻子吹笛子比你所想的更普遍。世界各地都有人製造專門用鼻子吹的特別笛子。像是台灣的阿美族就製造了一種名為「鼻笛」的特殊笛子。
夏威夷人也製造了一種獨特的鼻笛。他們認為嘴巴是用來吃東西的,很髒,但鼻子卻很乾淨。他們也認為鼻子是靈魂進出身體之處。因此,他們認為用鼻笛吹出的音樂比一般笛子吹奏的更美妙。
(翻譯:賴美君)
Publication Notes
Today's words 今日單字
1. consider sth./sb. to be v. phr.
認為...是... (ren4 wei2 ... shi4)
例:I consider Frank to be the smartest person at school.
(我認為法蘭克是全校最聰明的學生。)
2. meant to be v. v. phr.
應該是... (ying1 gai1 shi4 ...)
例:Why are you wearing that heavy coat in this hot weather? That coat is only meant to be worn in the winter.
(天氣那麼熱,你為何穿著那件厚外套?那件外套應該是冬天才穿的。)
3. soul n.
靈魂 (ling2 hun2)
例:Many people believe that after their body dies, their soul will keep living.
(許多人相信身體死亡後靈魂還是會活下來。)
Publication Notes
Quick Quiz
複習測驗
1. What part of the body do some Hawaiians
consider dirty?
a. The eyes.
b. The nose.
c. The mouth.
2. Some Hawaiians think their ___ goes into their body through their nose.
a. brain
b. soul
c. heart
Comments will be moderated. Keep comments relevant to the article. Remarks containing abusive and obscene language, personal attacks of any kind or promotion will be removed and the user banned. Final decision will be at the discretion of the Taipei Times.