Made in Taiwan
DPP candidate Chen Shui-bian is not known for an affable, but he reflects the drive and tenacity that has brought the nation to where it stands today
IT is ironic that the life of Chen Shui-bian (陳水扁) who, should he lose Saturday, will nevertheless have come closer than anybody ever has to terminating the KMT's rule in Taiwan, is in itself almost a metaphor for the progress that the island has made in the past 50 years.
Chen, like post-war Taiwan itself, was born into grinding poverty. Though a mixture of iron determination and intensely hard work, he got a good education, built a career, achieved financial prosperity, and then experienced a political awakening, demanding a fairer share of the pie.
This is a path well-trodden, especially in post-war Asian and African anti-colonial "liberation" movements, and some might think it is Chen's misfortune to be born in the wrong place two generations too late.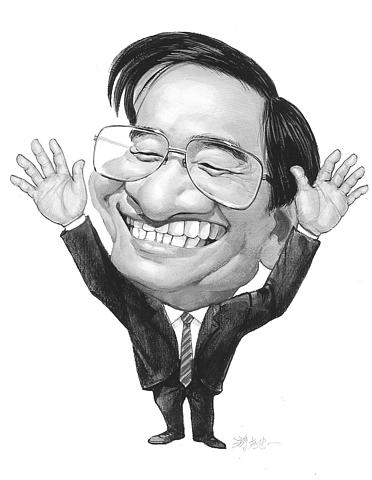 The road to wealth
Chen was born in 1951 in Hsichaung, a village in Tainan County. His parents were extremely poor, neither owning nor able to rent any land. His father was an agricultural day laborer, his mother was an illiterate odd-job worker. They lived in a mud-walled house nearly barren of furniture. His name reflects these humble origins -- "shui bian" refers to the shoulder-borne pole used to carry buckets of water. Chen would often go to school without lunch. At home he had no desk, not even writing paper and had to practice writing by drawing on walls.
Chen's own intelligence and powers of application provided him with his ticket out of this background. His educational achievements were simply outstanding. He was not only first in his class but first in the country in graduating from primary school -- and also when he took the Joint College Entrance Exam for university. His raw intelligence propelled him out of the straight jacket of a KMT-written China-centered curriculum, along with a number of remarkable teachers sympathetic to the Taiwan independence goals of Peng Ming-min (彭明敏).
Chen's first political action was, while a high-school student, to speak out at a temple fair against the KMT's attempt to defame a local mayor in order to replace him with a more compliant candidate from outside. Yet this perhaps showed a concern for justice rather than any incipient political radicalism. Chen's political career was still over a decade away from beginning.
Chen graduated from National Taiwan University in 1975, as usual winning an award for outstanding performance. The next year he married Wu Shu-jen (吳淑珍), daughter of a wealthy medical family, against her family's wishes. The story of their romance and elopement -- of the vivacious, witty, rich girl and the academically brilliant, intensely serious day laborer's son -- has become a modern folk tale throughout Taiwan.
Chen soon joined the Formosan International Marine and Commercial Law firm, where he remained in various capacities until 1989 -- with some shipping clients such as Evergreen continuing to retain him throughout his politically dangerous years. Tenacity, natural ability and mastery of the law propelled Chen rapidly to the heights of his profession, rapidly becoming wealthy as one of the highest-paid lawyers in the country.
Political awakening
The Kaohsiung Incident on Dec. 10, 1979, was to prove a watershed for Chen, though he little knew it at the time. The editorial board of Formosa magazine, a publication advocating independence and democracy, attempted to hold a meeting in Kaohsiung on International Human Rights day. A riot broke out -- which is widely believed to have been started by thugs in the pay off the KMT -- as a result of which the protest leaders were arrested and tried in a military court for sedition. Chen was asked to defend two of the protesters, Huang Hsin-chieh (黃信介) and Chen Chu (陳菊. The trial was a political hot potato, added to which Chen was a maritime lawyer with no trial experience. In two minds about whether to accept the brief, he was pushed into it by his wife who told him by phone, "What is the point of being an attorney if you turn down such a case?"
Chen's participation in the defense of the "Kaohsiung Eight" was an education for him in the ways of the martial law courts, political persecution and international human rights work. It was a foregone conclusion that Chen and the other defense lawyers would lose their cases. For Chen it was an awakening: "I realized this experience was not just a legal issue," he told a biographer nearly 20 years later. "I came to accept the defendants' political arguments and ideals, I became a believer. ... I re-oriented myself away from my law practice and decided to pursue the goal of abrogating Taiwan's martial law decrees."
Chen's first step along this road was to run for the Taipei City Council. This was riskier than it seemed, if only because to run for election on a platform critical of the KMT was to ask for three years in jail if you failed to be elected. One of Chen's professors, Ong Yueh-sheng (翁岳生), who was also a ranking KMT member and is currently the president of the Judicial Yuan, told Wu Shu-jen: "If Chen runs for office, you must prepare to be a widow." Chen won his seat and went on to be a thorn in the side of the KMT, exposing corruption in the city government.
The mid-1980s were to be Chen's most testing time. In 1985 he failed to win election as Tainan county commissioner and, in a post-election rally to thank supporters, his wife was deliberately run over by a truck -- three times -- in what is widely believed to be a politically motivated "hit." She was left paralyzed from the chest down. The following year, Chen lost an appeal against a libel suit brought by the conservative KMT ideologue Elmer Feng (馮滬祥) -- currently New Party candidate Li Ao's (李敖) running mate -- over an article Chen had written accusing Feng of plagiarizing his doctoral thesis. It was a charge supported by the North American Taiwanese Professors Association, and Chen ended up being handed a sentence of eight months and a fine of NT$2 million. Wu Shu-jen rode the anti-KMT publicity generated by the case into the legislature in elections in December of that year. Chen, once out of jail, became her office manager.
Three years later, Chen entered the legislature himself and in 1994 became the first popularly elected mayor of Taipei.
Pragmatic leader, distant friend
What sort of person has this odyssey produced? Chen is not a likable person, at least in terms of everyday friendliness. He is intensely focused. His is a rather chilly, calculating personality, focused on the accomplishment of the task at hand rather than the cultivation of interpersonal relationships. This intense focus on achievement can be a drug to those who look for strong leadership; Chen finds it no problem to find acolytes of intense loyalty, even, when he was Taipei Mayor, among people who would naturally be his political opponents. But there are few people who would claim to be friends with Chen. He doesn't need friends because he has his vision, his goals, and nothing must distract him from their actualization. Chen inspires respect sometimes verging on admiration for his focus, his vision, his capacity for work; he does not generally inspire affection. "He was a bore," Wu Shu-jen recounted of the student who courted her. "He worked so hard that he hadn't developed an entertaining or playful personality. He had no spirit, no sense of humor at all. He was very dry. In fact he hasn't changed much." Wu has said that what won her over was Chen's intensity coupled with a sense of his rock-solid decency. Those close to him say that Chen feels guilty about Wu's paralysis, which he sees as the result of his dalliance with politics. This guilt has made him even more of a workaholic, even more focused, but even more distant.
Chen's nature has stood him in a curious relationship to the DPP. Given the KMT's wealth and its connection with big business, the DPP is often mischaracterized as standing for the underdog and social justice, the traditional left-right split familiar in many democracies. This is simply not true of the DPP in the past, though it may be the way the party is to evolve in the future. It is in a strong sense of political rather than social justice that the DPP's roots lie. The party's roots lie in the old tang wai (literally, "outside the KMT party") and this was a movement of the Taiwanese gentry -- many of whom had strong Japanese cultural roots -- who felt that KMT interlopers had usurped their rightful political role in their homeland. Their families were usually, by the standards of the times, well off, and their social philosophy was essentially conservative, more so perhaps than the KMT.
Chen has never been at home with this liberal and quite cosmopolitan elite, which has often regarded him as an uncultured arriviste. In return, Chen has generally distanced himself from the party hierarchy, which he has regarded as too ensconced in theory at the expense of winning on the ground.
This highlights another facet of Chen's personality: he is a pragmatist and not an ideologue. He has in the past been accused of being a radical; in the current election campaign, the KMT's "vote for A-bian, vote for war" pitch suggests that Chen is ideologically driven to the exclusion of common sense. Actually, his record shows something far different -- a man never at ease amid the ideology-driven DPP, with a strong desire to identify problems and make sure something gets done about them. It is notable that when he became mayor of Taipei in 1994, far from purging the city government of its KMT bureaucracy, as a zealot might have been expected to do, Chen was quite happy to work with those officials who were good at their jobs, whatever their political affiliation, and won the respect of many officials who had been staunch KMT loyalists. Chen had the ability to choose competent subordinates and delegate authority while himself focusing on a few key issues on which he would demand daily progress reports and which he would follow through to completion.
The success of Chen's city "government of all the talents" bodes well for his ability to put together an efficient government if he enters the Presidential Office. But his time as mayor was also notable for a problem that might come back to haunt him: his abysmal relations with the city council. Despite Chen's personal success as mayor, the DPP held a minority of seats on the council, which gave the New Party and KMT councilors ample opportunity to frustrate Chen's plans -- usually by the expedient of slashing budgetary appropriations for Chen's pet projects. Currently, the DPP is the minority party in the legi-slature and there has to be concern that a Chen presidency will be dogged by similar problems.
But perhaps not. After all, the New Party and KMT city councilors elected in 1994 were among the most rabid opponents of everything that the DPP, or Chen personally, stood for. The same cannot be said of the entire KMT caucus, as many of the "New KMT" pro-Lee Teng-hui elements are not far removed from Chen ideologically. And then there is Lee himself, who, if he retains the party chairmanship in the face of a KMT loss on Saturday, might well wield his authority subtly in Chen's favor (probably couched in some formula such as "governmental stability") to whip tormentors into line.
The visceral hostility of the city council to almost everything that Chen was trying to do goes some way, but not all the way, to explaining a tendency toward his high-handedness in office. Chen often seemed a martinet; he sought to impose laws long neglected, sometimes ironically through means of dubious legality. Examples include a blitz on illegal structures, of which the "highlight" was the destruction of Chiang Wei-kuo's (蔣緯國) house (the city's justification for doing so being later overturned in court on appeal), the eviction and resettlement of the residents of Kangleh village (now the No. 14 and 15 parks), a draconian crackdown on the sex industry with little provision for the welfare of sex industry workers, and the forcible tearing down of illegal shop signs (are there any legal ones?). All this showed an intolerant moralism at odds with the realities of life for many Taipei residents.
True, the quality of city life overall got better under Chen: traffic improved considerably, marvels were worked in boosting the efficiency of the previously Kafka-esque city bureaucracy, and a large-scale waste treatment project stopped Taipei from reeking every summer as it was previously wont to do. But in the end, Chen left the impression that although an able administrator, his vision of what the city might be was nevertheless somewhat at odds with what many of its citizens liked it to be. This, along with Taipei's skewed demographics -- twice the percentage of mainlanders as the rest of the country -- resulted in his not being reelected.
Still on a learning curve
Those close to Chen say he has learned from that failure in December 1998.
In the past he has always been a man in a hurry, with a tendency to act quickly without first building a consensus. His errors are often a result of immaturity, and he would do well to study Lee Teng-hui's (李登輝) masterful use of carrot and stick to push Taiwan along the path of reform. His problems are not serious, say those who know him, and he is always willing to learn and correct his mistakes. Perhaps most importantly, however, of the three main candidates in this election, Chen is the only one whose sensibility is in tune with what Taiwan has become -- unlike his China-leaning rivals. In this sense he more closely resembles Lee Teng-hui than either Lien Chan or James Soong (宋楚瑜). And he has clearly become the candidate of choice for those who put Taiwan's continuing political reform -- as manifested by breaking the KMT's 50-year stranglehold on power -- first, even if they don't like Chen very much on a personal level and are hesitant about his leadership skills. As one veteran political observer said to this writer: "Chen has been learning so hard to be a leader, and we have to learn with him."
Publication Notes
Chen Shui-bian at a glance
1951: Born in Hsichuang village, Tainan County 1967: Injustices in a local election for a village mayor lead Chen to make his first anti-KMT speech at a temple fair 1969: Scores highest among all students in Taiwan on the Joint College Entrance Exam; moves to Taipei and enters National Taiwan University 1975: Graduates from NTU as an outstanding performance award winner of his year 1975: Marries Wu Shu-jen, despite her father's disapproval. 1976: Joins Formosa International Marine and Commercial Law, speedily becoming a leading authority on maritime law issues. Within five years, he is one of the highest paid lawyers in Taiwan 1980: Asked to represent Huang Hsin-chieh and Chen Chu at the trial of the Kaohsiung eight. When Chen himself cannot decide, his wife pushes him into accepting the brief. Chen's political epiphany 1981: Decides to enter politics, runs for the Taipei City Council and wins a seat as a "tang wai" candidate 1985: Runs for election as Tainan County Commissioner, but is defeated. At a post-election rally, his wife is run over by a small truck three times, leaving her paralyzed from the chest down 1986: Jailed for 8 months and fined NT$2 million as the result of a politically motivated libel suit. Wu Shu-jen is elected to the Legislative Yuan 1987: Joins the DPP on the anniversary of the 228 Incident, becomes member of the central standing committee. 1989-1994: Elected as national legislator 1994: Becomes first popularly elected mayor of Taipei and the highest-ever ranking elected DPP official 1998: Loses reelection bid to the KMT's Ma Ying-jeou.
Comments will be moderated. Keep comments relevant to the article. Remarks containing abusive and obscene language, personal attacks of any kind or promotion will be removed and the user banned. Final decision will be at the discretion of the Taipei Times.