MOFA blasts derogatory claims about Indian workers
The Ministry of Foreign Affairs (MOFA) yesterday slammed claims that Taiwan would become a "land of rapists" if Indian migrant workers are allowed into the nation and said they were attempts by foreign forces to intervene in Taiwan's affairs.
Minister of Labor Hsu Ming-chun (許銘春) on Monday last week confirmed that Taiwan and India are expected to sign a memorandum of understanding before the end of this year on recruiting Indian migrant workers to Taiwan.
Since then, Taiwanese social media platforms have been inundated with inflammatory and derogative posts about the plan, MOFA said on Facebook, adding that such messages were misleading and harmed Taiwan's international image.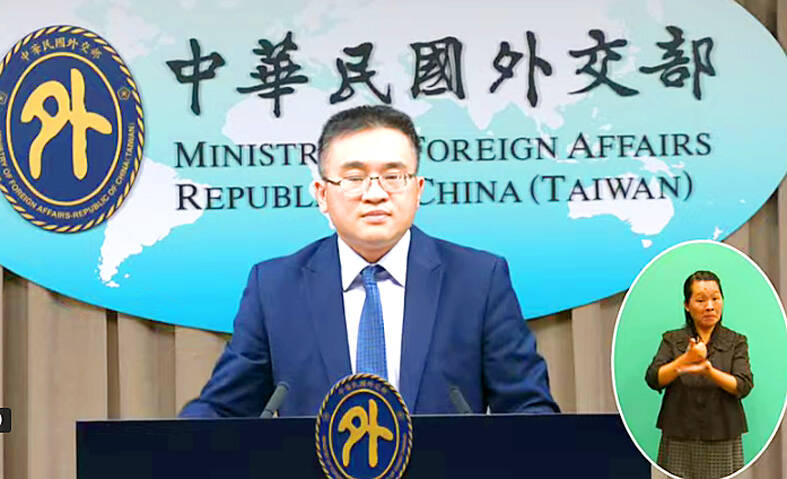 Department of East Asian and Pacific Affairs Deputy Director-General Chen Chuin-chi speaks at a news conference in Taipei yesterday.
Photo: screen grab from a Ministry of Foreign Affairs livestream
They also undermine efforts to promote warming Taiwan-India ties, it said.
MOFA is to meet with the India Taipei Association to clarify the misunderstanding, Department of East Asia and Pacific Affairs Deputy Director-General Chen Chuin-chi (陳俊吉) said.
Taiwan is a multiethnic country that respects human rights and is resolutely against discrimination or biased views against specific groups, MOFA said.
It urged the public to recognize cognitive warfare tactics and refrain from posting or forwarding false or misleading information.
It said that it hoped Indians who are part of the Milk Tea Alliance would not believe that the posts originated from Taiwan.
The Milk Tea Alliance started out as an online war of words between netizens supporting and criticizing China's actions and policies and has grown multinational.
Comments will be moderated. Keep comments relevant to the article. Remarks containing abusive and obscene language, personal attacks of any kind or promotion will be removed and the user banned. Final decision will be at the discretion of the Taipei Times.