Diabolo trainer, others charged with espionage
The Taipei District Prosecutors' Office yesterday indicted a diabolo instructor and nine others allegedly involved in a NT$5.7 million (US$178,930) Chinese espionage operation targeting Taiwanese military personnel.
Republic of China Diabolo Federation board member Lu Chi-hsien (魯紀賢) was recruited by China in 2020 when he sought opportunities for commercial performances there, prosecutors said in a statement.
Lu received NT$5.7 million from his Chinese handlers, which he used to buy confidential information from active-duty and retired military personnel, they said.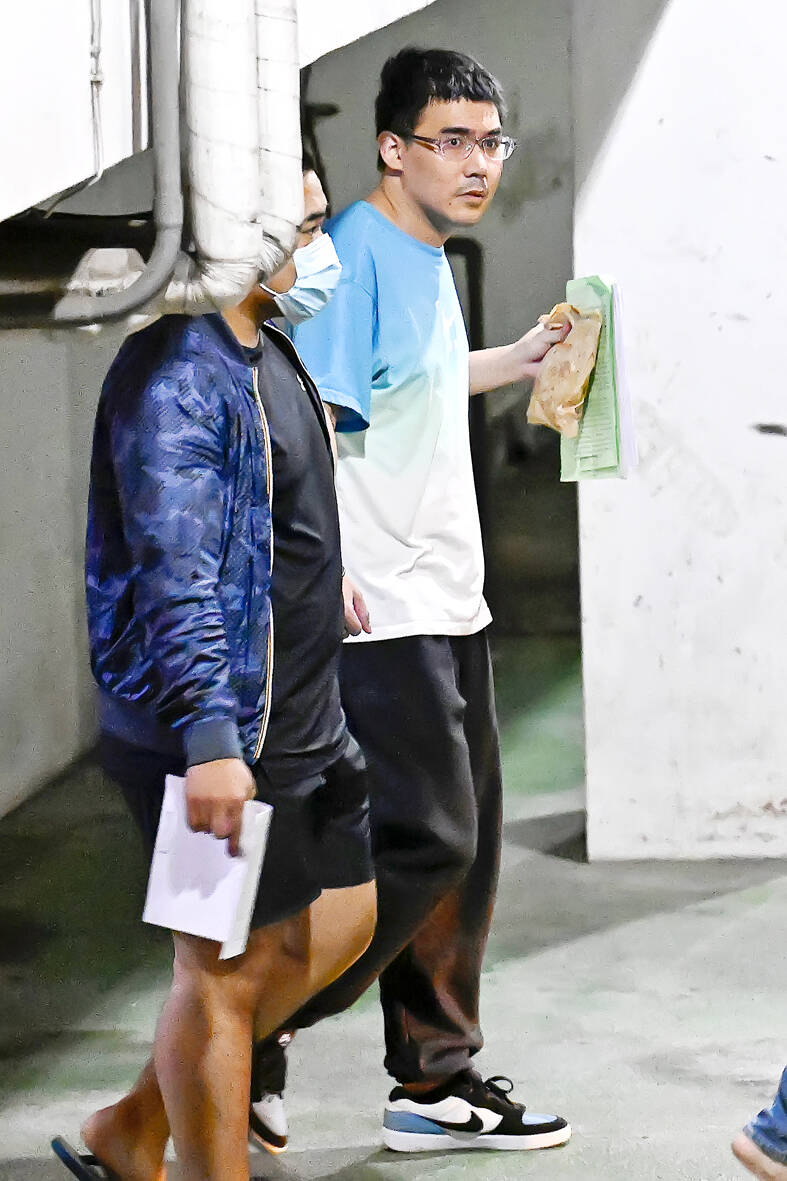 Republic of China Diabolo Federation board member Lu Chi-hsien, right, appears at the Taipei District Prosecutors' Office on July 21.
Photo: Chen Chih-chu, Taipei Times
Beginning last year, Lu and his crew allegedly paid sums in the tens of thousands of New Taiwan dollars to seven military officers in exchange for meeting reports and training documents, prosecutors said.
Prosecutors said that Lu had tried but failed to recruit another 11 officers.
Lu, along with five military personnel and three Taiwanese accused of assisting him, were indicted on charges of breaking the National Security Act (國家安全法), prosecutors said.
In addition, a Chinese national was charged with contravening the Banking Act (銀行法), they added.
Lu was already a fugitive, having failed to show up for the start of a six-year prison sentence handed down by the Supreme Court in March, prosecutors said.
He was found guilty of several counts of fraud, including pocketing millions from sponsors of a fictional "Diabolo World Cup," they said.
While on the run, Lu was arrested by investigators looking into reports of abnormal behavior among military officers indebted to loan sharks, prosecutors said.
Lu and six others indicted yesterday had been detained, prosecutors said, adding that the Taipei District Court was considering whether to extend pretrial detention for the seven suspects.
Prosecutors said they had also opened another case regarding the active-duty military officers recruited by Lu suspected of leaking information.
Separately, three suspects in another military espionage case are to be returned into custody, after the Kaohsiung branch of the High Court yesterday overturned an earlier decision to release them on bail, citing security concerns, flight risk and a need to clarify case details.
The case involves retired navy rear admiral Sun Hai-tao (孫海濤), retired army colonel Liu Wan-li (劉萬禮) and writer Chu Kang-ming (祝康明), who is originally from Hong Kong.
Investigators said the trio had since 2017 taken advantage of their personal networks to induce active and retired military officers to travel to China or the US, where they met with representatives from China's United Front Work Department.
The spy network they allegedly helped create was used to access classified national defense plans and to assist in pro-China propaganda and "united front" tactics, investigators said.
The trio face charges under the National Security Act and the Anti-Infiltration Act (反滲透法), as well as the Presidential and Vice Presidential Election and Recall Act (總統副總統選舉罷免法), as they are accused of asking military personnel to vote for particular candidates, prosecutors said.
Prosecutors had applied for pretrial detention for the trio, but the Ciaotou District Court last week granted their release on bail of NT$600,000 for Sun and NT$500,000 each for Chu and Liu, with travel restrictions.
Comments will be moderated. Keep comments relevant to the article. Remarks containing abusive and obscene language, personal attacks of any kind or promotion will be removed and the user banned. Final decision will be at the discretion of the Taipei Times.