South Sudan returnees risk hunger: UN
Hundreds of thousands of South Sudanese refugees fleeing Sudan's brutal war are facing "a hunger emergency," the UN warned yesterday, with 90 percent of families going multiple days without meals.
The fighting between forces loyal to Sudanese Lieutenant-General Abdel Fattah al-Burhan and Mohamed Hamdan Daglo, commander of the Rapid Support Forces has forced nearly 300,000 people to return home in the past five months, the UN's World Food Programme said.
The crisis was taking a particularly harsh toll on the youngest people, with 20 percent of children under the age of five malnourished, the agency said.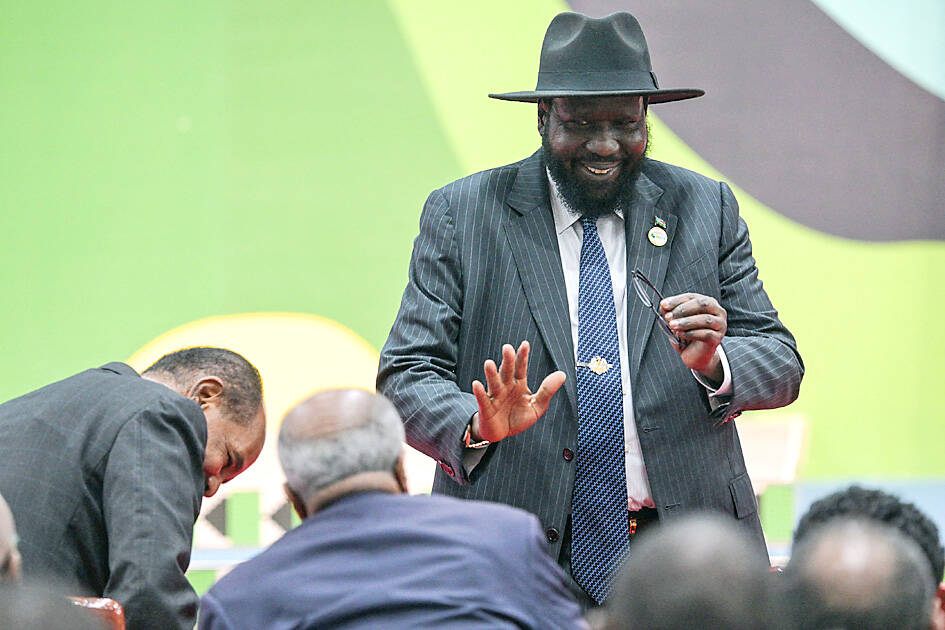 South Sudanese President Salva Kiir leaves the podium after speaking at the Africa Climate Summit at the Kenyatta International Convention Center in Nairobi on Sept. 5.
Photo: AFP
"We are seeing families leave one disaster for another as they flee danger in Sudan only to find despair in South Sudan," said Mary-Ellen McGroarty, the World Food Programme's country director in Juba.
Since fighting erupted in Sudan in the middle of April, at least 7,500 people have lost their lives, an estimate by the Armed Conflict Location & Event Data Project showed.
Multiple truces have failed to stop the violence that has driven tens of thousands over Sudan's borders and raised fears of a humanitarian crisis engulfing the wider region.
The World Food Programme said that South Sudanese, who account for almost all the refugees arriving in South Sudan, "are returning to a country already facing unprecedented humanitarian needs."
"Those arriving today are in an even more vulnerable condition than families that fled in the early weeks of the conflict," it said
Torrential rains pummeling crowded camps and border crossings have worsened living conditions and exacerbated the spread of diseases, it said.
Meanwhile, South Sudanese President Salva Kiir has sacked central bank governor Johnny Ohisa Damian and other senior finance officials, state television announced on Monday.
The announcement did not say why Kiir was removing Damian and appointing James Alic Garang, an adviser to the IMF, in his place.
Kiir also replaced the central bank's two deputy governors, the head of the government's revenue authority and other senior officials in the finance and trade ministries.
Abrupt changes to the leadership of the central bank and finance ministry have been frequent in recent years, and in 2020 alone the central bank governor was replaced twice.
Damian only took up the position in August last year after Moses Makur Deng was removed from the role.
South Sudan's economy has been depressed since the civil war erupted in 2013, forcing about one-quarter of its population to flee the nation.
Comments will be moderated. Keep comments relevant to the article. Remarks containing abusive and obscene language, personal attacks of any kind or promotion will be removed and the user banned. Final decision will be at the discretion of the Taipei Times.