Tsai hails first indigenous sub launch
President Tsai Ing-wen (蔡英文) yesterday presided over the launch of the nation's first domestically made submarine, called Hai Kun (海鯤), or Narwhal, or at a ceremony in Kaohsiung, calling the event a crucial moment in Taiwan's mission to produce domestic subs and achieve "defense autonomy."
The ceremony was held at a CSBC Corp, Taiwan (台灣國際造船) shipyard, the contractor for the nation's Indigenous Defense Submarine (IDS) project.
"Today will go down in history," Tsai said in her remarks.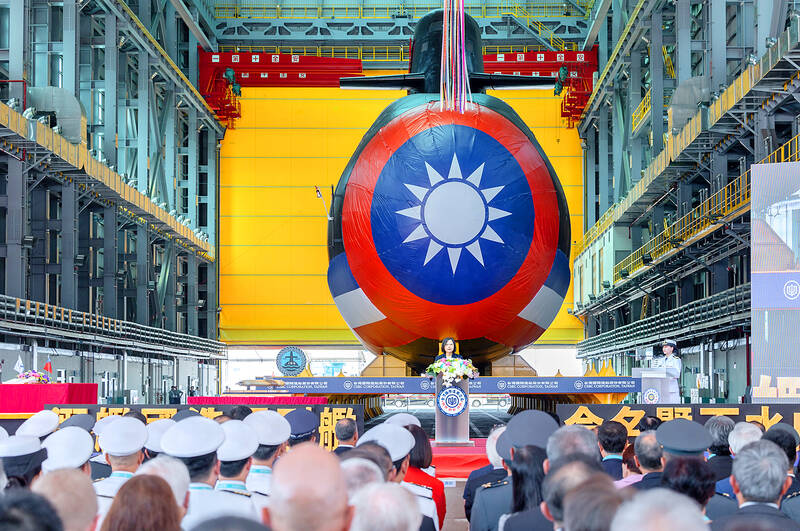 President Tsai Ing-wen, center, speaks at the launch of the nation's first domestically made submarine named Hai Kun at CSBC Corp, Taiwan's shipyard in Kaohsiung yesterday.
Photo: EPA-EFE / Presidential Office
Building an IDS used to be considered "mission impossible," but it is now a reality, she added.
Saying that submarines are crucial in the navy's efforts to develop asymmetric combat capabilities and other key strategies, Tsai hailed the occasion as a landmark in the nation's bid to achieve "defense autonomy."
The IDS prototype has the pennant number "711" and an X-shaped rudder, instead of a cross-shaped rudder seen on previous models, which according to CSBC Corp, Taiwan chairman Cheng Wen-lon (鄭文隆) gives it an edge over Taiwan's other submarines in active service.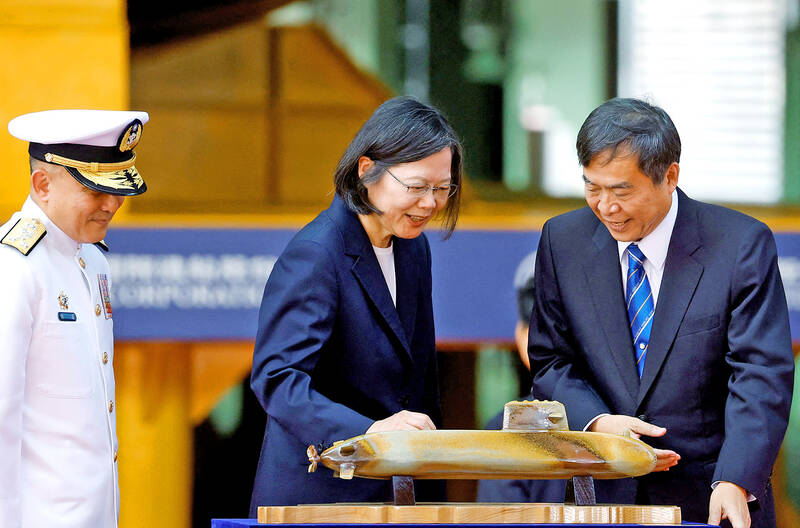 President Tsai Ing-wen speaks with CSBC Corp, center, Taiwan chairman Cheng Wen-lon, right, as they look at a scale model of "Hai Kun," Taiwan`s first domestically built submarine, at the submarine's launch ceremony in Kaohsiung yesterday.
Photo: Carlos Garcia Rawlins, Reuters
Asked why the ship was named Hai Kun, Navy Command said that Taiwan was once called "Kun Island."
Kun is the name of a "gigantic" fish in the first chapter of Zhuangzi titled "Free and easy wandering" (逍遙遊), it said.
Kun also connotes "stealth" and "hard to detect" motions, it said
The submarine would be able to move far and wide, and thus provide naval deterrence to better protect the nation, it said.
The number 711 symbolizes "cross-generation" and "superb excellence," it added.
Also in attendance at the ceremony were IDS program convener Huang Shu-kuang (黃曙光), American Institute in Taiwan Director Sandra Oudkirk, Minister of National Defense Chiu Kuo-cheng (邱國正) and Kaohsiung Mayor Chen Chi-mai (陳其邁).
Only the bow of the submarine was exposed at the ceremony, with the torpedo tubes and other critical components covered with a national flag.
Huang on Monday said that after the launch ceremony, the IDS prototype is to undergo a harbor acceptance test on Sunday, followed by a sea acceptance test, and hopefully would be delivered to the navy before the end of next year.
The IDS program aims to build another submarine by 2027.
Both submarines are to be deployed to defend the waters around Taiwan, and the area from Suao Township (蘇澳) in Yilan County to near Yonaguni Island in Japan's Okinawa Prefecture, Huang said.
The building of domestic submarines means Taiwan's navy will have three combat-ready submarines by 2025 and four by 2027, including two existing Chien Lung-class (Sword Dragon) submarines bought from the Netherlands in the 1980s.
Taiwan also has two World War II-vintage subs purchased from the US in the 1970s, which are now only used for training.
Comments will be moderated. Keep comments relevant to the article. Remarks containing abusive and obscene language, personal attacks of any kind or promotion will be removed and the user banned. Final decision will be at the discretion of the Taipei Times.