Fire at wedding in Iraq kills 100, with toll expected to rise
A fire yesterday seemingly caused by fireworks set off to celebrate a wedding consumed a hall packed with guests in northern Iraq, killing about 100 people and injuring 150 others.
Flammable building materials also contributed to the blaze, authorities said.
In the fire's chaotic aftermath, officials offered conflicting death tolls and security officials said they had detained staff at the wedding hall as part of their investigation.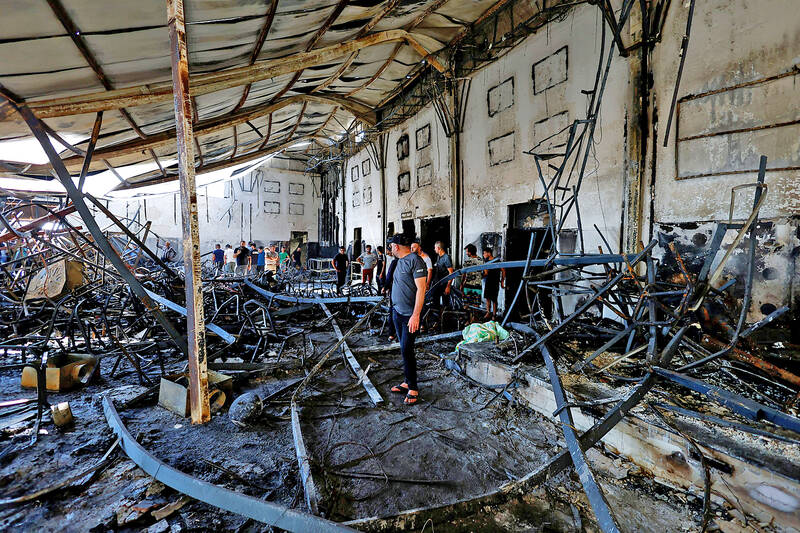 People inspect the site of a fire at a wedding celebration in Iraq's Nineveh province yesterday.
Photo: Reuters
The fire happened in the Hamdaniya area of Iraq's Nineveh province, authorities said.
That is a predominantly Christian area just outside Mosul.
There was no official word on the cause of the blaze, but Kurdish television news channel Rudaw aired footage showing pyrotechnics shooting flames up from the floor of the event and setting a chandelier aflame.
Multiple witnesses, including 50-year-old wedding attendee Faten Youssef, said the fire started as the bride and groom began their slow dance.
The flames raced through plastic decorations and the ceiling started collapsing, she said.
"Flames started falling on us," Youssef told reporters. "Things were falling down and blocked the way to the exit."
She said her family found their way out through a kitchen, after they had struggled through smoke and flames and her son failed to kick through a jammed exit door.
It was not immediately clear if the bride and groom were among those hurt.
People arrived at local hospitals in bandages and receiving oxygen as their families milled through hallways and outside.
Some of those burned included children.
Ambulance sirens wailed for hours after the fire as paramedics brought out injured people.
Casualty figures fluctuated in the hours after the incident.
An initial statement by the Iraqi Ministry of Health, carried by the state-run Iraqi News Agency, said that the blaze killed more than 100 people and injured 150.
Health officials in Nineveh province put the death toll at 114, while Iraqi Minister of the Interior Abdul Amir al-Shammari later put the death toll at 93.
A health ministry official, speaking to reporters at midday on condition of anonymity as he did not have authorization to talk to journalists, said that 30 bodies had been identified by their relatives, but the rest were so badly burned that they would require DNA identification.
He put the death toll at 94, with about 100 people still receiving medical treatment.
"The death toll is expected to rise, as some are in critical condition," he said.
Comments will be moderated. Keep comments relevant to the article. Remarks containing abusive and obscene language, personal attacks of any kind or promotion will be removed and the user banned. Final decision will be at the discretion of the Taipei Times.