China drills risk 'getting out of hand,' minister says
'RESILIENT' REGION: US, Australia, Japan and India officials issued a statement at the UN reiterating the Quad's 'steadfast commitment to a free and open Indo-Pacific'
The increased frequency of China's military activities around Taiwan has raised the risk of events "getting out of hand" and sparking an accidental clash, Minister of National Defense Chiu Kuo-cheng (邱國正) said yesterday.
In the past two weeks dozens of fighters, drones, bombers and other aircraft, as well as warships and the Chinese aircraft carrier Shandong, have operated nearby, Taiwan has said.
China has in the past few years carried out many such drills around Taiwan.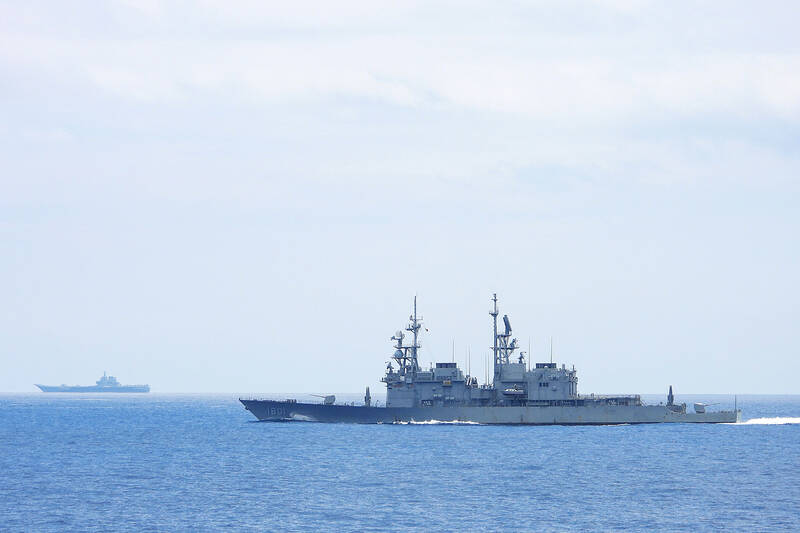 The Chinese aircraft carrier Shandong is pictured at sea in an undated photograph released by the Ministry of National Defense on Wednesday last week.
Photo: AFP / handout / Ministry of National Defense
Asked by reporters on the sidelines of the legislature's plenary session whether there was a risk of an accidental incident sparking a broader conflict given the frequency of China's activities, Chiu said that "this is something we are very worried about."
Warships from China's southern and eastern theater commands have been operating together off Taiwan's east coast, he added.
"The risks of activities involving aircraft, ships and weapons will increase, and both sides must pay attention," Chiu said.
China has not commented on the drills around Taiwan, and the Chinese Ministry of National Defense has not responded to requests for comment.
Chiu said that when the Shandong was at sea, which Taiwan first reported on Monday last week, it was operating as the "opposing force" in the drills.
China's Eastern Theater Command was the "attacking force," simulating a battle scenario, Taiwan's Ministry of National Defense spokesman Major General Sun Li-fang (孫立方) said.
Taiwan's traditional military planning for a potential conflict has been to use its mountainous east coast, especially the two major air bases there, as a place to regroup and preserve its forces given it does not directly face China unlike the west coast.
However, China has increasingly been flexing its muscles off Taiwan's east coast, and generally displaying its ability to operate much further away from its own coastline.
China normally performs large-scale exercises from July to September, Taiwan's ministry said.
The ministry yesterday said that China had largely dialed back its drills, reporting that over the previous 24-hour period it had only spotted two Chinese aircraft operating in its air defense identification zone.
Taipei has said that it would remain calm and not escalate the situation, but it would not allow "repeated provocations" from China, whose forces have so far not entered Taiwan's territorial seas or airspace.
In related news, US Secretary of State Antony Blinken, Japanese Minister for Foreign Affairs Yoko Kamikawa, Australian Minister for Foreign Affairs Penny Wong (黃英賢) and Indian Minister of External Affairs Subrahmanyam Jaishankar on Friday reaffirmed their countries' opposition to any unilateral attempts to change the "status quo" in the Indo-Pacific region.
The ministers from the Quadrilateral Security Dialogue (Quad) grouping of nations made the statement during a meeting on the sidelines of the UN General Assembly in New York.
"The Quad reiterates its steadfast commitment to a free and open Indo-Pacific that is inclusive and resilient," a joint readout of their meeting said.
"We reaffirm our conviction that international law, respect for sovereignty and territorial integrity, and the maintenance of peace and security in the maritime domain underpin the development and prosperity of the Indo-Pacific," it said. "We emphasize that disputes should be resolved peacefully and in accordance with international law, without the threat or use of force."
Additional reporting by staff writer
Comments will be moderated. Keep comments relevant to the article. Remarks containing abusive and obscene language, personal attacks of any kind or promotion will be removed and the user banned. Final decision will be at the discretion of the Taipei Times.