Changes to naturalization proposed
A plan to relax regulations on naturalization processes advanced yesterday, with the Executive Yuan approving proposed amendments to the Nationality Act (國籍法), including provisions to protect children's rights, a reduction of the wait period to two years and waiving fees for exceptional applicants.
The Ministry of the Interior's proposed amendments are part of the government's efforts to attract and retain foreign talent.
The act stipulates that foreigners have to have stayed in Taiwan for at least 183 days per year for three or five consecutive years, depending on circumstances, to start the naturalization process, but the amendment would lower the requirement to two years.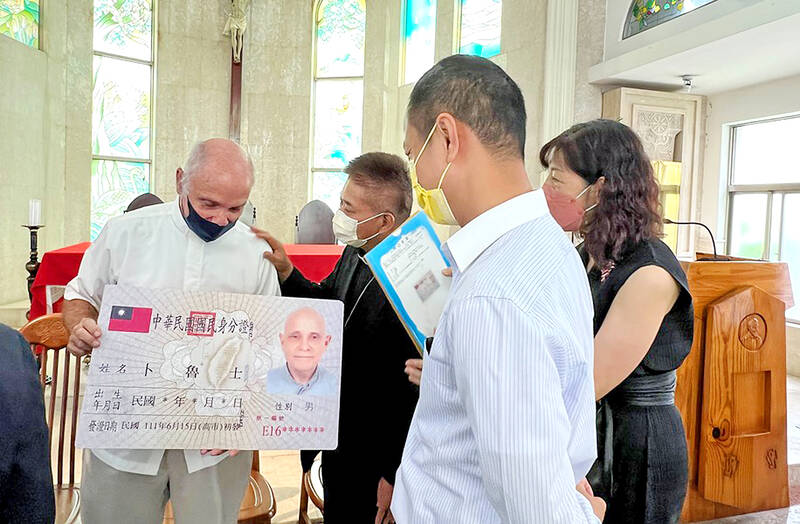 Richard Preuss, left, holds an outsized ID card at a ceremony to mark the reverend's naturalization at St Vincent de Paul Church in Kaohsiung on June 15 last year.
Photo courtesy of the Kaohsiung City Government
The ministry said that all fees in the naturalization process — totaling NT$1,200 — would be waived for foreigners who have contributed to the medical field, social welfare, education and other fields in Taiwan.
The proposed amendments would also change all mentions of "unmarried and underaged foreigners" to "unmarried and those under the age of 18" to reflect a revision to the Civil Code stipulating that the age of majority in Taiwan is 18, it said.
Children without a nationality are eligible for naturalization alongside their parents, but the act would be amended to allow social welfare establishments and other facilities to be guardians, ensuring that stateless children would be included, the ministry said.
The proposed changes also take into account articles of the Public Officials Election and Recall Act (公職人員選舉罷免法), it said.
The amendments would remove public officials who represent indigenous areas from office if they hold dual nationalities, it said.
Premier Chen Chien-jen (陳建仁) said that the amendments would help Taiwan observe the spirit of the UN Convention on the Rights of the Child and provide a resolution for stateless children in Taiwan.
Taiwan ratified the convention in 2014 and signed an Instrument of Accession in 2016, despite not being an official signatory to the UN convention.
Comments will be moderated. Keep comments relevant to the article. Remarks containing abusive and obscene language, personal attacks of any kind or promotion will be removed and the user banned. Final decision will be at the discretion of the Taipei Times.