Five Americans in prisoner swap depart Tehran
CASH BACK: As part of the deal, US$6 billion in Iranian assets frozen in South Korea for oil purchases have been sent to an account in Qatar
Five prisoners sought by the US in a swap with Iran flew out of Tehran yesterday, officials said.
Flight-tracking data analyzed by The Associated Press showed a Qatar Airways flight take off at Tehran's Mehrabad International Airport, which has been used for exchanges in the past.
Iranian state media soon after said the flight had left Tehran.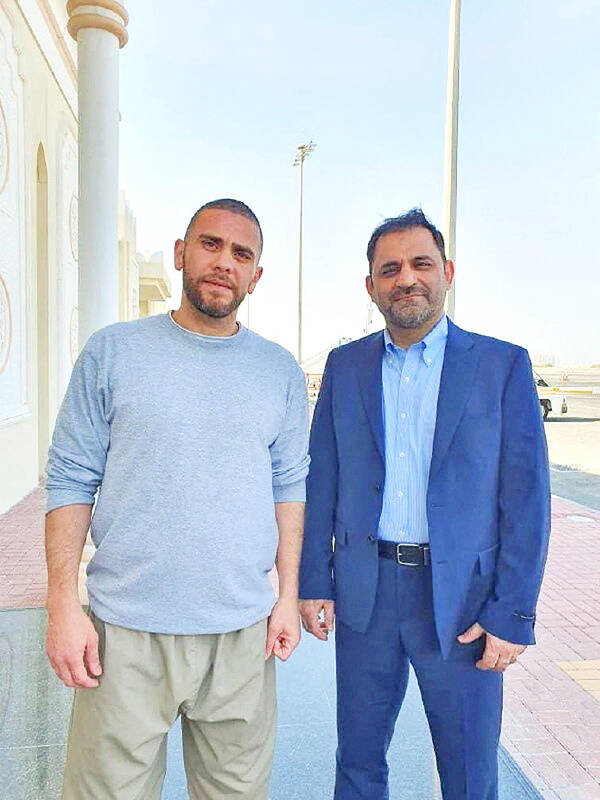 Iranian prisoner swaps Reza Sarhang Pour and Mehrdad Moein Ansari pose at Doha airport in Doha, Qatar, yesterday.
Photo: Reuters / NourNews / West Asia News Agency
Two people, including a senior US administration official, said that the prisoners had left Tehran. They both spoke on condition of anonymity because the exchange was ongoing.
In addition to the five freed Americans, two US family members flew out, the official said.
Earlier, officials said that the exchange would take place after nearly US$6 billion in once-frozen Iranian assets reached Qatar, a key element of the planned swap.
Iranian Ministry of Foreign Affairs spokesman Nasser Kanaani was the first to acknowledge that the swap would take place yesterday. He said the cash sought for the exchange that had been held by Seoul was now in Qatar.
Kanaani made his comments during a news conference aired on state television, but the feed cut immediately after his remarks.
"Fortunately Iran's frozen assets in South Korea were released and God willing today the assets will start to be fully controlled by the government and the nation," he said.
"On the subject of the prisoner swap, it will happen today and five prisoners, citizens of the Islamic Republic, will be released from the prisons in the US," he added. "Five imprisoned citizens who were in Iran will be given to the US side."
He said two of the Iranian prisoners would stay in the US.
Central Bank of Iran Governor Mohammad Reza Farzin later came on state television to acknowledge the receipt of more than 5.5 billion euros (US$5.9 billion) in accounts in Qatar. Months ago, Iran had anticipated getting as much as US$7 billion.
On the US side, Washington has said the planned swap includes Siamak Namazi, who was detained in 2015 and was later sentenced to 10 years in prison on spying charges; Emad Sharghi, a venture capitalist sentenced to 10 years; and Morad Tahbaz, a British-American conservationist of Iranian descent who was arrested in 2018 and also received a 10-year sentence.
All of their charges have been widely criticized by their families, activists and the US government.
US officials have declined to identify the fourth and fifth prisoners.
The five prisoners Iran has said it seeks are mostly held for allegedly trying to export banned material to Iran, such as dual-use electronics that can be used for military purposes.
The cash represents money South Korea owed Iran — but had not yet paid — for oil purchased before the US imposed sanctions on such transactions in 2019.
The US says that, once in Qatar, the money would be held in restricted accounts and would only be able to be used for humanitarian goods, such as medicine and food. Those transactions are allowed under US sanctions against Iran over its nuclear program.
Iranian government officials have largely concurred with that explanation, though some hard-liners have insisted, without providing evidence, that there would be no restrictions on how Tehran spends the money.
Comments will be moderated. Keep comments relevant to the article. Remarks containing abusive and obscene language, personal attacks of any kind or promotion will be removed and the user banned. Final decision will be at the discretion of the Taipei Times.