Iran stops family's one-year memorial for Mahsa Amini
Iranian authorities yesterday prevented the family of Mahsa Amini from holding a ceremony to commemorate the first anniversary of her death, confining her father to his home after briefly detaining him, rights groups said.
Amini, a 22-year-old Iranian Kurd, died a few days after her arrest by religious police for allegedly contravening the strict dress code for women in force since shortly after the 1979 Islamic Revolution.
Her family says she died from a blow to the head, but that was disputed by Iranian authorities.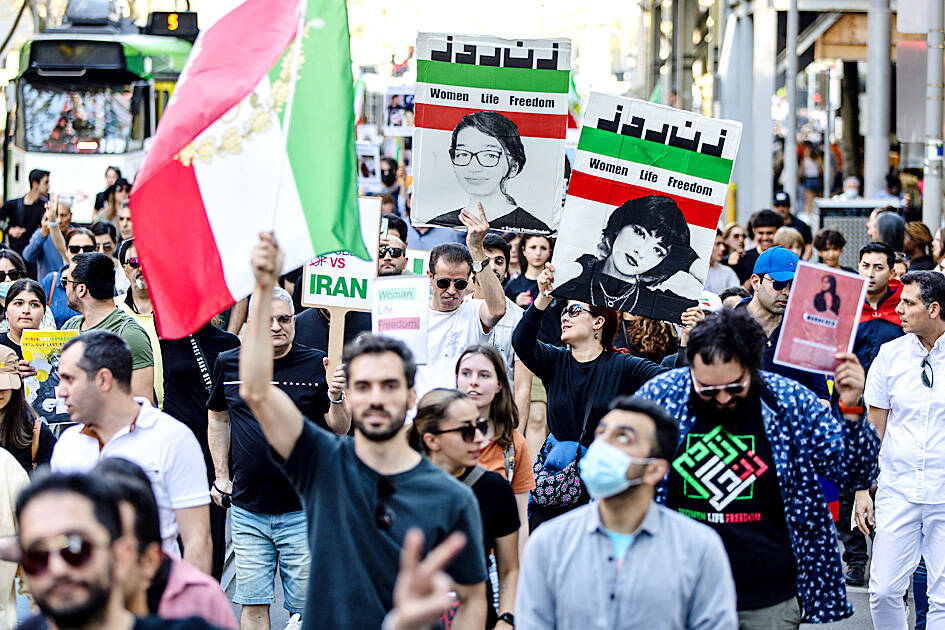 Protesters in Melbourne, Australia, yesterday hold placards and flags during a rally marking the one-year anniversary of Mahsa Amini's death.
Photo: EPA-EFE
Mahsa Amimi's father, Amjad Amini, was detained while exiting the family home in the western town of Saqez and then released after being warned not to hold a memorial service at her grave, the Kurdistan Human Rights Network, 1500tasvir monitor and Norway-based Iran Human Rights (IHR) said.
He was not being allowed to leave the family home, with members of the security forces stationed outside, the groups said in separate statements.
"Amjad Amini is under house arrest... Security forces are preventing him from visiting his daughter's grave," IHR said.
The official Islamic Republic News Agency described the reports of the arrest as "false," saying they were aimed at "inciting the population to protest."
Amjad Amini was already last week summoned by intelligence officials after his announcement that he planned to hold a memorial ceremony. One of Mahsa Amini's uncles, Safa Aeli, was detained in Saqez on Sept. 5 and remains in custody.
Some reports suggested security forces had blocked access to Mahsa Amini's grave.
The protests lost momentum after several months in the face of a crackdown that saw security forces kill 551 protesters, according to IHR, and arrest more than 22,000, according to Amnesty International.
Iranian authorities say dozens of security personnel were also killed in what they describe as "riots" incited by foreign governments and hostile media.
Seven men have been executed after being convicted in protest-related cases.
Campaigners say the authorities have renewed their crackdown in the run-up to the anniversary, putting pressure on relatives of those killed in the protests in a bid to stop them from speaking out.
New York-based Human Rights Watch said family members of at least 36 people killed or executed in the crackdown had been interrogated, arrested, prosecuted or sentenced to prison over the past month.
"Iranian authorities are trying to impose a chokehold on dissent to prevent public commemoration of Mahsa Jina Amini's death in custody, which has become the symbol of the government's systematic oppression of women, injustice and impunity," said Tara Sepehri Far, senior Iran researcher at Human Rights Watch.
Kurdish-focused group Hengaw said that people in western Iran were expressing discontent through a general strike, with shops shut down in a dozen towns and cities, including Saqez.
Persian-language channels based outside Iran, including Iran International, broadcast footage of residents shouting "Death to the dictator" and the main protest slogan of "woman, life, freedom" from apartment blocks in Tehran and its satellite city of Karaj overnight.
Comments will be moderated. Keep comments relevant to the article. Remarks containing abusive and obscene language, personal attacks of any kind or promotion will be removed and the user banned. Final decision will be at the discretion of the Taipei Times.