UN deputy chief says exclusion harmful
CALLS FOR CHANGE: 'Every person matters, whether it's Taiwan or otherwise,' Amina Mohammed said, after Taiwan's foreign minister and two diplomats called for inclusion
Exclusion of anyone harms efforts to achieve global development goals, UN Deputy Secretary-General Amina Mohammed said on Friday when asked about Taiwan's bid for UN participation.
World leaders are to meet next week at the annual high-level UN General Assembly, but Taiwan is excluded under a 1971 UN resolution that recognizes the People's Republic of China (PRC) as the legitimate representative of China to the UN.
Leaders are also to attend a summit on the UN's Sustainable Development Goals — a global "to-do" list created in 2015 that includes issues such as tackling the climate crisis, achieving gender equality and ending hunger and poverty.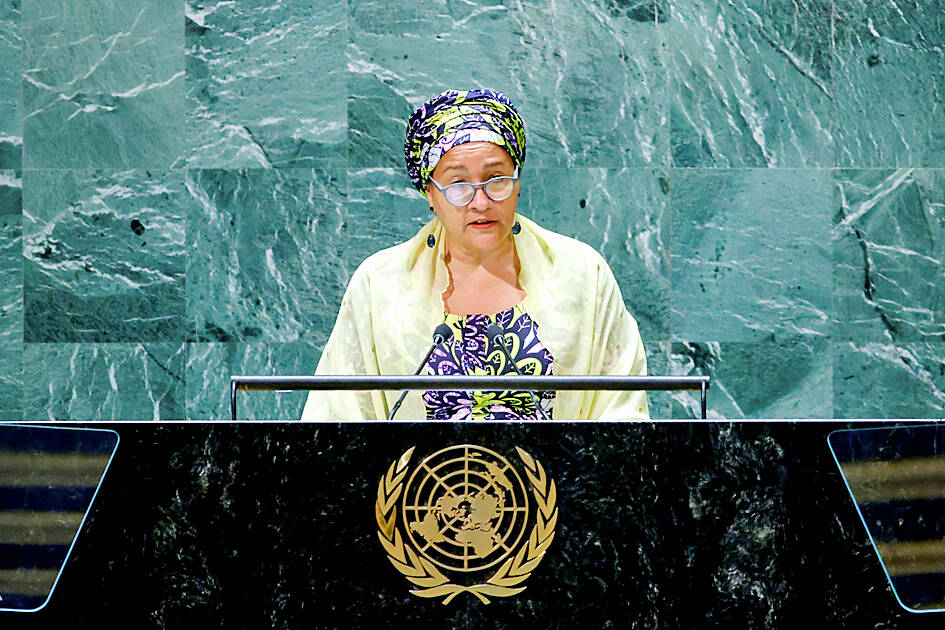 UN Deputy Secretary-General Amina Mohammed speaks at the UN headquarters in New York on July 18 last year.
Photo: Reuters
"I think exclusion of anyone holds back the goals," Mohammed told reporters on Friday. "We said leave no one behind, and I think member states have to find a way to make sure that we are not in that position where we're excluding people."
"Every person matters, whether it's Taiwan or otherwise, and I think it's really important for member states to find a solution," she said.
Asked about her remarks, China's UN mission referred to a statement by Chinese Ambassador to the UN Zhang Jun (張軍) on Thursday.
"The so-called Taiwan's participation in the UN is a false narrative through and through. First, there is but one China in the world, and Taiwan is an inalienable part of China's territory," Zhang said.
The 1971 resolution replaced the then-government of the Republic of China that had fled to Taiwan after the Chinese Civil War.
Proponents of Taiwan say the resolution never ruled out Taiwan's participation.
UN deputy spokesperson Farhan Haq said the UN upholds the "one China" policy, adding: "We don't intend to leave any of the people of China behind and we support all of the people of China, but we stick by the one China policy."
Later on Thursday, the Taipei Economic and Cultural Office in New York issued a statement in objection.
"The Republic of China (Taiwan) is an independent and sovereign democratic state," it said. "Only Taiwan's democratically elected government can represent its 23.5 million people in the UN system and the international community. The government of the PRC has no right to a say in the matter."
Taiwan has long called on the UN to admit it as a member.
Minister of Foreign Affairs Joseph Wu (吳釗燮) told Foreign Policy in an interview on Thursday that it would be "very hard" for Taiwan to achieve membership, but that there was still hope.
"I think there is growing attention from the international community that there has to be peace between Taiwan and China and the best forum to discuss this issue will be the United Nations," Wu said. "So, keeping Taiwan out of the United Nations is immoral, is unjust and is something that we have to make change to."
Representative to New Zealand Joanne Ou (歐江安) called on Wellington to support Taiwan's bid for UN inclusion, saying that the UN "can serve as a platform to facilitate dialogue, de-escalate tensions and promote peace, if it can live up to its charter principles."
In a letter published in The Post newspaper on Thursday, she said New Zealand's first National Security Strategy indicated that Taiwan was a potential flashpoint and that New Zealand has a direct interest in the area.
"Taiwan has proven itself to be a reliable stakeholder and a capable contributor," she wrote. "There is still time to prevent another invasion. Including 23.5 million Taiwanese people into the UN system is the first step."
Representative to Indonesia John Chen (陳忠) on Friday wrote on local media platforms Medcom and Okezone that Jarkata and other nations should support Taiwan's entry into the UN.
Taiwan is essential to global peace and security, the main producer of the world's semiconductors, a port of call for half of all shipping cargo and a key link in global supply chains, he said.
A conflict in the Taiwan Strait would be a catastrophe for the glbal economy, he said, adding that the UN should act on the motto of its Sustainable Development Group: "Leave no one behind."
Additional reporting by Yang Cheng-yu and CNA
Comments will be moderated. Keep comments relevant to the article. Remarks containing abusive and obscene language, personal attacks of any kind or promotion will be removed and the user banned. Final decision will be at the discretion of the Taipei Times.