US advances Taiwan double-tax bill
'CRITICAL TRADE PARTNER': The proposal had momentum due to a bipartisan consensus on boosting the economic partnership with Taiwan, a US senator said
The US Senate Committee on Finance on Thursday passed the US-Taiwan Expedited Double Tax Relief Act, with US officials saying that it would ease pressure on investors and boost the partnership between Taipei and Washington, although Taiwan needs to enact reciprocal legislation for it to take effect.
The bill — which was developed by US senators Ron Wyden, the committee's chairman, and ranking member Mike Crapo, along with US representatives Jason Smith, chairman of the US House of Representatives Committee on Ways and Means, and ranking member Richard Neal — was passed in a 27-0 vote.
The proposal had momentum because of a bipartisan consensus among senators that the US' economic partnership with Taiwan be strengthened, Wyden said during the markup hearing of the legislation, calling Taiwan "a critical trading partner."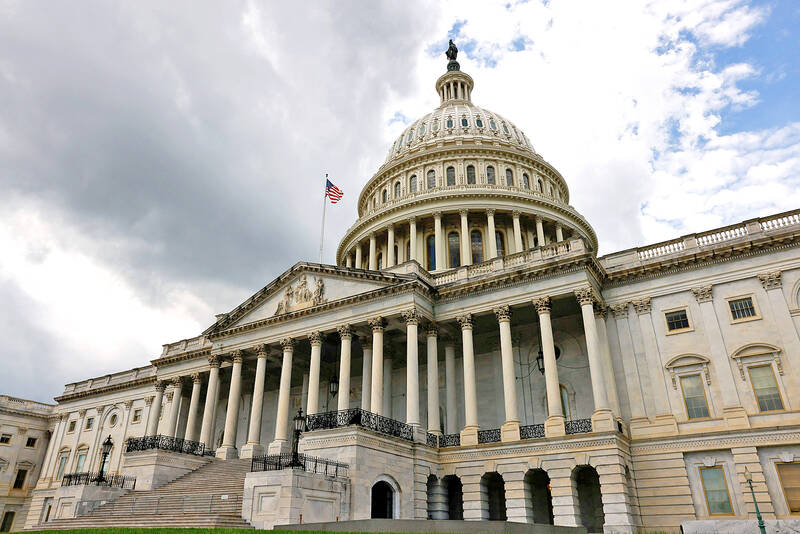 The US Capitol is pictured in Washington on Aug. 15.
Photo: Reuters
The legislation is a part of US efforts in "supercharging chipmaking here in America," which should not be hindered by a lack of double-tax relief, he said.
"Our unique relationship with Taiwan requires a unique approach to double-tax relief as well," he said. "It is novel, but more importantly, it is fast."
"There is no time to waste," Wyden said, adding that amending the tax code to include double-tax relief means that US workers and businesses might enjoy its benefits in "months, not years" if things go well.
He called on the US Congress to help stabilize the Indo-Pacific region and prevent conflicts as China's military threats against Taiwan also affect the US and its allies.
"Building up our economic relationship with Taiwan is a crucial component of this work," Crapo said. "Without question, deepening ties with Taiwan and its vibrant democracy is in our nation's best interests."
Under the legislation, residents of Taiwan for tax purposes who work in the US would have six months before their wages were subject to US income tax rules, which would encourage more investment in US operations, he said.
The legislation would exempt people who have residency in Taiwan and the US from double taxation, Crapo said.
The items in the bill are subject to a reciprocity clause, which means that the benefits are conditional upon Taiwan providing reciprocal benefits to US-based companies and individuals investing and working in Taiwan, he said.
US Senator Robert Menendez, chairman of the Senate Foreign Relations Committee, offered his support for the bill, but said: "I have deep concerns that this legislation alone is insufficient."
Despite being unable to sign a treaty with Taiwan due to a lack of official diplomatic ties, the US should reach a tax agreement with Taiwan, Menendez said.
His committee in July passed the Taiwan Tax Agreement Act, authorizing the US government to negotiate and enter an income tax agreement with Taiwan, Menendez said, adding that he hoped to find a compromise to move both bills forward jointly.
Some opposed the approach of entering into a tax agreement with Taiwan, saying that "allowing a less formal agreement to override the tax code — rather than using legislation or a treaty — would create a new, problematic precedent for making tax law," the Washington-based Roll Call newspaper reported.
Representative to the US Hsiao Bi-khim (蕭美琴) thanked the finance committee for passing the bill, which she said was "an important milestone moving towards relief in double taxation, with the reciprocal goal of incentivizing more two-way investments and deeper Taiwan-US economic ties."
Comments will be moderated. Keep comments relevant to the article. Remarks containing abusive and obscene language, personal attacks of any kind or promotion will be removed and the user banned. Final decision will be at the discretion of the Taipei Times.