Aung San Suu Kyi's party says junta is denying her care
Myanmar's junta is endangering the life of jailed democracy figurehead Aung San Suu Kyi, her political party said yesterday, accusing the military of depriving her of medical care and food.
Aung San Suu Kyi has been detained since the generals seized power in February 2021, ending a 10-year democratic experiment and plunging the Southeast Asian country into turmoil.
In the past few days, local media have reported that the Nobel laureate, 78, was having dizzy spells, vomiting and unable to eat because of a tooth infection.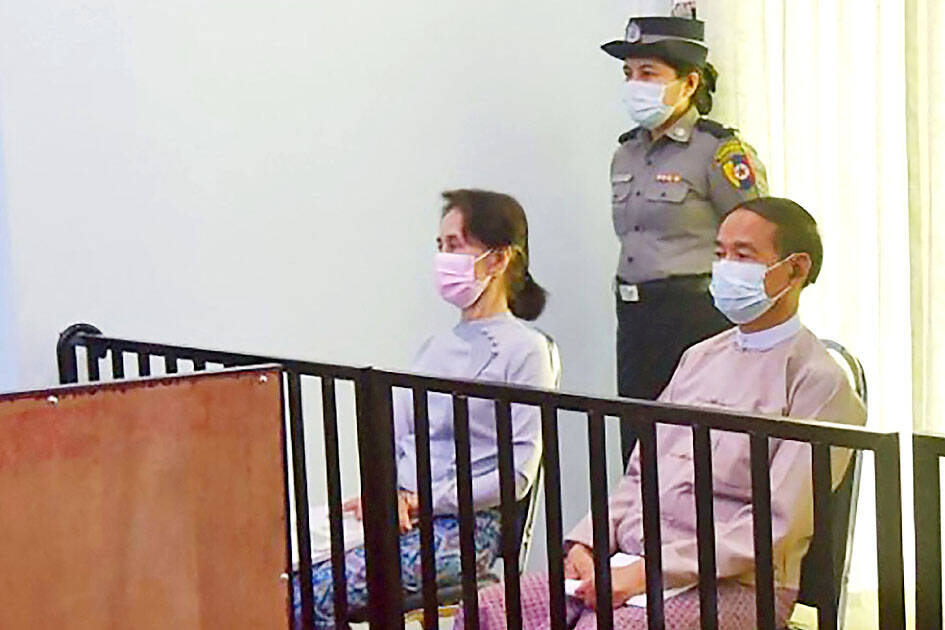 Civilian leader Aung San Suu Kyi, left, and then-Burmese president Win Myint, right, attend a court hearing in Naypyidaw on May 24, 2021.
Photo: AFP / MYANMAR'S MINISTRY OF INFORMATION
"We are particularly concerned that she is not receiving adequate medical care and they are not providing healthy food nor accommodation sufficiently with the intention to risk her life," the National League for Democracy said.
"If Daw Aung San Suu Kyi's health is not only impaired, but her life also is endangered, the military junta is solely responsible," the statement said, using a Burmese honorific.
During her 19-month trial in a junta court, Aung San Suu Kyi regularly missed hearings on health grounds.
That trial ended last year, with Aung San Suu Kyi jailed for 33 years, a term later partially reduced by junta chief Min Aung Hlaing.
Aung San Suu Kyi's UK-based son last week told the BBC that the junta was denying treatment to his mother for dizziness and a gum disease, although he is not in direct contact with her.
A junta spokesman told reporters last week that reports of Aung San Suu Kyi's ill health were "rumors."
"She's not suffering from anything as her medical doctors are taking care of her health," Zaw Min Tun said.
Aung San Suu Kyi was being held as a "hostage ... in secret places," her party said.
Comments will be moderated. Keep comments relevant to the article. Remarks containing abusive and obscene language, personal attacks of any kind or promotion will be removed and the user banned. Final decision will be at the discretion of the Taipei Times.