Gou names Tammy Lai as running mate
Independent presidential candidate Terry Gou (郭台銘) yesterday named actress Tammy Lai (賴佩霞), known for her role in the Netflix political drama Wave Makers (人選之人), as his running mate for the election in January next year.
Gou, the founder of Hon Hai Precision Industry Co (鴻海精密), said at an event in Taipei that he would depend on Lai's "unique female perspective to foster a more equitable and gender-balanced culture in Taiwan."
Lai, who portrayed the president in Wave Makers, said that as vice president she would urge overseas businesspeople to "return, invest and remain in Taiwan."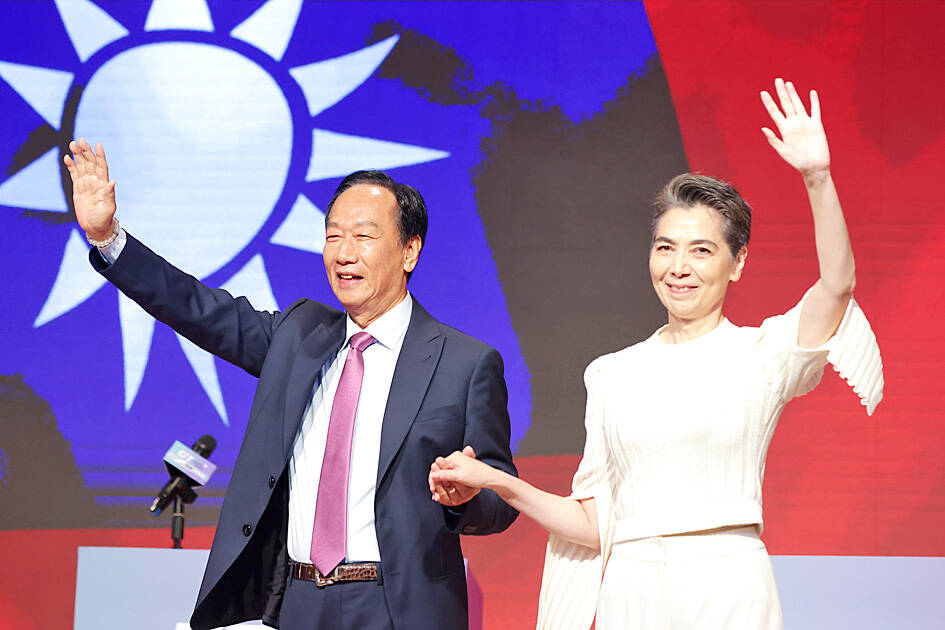 Independent presidential candidate Terry Gou, left, and actress Tammy Lai wave at an event in Taipei yesterday at which he announced her as his running mate.
Photo: RITCHIE B. TONGO, EPA-EFE
Young people cannot envision getting married and having children without a stable economy, depriving many of the joys of grandchildren, Lai said.
"I'm sure we all still remember the incidents in Cambodia, which represented a parent's worst nightmare," she said, an apparent reference to cases of Taiwanese being trafficked and imprisoned by telecoms fraud rings in the Southeast Asian nation.
"Due to the poor economic conditions, we were unable to keep our children with us. There is no way we will allow that to happen again," she said.
Lai said that as vice president, she would communicate the credentials and policies of Gou's independent ticket by "engaging with opposition parties, the media and most importantly, the public."
Lai has a master's degree in international relations and a doctorate in law from China's Jinan University, Gou's campaign office said in a statement following the press event.
She is also a writer and the founder of the Collaborative Communications Academy, which advocates for positive communication skills, the statement said.
She would need to renounce her US citizenship to be eligible to run in next year's election, which it said she would do soon.
Due to a lack of party affiliation, Gou must collect signatures from 289,667 people by Nov. 2 to make it onto the ballot, Central Election Commission (CEC) rules say.
The entrepreneur-turned-politician is also required to register his independent candidacy with the CEC no later than Sunday, the rules say.
His campaign cannot begin the signature drive until after his candidacy is registered.
However, there is speculation that Gou's campaign would seek a candidacy pact with Taiwan People's Party Chairman Ko Wen-je (柯文哲) and New Taipei City Mayor Hou You-yi (侯友宜) of the Chinese Nationalist Party (KMT).
Lai appeared to signal her support for a pact, saying it would be her "mission" to fulfill Gou's goal of "integrating the opposition."
Ko described Lai as a "strong candidate" who has been engaged in charitable activities for the past few years.
Hou said that he has been recruited as the KMT's candidate and intends to "unite all forces to move forward."
Asked whether he thought the announcement of Lai as Gou's running mate was timed to coincide with the start of his eight-day trip to the US, Hou said he had not been aware of Gou's plans.
Separately, the nominees for the Golden Bell Awards were announced, with Lai receiving a Best Supporting Actress nomination in the miniseries/TV movie category for her role in Wave Makers.
Comments will be moderated. Keep comments relevant to the article. Remarks containing abusive and obscene language, personal attacks of any kind or promotion will be removed and the user banned. Final decision will be at the discretion of the Taipei Times.