US lawmakers urge UN support for Taiwan bid
The cochairs of the US Congressional Taiwan Caucus on Tuesday issued a joint statement supporting Taiwan's meaningful participation in international organizations, as the 78th session of the UN General Assembly convened in New York.
US representatives Gerry Connolly, Mario Diaz-Balart, Ami Bera and Andy Barr said in the statement that the US Congress has "steadfast support for Taiwan's meaningful participation in international organizations."
They also rejected actions by the UN to bar Taiwan from meaningful participation, especially the use of Resolution 2758.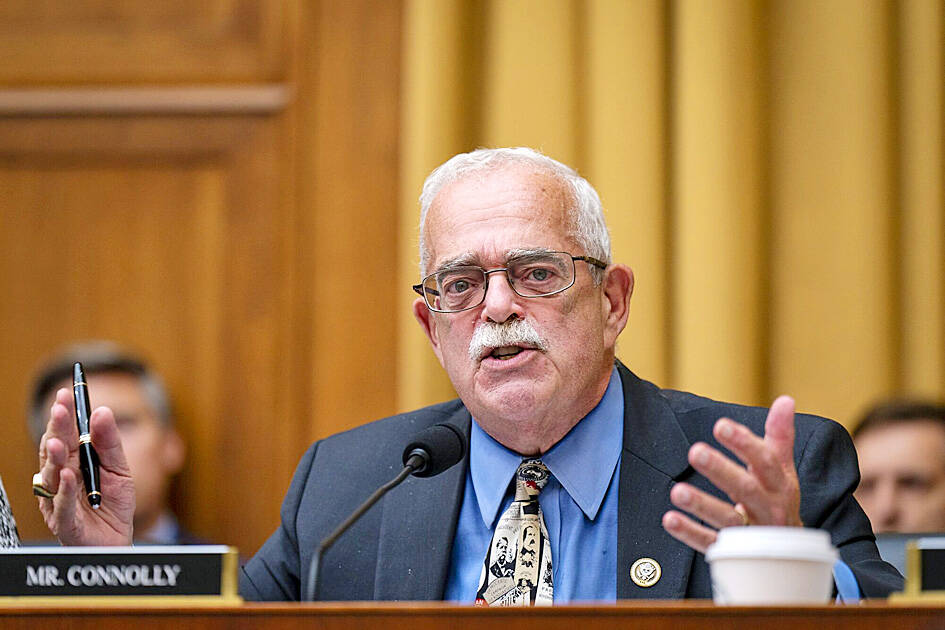 Representative Gerry Connolly speaks during a US House of Representatives Judiciary Subcommittee on the Weaponization of the Federal Government hearing in Washington on July 20.
Photo: Bloomberg
The resolution, passed in 1971, establishes the People's Republic of China as the lawful representatives of China at the UN, but does not comment on Taiwanese representation.
The representatives reiterated the content of the Taiwan International Solidarity Act, which the US House of Representatives passed unanimously in July, which says that the resolution does not address Taiwanese representation.
"In fact, over the last decade, Congress has overwhelmingly adopted numerous bills and resolutions which explicitly call for Taiwan's meaningful international participation and inclusion in international efforts with regional or global implications," the statement said.
"As the [Chinese] People's Liberation Army continues to encroach upon neighbors, including Taiwan, the United States must once again demonstrate resolute support for this strategic partner," it added, urging the White House to continue its "robust advocacy for Taiwan."
The 78th UN General Assembly opened on Tuesday last week.
The General Debate is to be held from Tuesday next week to Sept. 26.
US President Joe Biden is to address the General Assembly on Tuesday, the White House said.
The address would express the Biden administration's continued strong support for Taiwan it said, adding that the US government would use all diplomatic and other appropriate means to encourage more countries to join the ranks of those supporting Taiwan.
"President Biden will meet with world leaders to discuss cooperation in tackling threats to international peace and security, advancing global prosperity and protecting human rights," the White House said in a separate statement.
Additional reporting by Jake Chung
Comments will be moderated. Keep comments relevant to the article. Remarks containing abusive and obscene language, personal attacks of any kind or promotion will be removed and the user banned. Final decision will be at the discretion of the Taipei Times.