Wanted: 50 foreigners to promote amusement parks
The Tourism Bureau yesterday said it is recruiting 50 young people from abroad who are working or studying in Taiwan to help promote the nation's amusement parks to international tourists.
The bureau, in cooperation with the Taiwan Amusement Park Association, is to select 50 international ambassadors to experience a two-day, one-night amusement park tour that incorporates itineraries with diverse themes.
The ambassadors would be able to use their experience and creativity to introduce to the world the charm of amusement parks in Taiwan, while viewers would be able to vote for who they think are the best promotional spokespeople, the bureau said.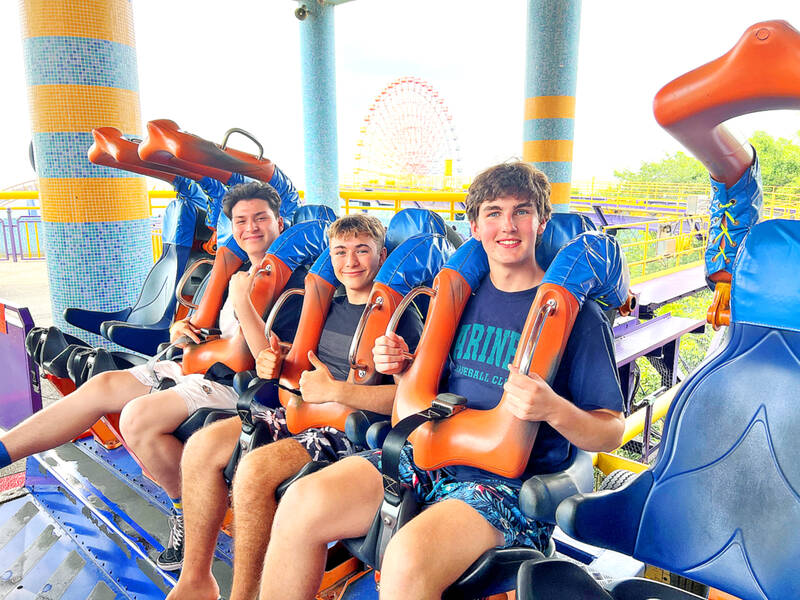 International visitors are pictured at an amusement park in Taiwan in an undated photograph.
Photo courtesy of the Tourism Bureau
Amusement Park ambassadors who share their posts and videos through social media platforms would have a chance to win a top prize of NT$30,000, it said.
Young foreigners who are enrolled in Taiwanese schools or employees with residence permits, especially those from Thailand, the Philippines, Vietnam, Malaysia, Indonesia and other countries targeted by the government's New Southbound Policy, can join the competition, the bureau said.
They should be active on Facebook, Instagram and YouTube, and operate their own pages or accounts on the platforms, as well as possess good writing and photography skills to describe their tour experience, it said.
About 400,000 international tourists visited amusement parks in Taiwan each year before the COVID-19 pandemic, bureau Acting Director-General Chou Ting-chang (周廷彰) said, adding that amusement park operators have upgraded their facilities during the pandemic.
"We hope these young people from abroad can use their influence on social media to draw more international tourists to Taiwan and visit the amusement parks here," Chou said.
Association chairman Liang Chun-pin (廖俊斌) said that operators have jointly presented six types of amusement park tours, such as those featuring wildlife, theme parks and indigenous culture.
International ambassadors can freely choose two types of tours they most want to experience, he said.
Those interested in participating in the activity can visit www.themepark.net.tw/ and the Tourism Bureau's Facebook page (www.facebook.com/timefortaiwan101/?locale=zh_TW) for details.
They can register online at https://reurl.cc/Yem1MO. The deadline for registration is on Sept. 30, the bureau said.
Comments will be moderated. Keep comments relevant to the article. Remarks containing abusive and obscene language, personal attacks of any kind or promotion will be removed and the user banned. Final decision will be at the discretion of the Taipei Times.