Taiwan to invest US$4.1bn in military R&D: report
Taiwan intends to invest a record-high NT$130.6 billion (US$4.1 billion) in military research and development, including a procurement of 1,779 drones, the Ministry of National Defense (MND) said in a report on the nation's military force and policy plan for fiscal 2024.
The figure includes NT$111.4 billion in continued funding for previously approved projects, it said in the report submitted to the Legislative Yuan, adding that it would prioritize AIDC T-5 advanced jet trainers and indigenous defense submarine prototype and light frigates, which have been developed or are being developed domestically.
The ministry would allocate NT$19.2 billion to research and develop distributed command and control systems and a myriad of uncrewed aerial vehicles, as these systems have proven to be crucial in Russia's war in Ukraine, the report said.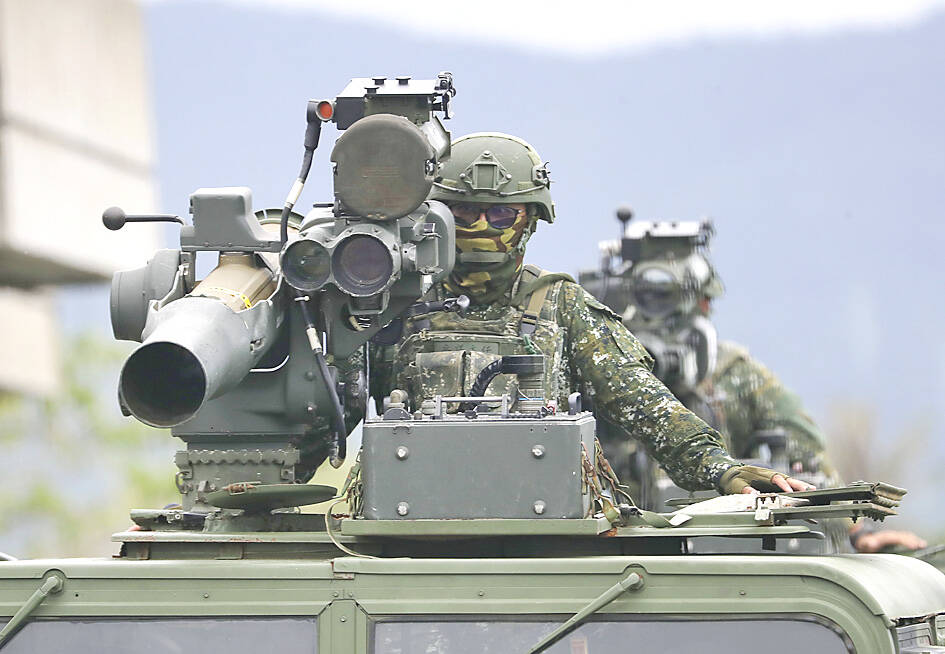 Gunners stand by with M220A2 TOW Launchers during a live fire drill in Pingtung County on July 3.
Photo: Chiang Ying-ying, AP
The three branches of the Taiwanese armed forces plan to build a fleet of 1,779 lightweight, off-the-shelves drones for reconnaissance, surveillance, observation and other applications, the report said.
The military would further invest in the domestic development of command, control and communication technology with an eye toward creating a self-sustaining defense industrial base, it said.
The nonclassified portion of the report did not make any references to developing trainer jets or plans for building additional indigenous defense submarines, although the ministry has allocated NT$3.9 billion to improve the prototype vessel.
Next year's military maintenance and repair budget of NT$131 billion would be NT$2.6 billion lower than this year's budget.
When asked, the ministry said this year's budget was boosted by a NT$254 billion one-time special fund to obtain urgently needed ammunition and spare parts, which the military would not need next year.
Reduced spending on this area made it possible to increase the budget for training, it said.
Separately, the ministry on Thursday submitted this year's report on Chinese military power to lawmakers, which said that Beijing is bolstering the Chinese People's Liberation Army's (PLA) capability to wage war in the Taiwan Strait.
The Chinese Communist Party is changing the composition of the Central Military Commission — equivalent to the chiefs of staff in other countries — to prioritize combat experience, technological expertise and knowledge about Taiwan, the report said.
This suggests that the PLA is trying to strengthen its capability to wage war against Taiwan and deny US access to the region, perhaps to fulfill Chinese President Xi Jinping's (習近平) ambition to accelerate "unification" in his third presidential term, it said.
The PLA Ground Force is in the midst of establishing combined arms brigades in accordance with its doctrine of emphasizing mobile operations and three-dimensional attack and defense capabilities, the report said.
Meanwhile, the PLA Navy is focusing on developing its capability to stage an in-depth defense at sea between the first and second island chains and to engage a powerful military adversary by 2035, it said.
China's third aircraft carrier, the Fujian, is undergoing fitting and testing, and awaiting production of a sufficient number of aircraft that it is to carry, the report said.
When all preparations are complete, the Fujian is expected to join the Liaoning and the Shandong to form an ocean-going carrier strike group with expeditionary capabilities, it added.
The PLA Air Force is pursuing its transformation into a strategic force capable of offensive and defensive operations, including conducting deep strikes and sustainment missions out to the second island chain, the report said.
China is likely to continue carrying out military activities targeting Taiwan, including utilizing gray zone tactics, cyberattacks, maritime drills and patrols, as well as mock amphibious assaults, it said.
Taiwan's armed forces must establish clear priorities in acquiring key combat capabilities and integrate available resources efficiently to deter the PLA from invading the nation under the asymmetric conditions prevailing in the Taiwan Strait, the report said.
This means increased emphasis on mobility, quality, precision-strike capabilities and effective utilization of resources in the civilian sector to bolster national defense, it said.
Comments will be moderated. Keep comments relevant to the article. Remarks containing abusive and obscene language, personal attacks of any kind or promotion will be removed and the user banned. Final decision will be at the discretion of the Taipei Times.