Medigen partners with WHO to offer COVID-19 vaccine technology worldwide
Medigen Vaccine Biologics Corp (高端疫苗), the manufacturer of the only domestically-made COVID-19 vaccine that has received emergency use authorization in Taiwan, yesterday announced its out-licensing agreement with the COVID-19 Technology Access Pool (C-TAP) hosted by WHO and the UN-backed Medicine Patent Pool (MPP), which would make the vaccine technology available worldwide to people in need.
Through C-TAP initiative, Medigen will share its COVID-19 vaccine, technology and training in a license that is global, transparent and non-exclusive to manufacturers worldwide, the company said in a statement.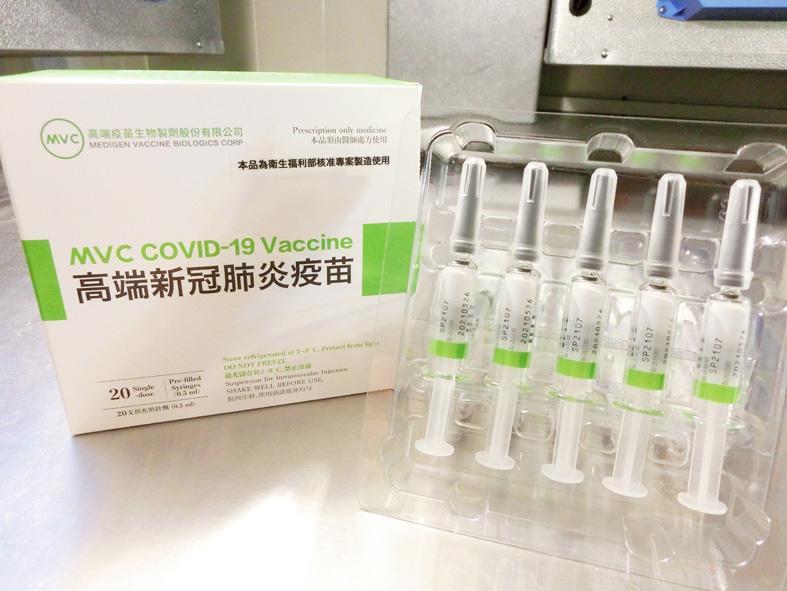 Syringes containing doses of Medigen Vaccine Biologics Corp's COVID-19 vaccine are displayed in an undated photograph.
Photo courtesy of the Food and Drug Administration
Medigen CEO Charles Chen (陳燦堅) said the company aims to provide equitable access to its vaccine technology to ensure that no one is left behind in the battle against COVID-19.
"This is not just about COVID-19, it's about setting up a precedent for future global health challenges. By demonstrating our commitment to open science and cooperative strategies, we hope to inspire other organizations to follow suit," Chen said.
This is the first time that a vaccine manufacturer will use C-TAP to offer its patent and know-how for a COVID-19 vaccine, the WHO said in a separate statement. Medigen's COVID-19 vaccine has been used in more than 3 million administrations across seven countries, it said.
In addition to Medigen, the WHO said that C-TAP has also entered into partnership with the Spanish National Research Council and the University of Chile to transfer know-how, materials and clinical data on COVID-19 technology.
C-TAP was launched in 2020 by the WHO director-general and the president of Costa Rica with the goal of facilitating timely and affordable access to COVID-19 health products, according to the WHO, which added that it is supported by 45 member states.
Based in Hsinchu County, Medigen is a biopharmaceutical company that uses cell-based technologies for the development of vaccines and biosimilars. It developed and manufactured the first SARS-CoV-2 vaccine in the country with emergency use approval granted in 2021.
Comments will be moderated. Keep comments relevant to the article. Remarks containing abusive and obscene language, personal attacks of any kind or promotion will be removed and the user banned. Final decision will be at the discretion of the Taipei Times.