Taiwan is already independent: Lai
PRESIDENTIAL CANDIDATE: Vice President William Lai in an interview pitched himself as a 'rational and steady' leader who is able to work with the US government effectively
Taiwan is a "sovereign, independent country," Democratic Progressive Party (DPP) presidential candidate William Lai (賴清德) told Bloomberg Businessweek in an interview, adding that he had no plans to purse formal independence.
"Taiwan is already a sovereign, independent country called the Republic of China," Vice President Lai said, echoing a stance President Tsai Ing-wen (蔡英文) made public three years ago, in his first interview with an international media outlet since becoming vice president in 2020.
"And in respect to unifying Taiwanese society, President Tsai has used the term Republic of China (Taiwan) to describe our country. I will continue to do so in the future," he said. "There are no plans to change the name of our country."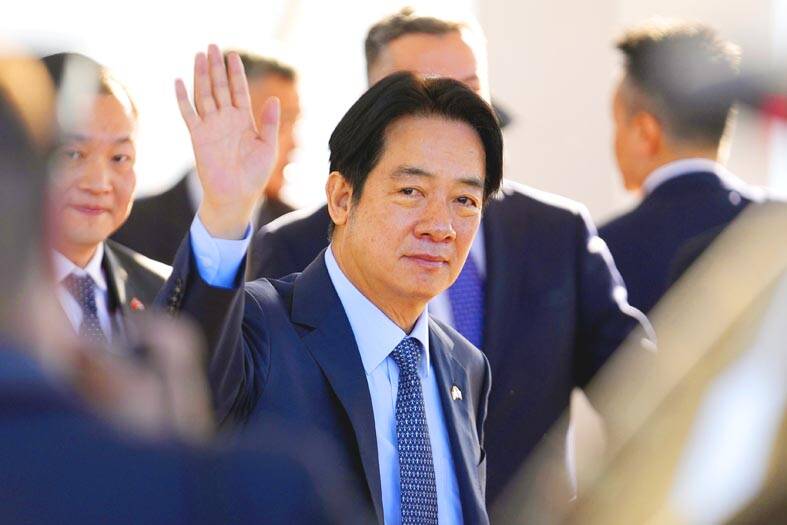 Vice President William Lai waves after landing at Silvio Pettirossi airport in Luque, Paraguay, on Monday.
Photo: AP
"It is not necessary to declare independence," he said in an interview aired on Tuesday while he is on a seven-day trip to the US and Paraguay. "The Republic of China and the People's Republic of China are not subordinate to one another."
Asked by editor Joel Weber about whether he has a road map to Taiwan's formal independence, Lai, who has on more than one occasion described himself as a "pragmatic worker for Taiwan independence," said "no such framework exists."
"My responsibility is to maintain the status quo in the Taiwan Strait, while protecting Taiwan and maintaining democracy, peace and prosperity," the 63-year-old said.
At the same time, Lai pitched himself as a "rational and steady" leader who is able to continue Tsai's policy and work with the US government effectively.
"I have been part of President Tsai's national security team," which has "responsible and clear channels of communications" with Washington, he said.
Lai described next year's presidential election as a decision between further engaging with the international community and working with China through caving in to its political agenda.
Lai is leading in most opinion polls, with Taiwan People's Party Chairman Ko Wen-je (柯文哲) and New Taipei City Mayor Hou You-yi (侯友宜) of the Chinese Nationalist Party (KMT) trailing.
While stressing that he remains "open" to engaging in dialogue with China, Lai took note of the security challenges facing Taiwan because of Beijing's "tendency to annex Taiwan" and refusal to denounce the use of force.
These challenges are of global concern, he said, adding that the international community must respond to China's actions, which he said "are the reasons for tensions" in the Taiwan Strait.
Lai is in Paraguay for the inauguration of Paraguayan President Santiago Pena. Paraguay is one of only 13 UN member states to maintain diplomatic ties with Taipei.
He transited through New York on his way there, drawing anger from China, which said he was a separatist and "troublemaker," and he is due back in Taipei on Friday after stopping over in San Francisco.
Additional reporting by Reuters
Comments will be moderated. Keep comments relevant to the article. Remarks containing abusive and obscene language, personal attacks of any kind or promotion will be removed and the user banned. Final decision will be at the discretion of the Taipei Times.