Air force developing new jet missiles
TAKING OFF: Ching Chuan Kang Air Base in Taichung opened up to the public to showcase its aircraft, while the Thunder Tigers treated visitors with a show
The air force's proposed next-generation fighter jet is to be armed with a new Tien Chien missile to be developed by the Chungshan Institute of Science and Technology, a high-ranking defense official said yesterday.
The missile, tentatively named Tien Chien V, is to have a range of 160km, equivalent to the US-made AIM-120C-8, the official said, speaking on condition of anonymity.
The weapon is based on the Tien Chien II medium-range air-to-air missile, they added.
Tien Chien-II air-to-air missiles are displayed at Ching Chuan Kang Air Base in Taichung yesterday.
Photo: Liu Yu-chieh, Taipei Times
Tien Chien V missiles would be compatible with domestically made joint helmet-mounted cueing systems and have improved anti-jamming capabilities, which would enhance the speed of target acquisition and pilots' ability to counter enemy electronic warfare, the source said.
The new missile is needed to meet the next-generation fighter's operational requirements and design parameters, as the air force has specified that the jet must utilize an internal weapons bay to enable stealth capabilities, they said.
The jet might incorporate vector thrust and advanced avionics, including active electronically scanned array radar and a tactical data link, they said, adding that the air force has yet to make a final decision on the platform's capabilities.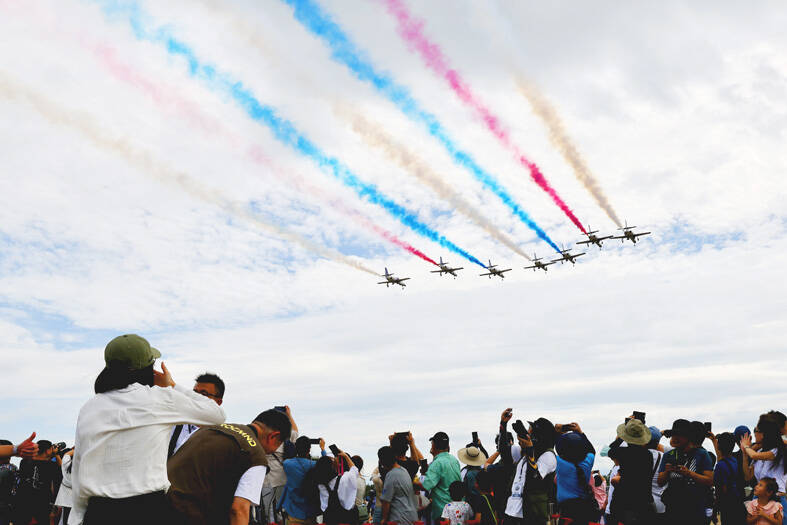 The air force's Thunder Tigers Aerobatics Team flies over a crowd during an air show at Ching Chuan Kang Air Base in Taichung yesterday.
Photo: Ritchie B. Tongo, EPA-EFE
The Chungshan Institute makes the Tien Chien I short-range air-to-air missiles and the medium-range Tien Chien II, in addition to the latter's ship-launched and ground vehicle-mounted derivatives, which it refers to as Tien Chien III, the official said.
The developers skipped the name Tien Chien IV, they said.
Separately, President Tsai Ing-wen (蔡英文) yesterday said that a Ching Chuan Kang Air Base "open house" event in Taichung was intended to educate Taiwanese about the armed forces' achievements in preparing the nation's defense.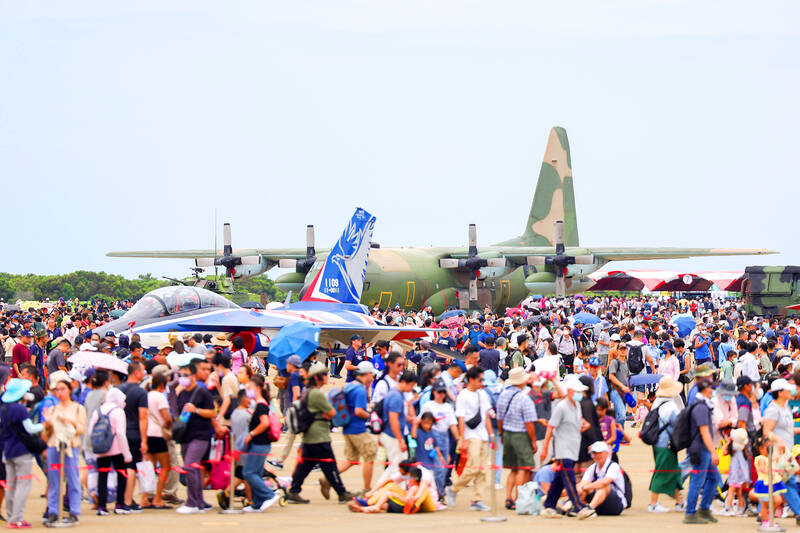 People look at a Brave Eagle advanced jet trainer, left, and Lockheed C-130 Hercules military transport aircraft, rear, during an "open house" event at Ching Chuan Kang Air Base in Taichung yesterday.
Photo: CNA
In a post on Facebook, Tsai called for support and appreciation for military service members.
After a three-year hiatus of the air shows due to the COVID-19 pandemic, this year's open house featured a demonstration by the Thunder Tigers Aerobatics Team, a showcase of the military's main combat aircraft, military band performances and displays that included nearly 100 stands.
Taiwan's domestically designed AIDC T-5 Brave Eagle trainer jets conducted a flyover in a formation of five, marking a first for that type of aircraft.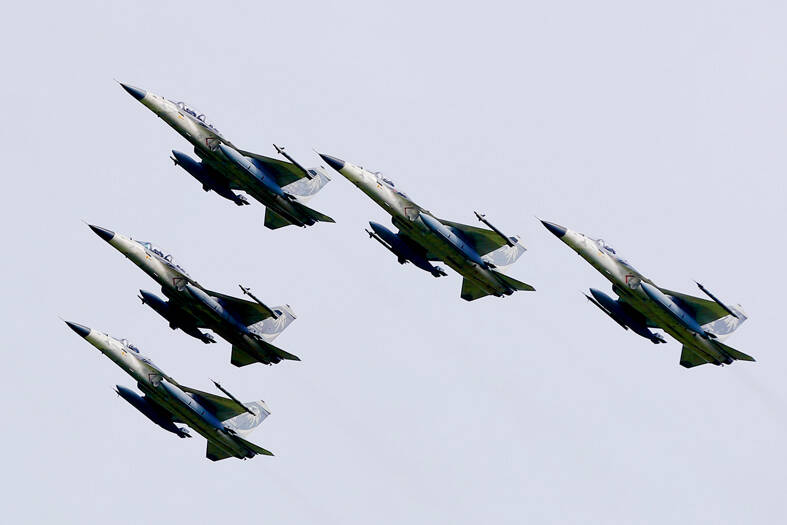 Indigenous Defense Fighter jets fly by during an "open house" event at Ching Chuan Kang Air Base in Taichung yesterday.
Photo: Ritchie B. Tongo, EPA-EFE
Lockheed Martin F-16Vs, Dassault Mirage 2000s and AIDC Indigenous Defense Fighters were among the other tactical aircraft that carried out aerial demonstrations at the event.
The army and the navy, which also participated in the event, displayed vehicles and weapons systems currently in service, including the Boeing AH-64 Apache attack helicopter, Sikorsky UH-60 Black Hawk helicopter, armored fighting vehicles, Hsiung Feng II and Hsiung Feng III missiles, and the Chungshan Institute-developed Albatross drone and Cardinal uncrewed combat aerial vehicle.
Comments will be moderated. Keep comments relevant to the article. Remarks containing abusive and obscene language, personal attacks of any kind or promotion will be removed and the user banned. Final decision will be at the discretion of the Taipei Times.