Aso calls for action to safeguard peace
SECURITY CHALLENGES: Stressing the importance of preserving peace in the Taiwan Strait, the former Japanese prime minister called for enhanced deterrence
The international community must "wake up" to the worsening situation in the Taiwan Strait, former Japanese prime minister Taro Aso said yesterday in Taipei, as he reiterated the importance of peace and stability and called for concrete action to safeguard it, such as stepping up defense capabilities.
The world is gradually tilting toward a period of emergency, as global security, information and cognitive warfare, and economic security challenges are becoming more substantial, Aso said in a speech at the Ketagalan Forum.
The forum, an annual event focused on security in the Indo-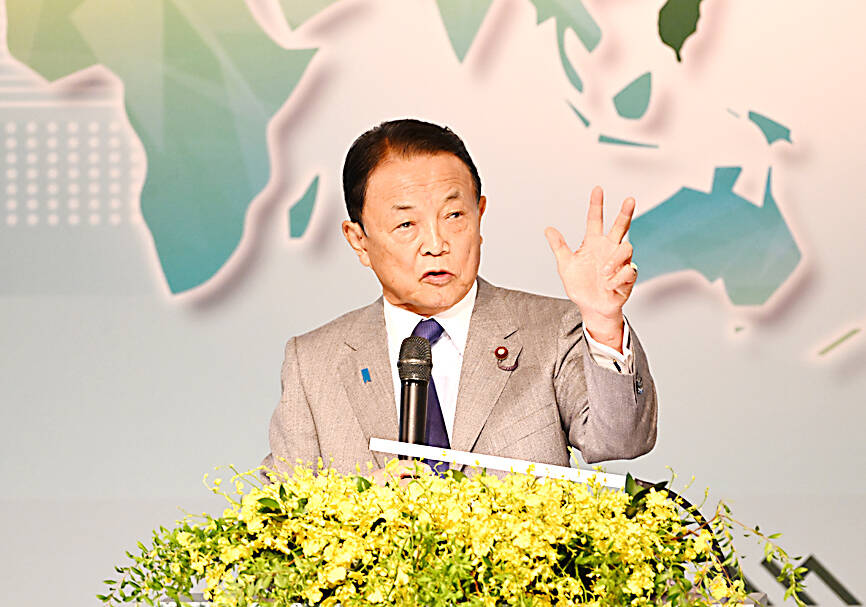 Former Japanese prime minister Taro Aso speaks during the Ketagalan Forum in Taipei yesterday.
Photo: Tien Yu-hua, Taipei Times
Pacific region, was also attended by President Tsai Ing-wen (蔡英文).
"The fact that these issues can be discussed in Taipei already shows the importance of the role that Taiwan plays," said Aso, vice president of Japan's ruling Liberal Democratic Party.
Aso said that while he was serving as foreign minister in former Japanese prime minister Shinzo Abe's administration, the Japanese government "attached great importance to our relations with Taiwan."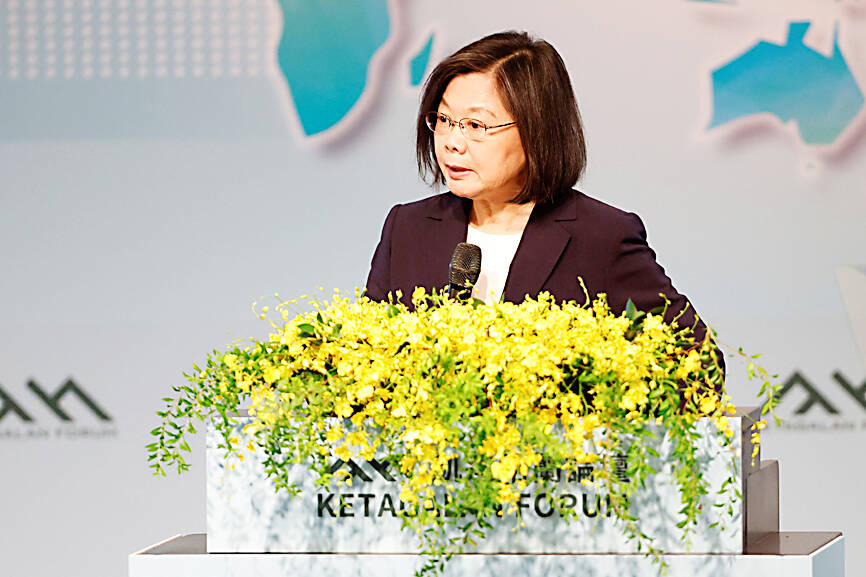 President Tsai Ing-wen speaks at the Ketagalan Forum in Taipei yesterday.
Photo: Carlos Garcia Rawlins, Reuters
"Taiwan is an extremely important partner and friend, which shares universal values, such as freedom, democracy, basic human rights and the rule of law" with Japan, he said.
The two sides have formed close economic relations and people-to-people ties, he added.
Abe in 2016 proposed a free and open Indo-Pacific vision as Japan's foreign policy, and it has been widely recognized by the international community, Aso said.
In March, Japanese Prime Minister Fumio Kishida announced a new plan to promote a free and open Indo-Pacific region during a trip to India, which "clearly expresses support for freedom and respect for diversity, inclusiveness and openness," Aso said.
The importance of cross-strait peace and stability has been repeatedly stressed at an international level, such as in the Japan-US Joint Leaders' Statement issued in April 2021 and the G7 summit communiques published in June 2021 and in May, he said.
G7 leaders, who gathered in Hiroshima, Japan, in May, also said that concerns and worries should be expressed to China clearly and directly in the hopes of establishing a constructive and stable relationship with Beijing, Aso said.
He added that Japan "will make use of all opportunities" to continue to stress the importance of regional peace and stability.
"The most important thing for us is that there should be no war in our region, including the Taiwan Strait," he said.
Enhancing deterrence is therefore crucial, including by improving self-defense capabilities, having the will to defend oneself and conveying these two to the opponent, he said.
Aso called on like-minded countries, such as Taiwan, Japan and the US, to "wake up now," saying it is time to focus on full deterrence.
Japan is "making dramatic political changes" to bolster its defense capabilities, such as by approving the "three security documents" at the end of last year, acquiring long-range missiles and increasing its defense budget, he said.
The updated National Security Strategy underlines for the first time the importance of peace and stability across the Taiwan Strait, Aso said.
Through these practical actions, Japan can contribute to security and stability in the region and prevent war, he said.
As for Taiwan, "the people of Taiwan should have a determined will" to defend their sovereignty, as well as to maintain the nation's prosperity, he said.
Countries around the world should also come together to improve economic resilience and economic security by countering malicious business practices, he said.
The Comprehensive and Progressive Agreement for Trans-Pacific Partnership is a platform that can help with that effort, he said.
Japan has always supported Taiwan joining the partnership, he said.
He called on international society to support Taiwan's participation in international organizations, as "Taiwan can play a very important role and share [its] experiences with the world," as it has shown in its successful handling of the COVID-19 pandemic.
Tsai said that she does not take the support of Taiwan's security partners for granted.
"While we don't seek military confrontation and hope for a peaceful, stable and beneficial coexistence with our neighbors, Taiwan is always ready to defend its democracy and way of life," the president said.
Later yesterday, Aso attended a luncheon hosted by Vice President William Lai (賴清德) and met Tsai at the Presidential Office in Taipei.
Friends stick with each other in good times and bad, he said during the meeting with Tsai, adding that he hoped trust and relations between Japan and Taiwan would continue to deepen.
Additional reporting by AFP
Comments will be moderated. Keep comments relevant to the article. Remarks containing abusive and obscene language, personal attacks of any kind or promotion will be removed and the user banned. Final decision will be at the discretion of the Taipei Times.