Taiwan hails French promise to safeguard Strait
Taiwan yesterday hailed France's pledge to safeguard freedom of navigation in the Taiwan Strait a day after French President Emmanuel Macron signed into law the nation's largest defense budget increase in more than 50 years.
The French Parliament on July 12 and 13 passed a 413 billion euros (US$453 billion) defense budget for the next seven years, which would push France's military spending to more than 2 percent of GDP by 2025.
The budget bill — which was spurred by Russia's invasion of Ukraine and China's aggressive stance in Asia — said that France is an Indo-Pacific power, and has an obligation to defend freedom of navigation in the Taiwan Strait and the South China Sea.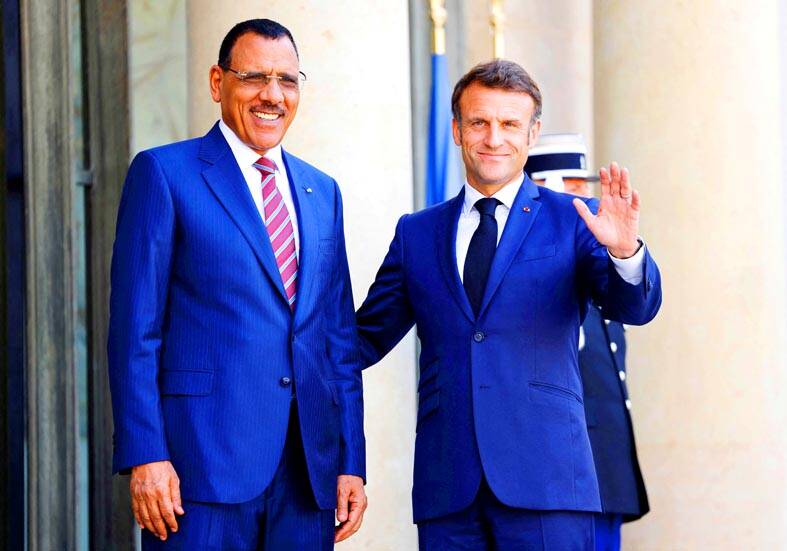 French President Emmanuel Macron, right, and Nigerien President Mohamed Bazoum arrive for a meeting at the Elysee Palace in Paris on June 23.
Photo: AFP
As the only EU member with territories in the Indo-Pacific, France has a duty to uphold the rights of all nations to freely use the seas in the region, French Senator Olivier Cadic, one of the bill sponsors, said during deliberations.
Beijing's provocative actions — including its efforts to seize international seas as its own, its harassment of legal fishing operations, construction of military bases and incursions into other nations' sovereign waters — are to blame for the surge in regional tensions in the past few years, Cadic said.
China not only turned a deaf ear to the rulings of international courts with regard to its claims in the South China Sea, but also claims the Taiwan Strait, which poses a direct threat to global trade and maritime transportation, he said.
Beijing's predatory acts and ever-growing military power means that a move by China to invade Taiwan would trigger a significant crisis, comparable to the Russa-Ukraine war, Cadic said, urging France to contribute to protecting freedom of navigation at sea.
In Taipei, the Ministry of Foreign Affairs said that Paris has significant influence over the Indo-Pacific region, and reiterated the importance of preserving peace and stability in the Taiwan Strait at this year's G7 summit and other multilateral international events.
The French government's defense budget indicates a recognition that protecting peace in the Taiwan Strait is aligned with its strategic national interests, and is essential to a free, open and prosperous Indo-Pacific region, the ministry said.
Taiwan would continue to work with France and other like-minded countries to defend the rules-based international order, it said.
Separately, Democratic Progressive Party (DPP) Legislator Wang Ting-yu (王定宇) said the defense budget's reference to security in the Strait was a first in French law and was a declaration of intent.
The alliance of democracies has reached a consensus that it should maintain peace and stability in the Taiwan Strait, as regional unrest would have global repercussions to the shared interests of its members, Wang said.
DPP Legislator Tsai Shih-ying (蔡適應) thanked the French parliament for passing the bill, adding that a military crisis between Taiwan and China would have unbearable consequences for the world.
Comments will be moderated. Keep comments relevant to the article. Remarks containing abusive and obscene language, personal attacks of any kind or promotion will be removed and the user banned. Final decision will be at the discretion of the Taipei Times.