Cabinet raises tax on multiple homes
HOUSING JUSTICE: The proposed hike aims to curb property hoarding, the minister of finance said, while lowering the tax on first self-occupied homes would benefit many
The Executive Yuan yesterday approved plans to raise property taxes on multiple homes to between 2 and 4.8 percent, while easing the rate to a flat 1 percent for first self-occupied houses.
The proposed tax hikes, which the Legislative Yuan needs to approve, aim to curb property hoarding in a more uniform and effective fashion, as existing taxes appear inadequate, Minister of Finance Chuang Tsui-yun (莊翠雲) said.
The draft bill states that local governments "must" collect house taxes of 2 percent to 4.8 percent, a change from current clauses that say local administrations "may" impose house taxes of 1.2 percent to 3.6 percent, Chuang said.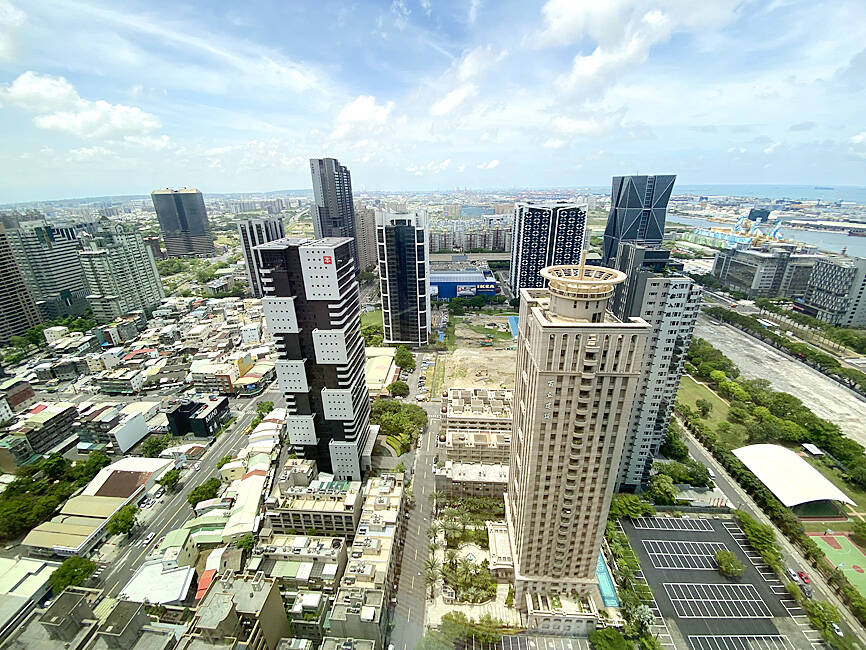 Residential and commercial buildings in Kaohsiung's Asia New Bay Area are pictured yesterday.
Photo: CNA
It is time to revisit the tax a decade after its last revision, as some local governments have been pressing for stronger measures to tackle property hoarding, a practice widely blamed for soaring real-estate prices, Chuang said.
At present, only 10 local governments have discriminatory taxes on fourth homes and real-estate properties for rent. The remaining 12 cities and counties do not have differentiated tax rates.
The bill would also give local governments room to raise the house tax by an additional 30 percent to 6.24 percent as they see fit, the ministry said.
The legal revisions are intended to advance the cause of housing justice rather than inflate state coffers, as they seek to cut the property tax to a flat 1 percent, from 1.2 percent, on first self-occupied houses, the ministry said.
More than 3.28 million houses would benefit from the flat rate and it would cost the national treasury NT$940 million (US$30.11 million) in annual tax losses, it said.
Furthermore, the bill would lower the tax on rental homes to between 1.5 percent and 2.4 percent, from 1.5 percent to 3.6 percent, to motivate multiple-home owners to lease their idle units and boost occupancy rates, it said.
This should help people who cannot buy a home to find affordable units for rent, it said.
To curb tax evasion, the bill would define multiple homes on a nationwide — rather than local — basis.
Local governments have shared the need for the legal change over the years, the minister said, adding that about 360,000 houses would be subject to stiffer property taxes and contribute an additional NT$2.6 billion to the state coffers every year.
A public rally to protest rising housing unaffordability in front of the Presidential Office Building in Taipei is being planned for July 16.
The ministry said it would facilitate the bill's review in the legislature in the hope that it could be implemented in July next year.
Comments will be moderated. Keep comments relevant to the article. Remarks containing abusive and obscene language, personal attacks of any kind or promotion will be removed and the user banned. Final decision will be at the discretion of the Taipei Times.