Kyiv and Moscow trade blame as dam collapses
The wall of a major dam in southern Ukraine collapsed yesterday, triggering floods, endangering Europe's largest nuclear power plant and threatening drinking water supplies, as both sides in the war scrambled to evacuate residents and blamed each other for the destruction.
Ukraine accused Russian forces of blowing up the Kakhovka dam and hydroelectric power station on the Dnieper River in an area that Moscow controls, while Russian officials blamed Ukrainian bombardment in the contested area. It was not possible to verify the claims.
The potentially far-reaching environmental and social consequences of the disaster quickly became clear as homes, streets and businesses flooded downstream and emergency crews began evacuations; officials raced to check cooling systems at the Zaporizhzhia Nuclear Power Plant; and authorities expressed concern about supplies of drinking water to the south in Crimea, which Russia illegally annexed in 2014.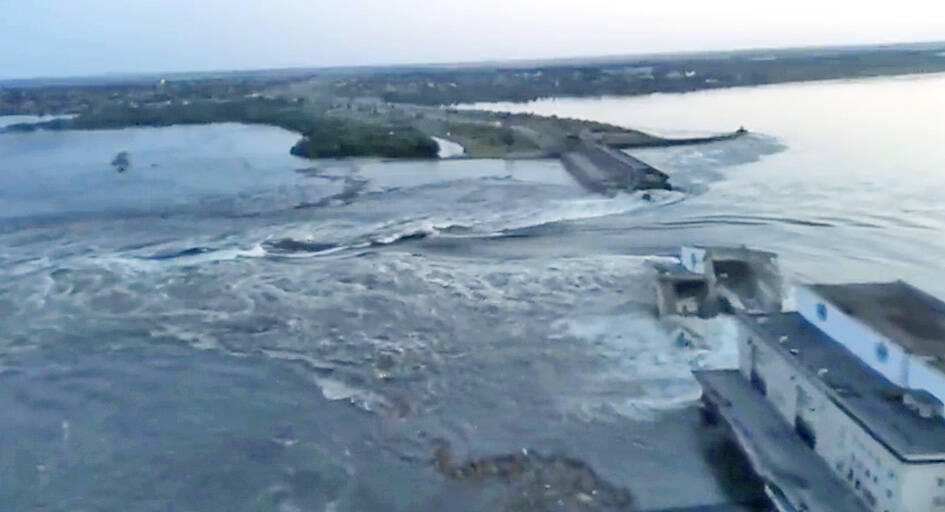 An image taken from video released by the Ukrainian Presidential Office shows water running through a break in the Kakhovka dam in Kakhovka, Ukraine, yesterday.
Photo: AP
Russian and Ukrainian authorities brought in trains and buses for residents. About 22,000 people live in areas at risk of flooding in Russian-controlled areas, while 16,000 live in the most critical zone in Ukrainian-held territory, according to official tallies. Neither side reported any deaths or injuries.
The dam break added a stunning new dimension to Russia's war in Ukraine, now in its 16th month. Ukrainian forces were widely seen to be moving forward with a long-anticipated counteroffensive in patches along more than 1,000km of front line in the east and south.
It was not immediately clear whether either side benefits from the damage to the dam, since both Russian-controlled and Ukrainian-held lands are at risk. The damage could also hinder Ukraine's counteroffensive in the south and distract its government, while Russia depends on the dam to supply water to Crimea.
Amid official outrage, Ukrainian President Volodymyr Zelenskiy said he convened an urgent meeting of the National Security Council. He alleged Russian forces set off a blast inside the dam structure at 2:50am and said about 80 settlements were in danger.
Zelenskiy said in October last year his government had information that Russia had mined the dam and power plant.
However, Kremlin spokesman Dmitry Peskov called it "a deliberate act of sabotage by the Ukrainian side … aimed at cutting water supplies to Crimea."
Both sides warned of a looming environmental disaster. Ukraine's Presidential Office said about 150 tonnes of oil escaped from the dam. Ukraine's nuclear operator Energoatom said via Telegram that the damage to the dam "could have negative consequences" for the Zaporizhzhia Nuclear Power Plant, which is Europe's biggest, but wrote that for now the situation is "controllable."
The International Atomic Energy Agency said there was "no immediate risk to the safety of the plant."
Comments will be moderated. Keep comments relevant to the article. Remarks containing abusive and obscene language, personal attacks of any kind or promotion will be removed and the user banned. Final decision will be at the discretion of the Taipei Times.