Rosenberger touts stability in Strait
The US has an enduring interest in preserving stability across the Taiwan Strait, visiting American Institute in Taiwan (AIT) Chair Laura Rosenberger said in Taipei yesterday, adding that the US would continue to advocate freedoms of navigation in accordance with international law.
The US would also continue to voice its concerns to Beijing over the latter's actions threatening Taiwan, and damaging peace and stability in the Taiwan Strait, Rosenberger said.
In response to media queries over delays in the delivery of weapons to Taiwan by Washington, Rosenberger said that providing Taiwan with self-defense capabilities is a promise that the US would uphold and that both sides are closely cooperating on strengthening Taiwan's asymmetric warfare capabilities.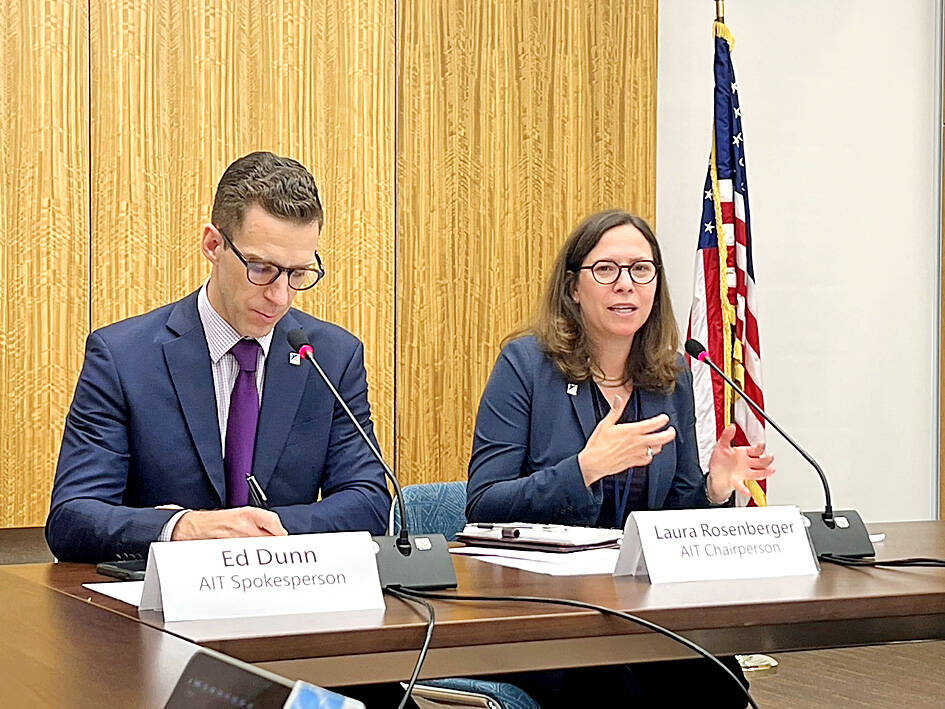 American Institute in Taiwan (AIT) Chair Laura Rosenberger, right, and AIT spokesman Ed Dunn hold a news conference in Taipei yesterday.
Photo: CNA
Rosenberger, who is making her second visit to Taiwan since assuming the post on March 20, said that she is looking forward to meeting with the candidates for next year's presidential election during her visit which lasts until Saturday.
She praised Taiwan as a beacon of democracy in the region and said that Washington had full confidence in the nation's "free and fair elections, democratic system and electoral process."
She said the US stance is that it supports Taiwan and looks forward to "working with whichever leaders Taiwanese voters elect in 2024."
"The United States will not take sides and we oppose outside interference or influence in Taiwan's elections," she added.
The presidential election is scheduled for Jan. 13 next year. Vice President William Lai (賴清德), the Democratic Progressive Party's presidential nominee, is to face off against Chinese Nationalist Party (KMT) candidate Hou You-yi (侯友宜) and former Taipei mayor Ko Wen-je (柯文哲), the Taiwan People's Party candidate, in a race in which issues concerning China are likely to play a central role.
Meanwhile, when asked about the purpose of an ongoing visit to China by a senior US Department of State official, Rosenberger said it forms part of US efforts to "responsibly manage competition and the relationship with China."
The US believes that open lines of communication are important to manage competition responsibly and ensure that it does not veer into conflict, and to find ways to address not only issues of bilateral and global concern, but also where possible to identify new ways for the US and China to work together on global challenges, she said.
US Assistant Secretary of State for East Asian and Pacific Affairs Daniel Kritenbrink is visiting China and New Zealand this week.
He has been joined by the White House National Security Council's senior director for China and Taiwan affairs, and Kritenbrink is to discuss "key issues in the bilateral relationship" during his visit to China, the state department said in a statement on Saturday.
Comments will be moderated. Keep comments relevant to the article. Remarks containing abusive and obscene language, personal attacks of any kind or promotion will be removed and the user banned. Final decision will be at the discretion of the Taipei Times.