US State Department official to visit China
A senior US Department of State official yesterday arrived in Beijing with meetings planned for the coming week as Washington seeks to boost communication with China amid tense relations between the countries.
US Assistant Secretary of State for East Asian and Pacific Affairs Daniel Kritenbrink is to discuss "key issues in the bilateral relationship" during his visit to China, the State Department said in a statement on Saturday.
He is to be joined by US National Security Council Senior Director for China and Taiwan Affairs Sarah Beran, the statement said.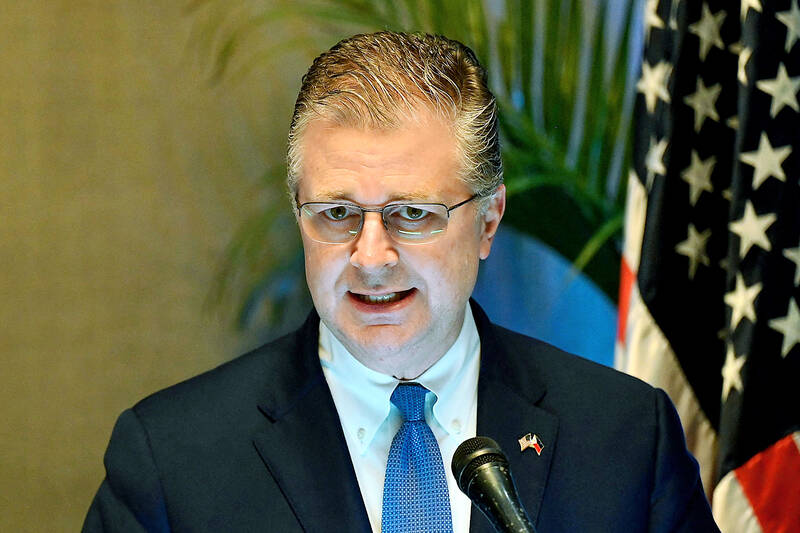 US Assistant Secretary of State for East Asian and Pacific Affairs Daniel Kritenbrink attends a news conference during the US-Philippines Bilateral Strategic Dialogue in Manila on Jan. 20.
Photo: AFP
Ties between the world's two largest economies are strained over issues ranging from Taiwan and China's human rights record to military activity in the South China Sea.
During his travels through Saturday, Kritenbrink is also to visit New Zealand to participate in the US-New Zealand Strategic Dialogue, the department said.
Kritenbrink's official meetings are to begin today, a State Department spokesperson said.
While in Beijing, Kritenbrink is to raise human rights in his meetings as always, and continue to advocate for people's fundamental freedoms in China, the spokesperson said.
Last month CIA Director William Burns visited China.
A US official said Burns had "emphasized the importance of maintaining open lines of communication in intelligence channels" in meetings with his Chinese counterparts.
Comments will be moderated. Keep comments relevant to the article. Remarks containing abusive and obscene language, personal attacks of any kind or promotion will be removed and the user banned. Final decision will be at the discretion of the Taipei Times.