US committed to Taiwan 'status quo'
DEFENSE TALKS: The US has stepped up defense planning, and although it does not seek conflict with China, it 'would not flinch in the face of bullying,' Lloyd Austin said
The US "remains deeply committed to preserving the status quo" in the Taiwan Strait, US Secretary of Defense Lloyd Austin said in Singapore yesterday as he reiterated calls for greater communication between the US and Chinese militaries.
Speaking at the Shangri-La Dialogue, an annual forum bringing together top defense officials, diplomats and leaders, Austin warned that a conflict over Taiwan would "affect the global economy in ways that we cannot imagine."
"Make no mistake: Conflict in the Taiwan Strait would be devastating," Austin said.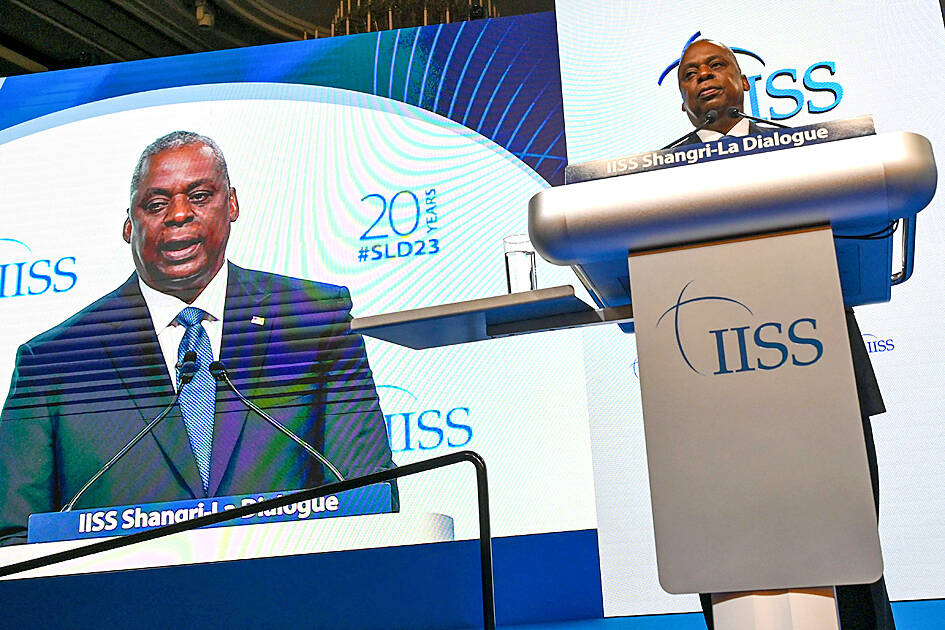 US Secretary of Defense Lloyd Austin speaks at the 20th Shangri-La Dialogue in Singapore yesterday.
Photo: AFP
"The whole world has a stake in maintaining peace and stability in the Taiwan Strait, the whole world. The security of commercial shipping lanes and global supply chains depends on it," he added.
He sought to assure China that the US remained "deeply committed" to the longstanding "one China" policy, which recognizes Beijing as the government of China, but allows informal relations with Taiwan, and continues to "categorically oppose unilateral changes to the status quo from either side."
Russia's invasion of Ukraine had served to underline how dangerous the world would be if big countries were able to "just invade their peaceful neighbors with impunity," he said.
"Conflict is neither imminent nor inevitable," Austin said. "Deterrence is strong today — and it's our job to keep it that way."
He said that the US is also committed to deterring North Korea's missile threat and China's claims on Taiwan, and that Washington has been stepping up defense planning, coordination and training with partner nations in the region.
"To be clear, we do not seek conflict or confrontation," he said. "But we will not flinch in the face of bullying or coercion."
The US has been expanding its activities in the Indo-Pacific region to counter sweeping territorial claims from China, including regularly sailing through and flying over the Taiwan Strait and in the South China Sea.
"We are committed to ensuring that every country can fly, sail and operate wherever international law allows," Austin said. "And every country, large or small, must remain free to conduct lawful maritime activities."
Chinese Lieutenant General Jing Jianfeng (景建峰), a senior member of the delegation accompanying Chinese Minister of National Defense Li Shangfu (李尚福), accused Austin of "overtly or covertly making false accusations against China" in his address.
Li, who became China's defense minister in March, declined Austin's invitation to talk on the sidelines of the conference, though the two did shake hands before sitting down at opposite sides of the same table together as the forum opened on Friday.
"A cordial handshake over dinner is no substitute for a substantive engagement," Austin said.
At a ministerial roundtable yesterday, Austin reiterated calls that Australian Prime Minister Anthony Albanese made in his opening address at the forum for China to engage in regular, direct communications to help prevent any possible conflict.
"For responsible defense leaders, the right time to talk is any time," Austin said.
"The right time to talk is every time. And the right time to talk is now," he said.
Comments will be moderated. Keep comments relevant to the article. Remarks containing abusive and obscene language, personal attacks of any kind or promotion will be removed and the user banned. Final decision will be at the discretion of the Taipei Times.